Course Highlights & Why Selenium Training in Velachery at FITA Academy?
Introduction to Selenium Testing, its Frameworks, Selenium Components, Versions of Selenium, and Advantages of Selenium Testing.
Learning to install Selenium IDE, Create a Script, Record a Script, Execute Script, Debug Script, Develop Test Cases, and Test Suites with Selenium IDE.
Understanding Verify and Assets, Actions, Regular Expressions, Locators, Locators types, Extracting Values, etc.
Comprehending Selenium Web Driver, Web Driver with Eclipse, Cross Browser Testing, Object Locators/ Identification, Get and Navigate.
Handling Web Page Element using Web Driver, Drop Down, Listbox, Radio Buttons, Multi-Select Box, Date Picker, and Widgets.
Apprehending Implicit and Explicit Wait, handling JavaScript Alerts and JavaScript Prompts.
Knowledge of Headless Browser Testing, its advantages, testing using HTMLUnit Driver, Phantom JS, Chrome Driver.
Insights on Flash Object Testing, Flash Objects using Sikuli.
Getting familiarised with TestNG framework, Unit Testing, TestNG Annotations, Data Providers, TestNG Listeners, Parallel Execution in TestNG, Generating Reports in TestNG.
Getting acquainted with Test Automation Frameworks, its advantages, Keyword-driven or Table-driven Testing Framework, Data-driven Testing Framework, Hybrid Test Automation Framework.
Upcoming Batches
| | | | |
| --- | --- | --- | --- |
| 05-10-2023 | Weekdays | Thursday (Monday - Friday) | |
| 07-10-2023 | Weekend | Saturday (Saturday - Sunday) | |
| 09-10-2023 | Weekdays | Monday (Monday - Friday) | |
| 14-10-2023 | Weekend | Saturday (Saturday - Sunday) | |

Classroom Training
Get trained by Industry Experts via Classroom Training at any of the FITA Academy branches near you
Why Wait? Jump Start your Career by taking the Selenium Training in Velachery!
Instructor-Led Live Online Training
Take-up Instructor-led Live Online Training. Get the Recorded Videos of each session.
Travelling is a Constraint? Jump Start your Career by taking the Selenium Online Course!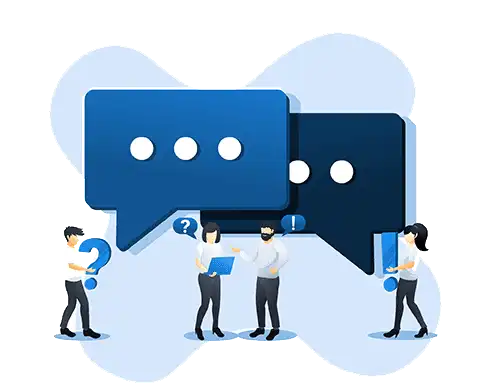 Have Queries? Talk to our Career Counselor
for more Guidance on picking the right Career for you!
Trainer Profile
The Selenium trainers of FITA Academy are experts in the Selenium Automation Testing Tool and can train students as per the industry's requirements and demands.
They are industry professionals having a maximum work experience of 10+ years.
They majorly deliver career-oriented training program for students to make them attain expertise and knowledge in the Selenium Automation Testing tool.
They possess vast teaching skills by training more than n number of students for their Career establishment, Corporate training and for other purposes.
They have guided teams in their work environment for both local and international projects.
Features
Real-Time Experts as Trainers
At FITA Academy, You will Learn from the Experts from industry who are Passionate in sharing their Knowledge with Learners. Get Personally Mentored by the Experts.
LIVE Project
Get an Opportunity to work in Real-time Projects that will give you a Deep Experience. Showcase your Project Experience & Increase your chance of getting Hired!
Certification
Get Certified by FITA Academy. Also, get Equipped to Clear Global Certifications. 72% FITA Academy Students appear for Global Certifications and 100% of them Clear it.
Affordable Fees
At FITA Academy, Course Fee is not only Affordable, but you have the option to pay it in Installments. Quality Training at an Affordable Price is our Motto.
Flexibility
At FITA Academy, you get Ultimate Flexibility. Classroom or Online Training? Early morning or Late evenings? Weekdays or Weekends? Regular Pace or Fast Track? - Pick whatever suits you the Best.
Placement Support
Tie-up & MOU with more than 1500+ Small & Medium Companies to Support you with Opportunities to Kick-Start & Step-up your Career.
Selenium Certification Course in Velachery
About Selenium Certification Course in Velachery at FITA Academy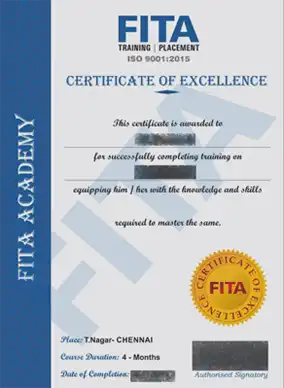 Selenium Certification Course in Velachery
Selenium Automation Testing Tool is one of the most popular and most used automation testing tools in the IT industry. Learning the Selenium Testing tool has many advantages for candidates as it provides them with the best career opportunities to help them advance in their careers. Since Selenium is an open-source testing tool, more and more companies depend on Selenium to test their Web projects. It also has become a replacement for the Manual Testing method as Selenium cut down the costs involved in the testing of web development projects. Today candidates with Selenium Certification are seen as the potential candidates for the Testing Engineer Profiles. They are also given pretty exciting salaries. Testing aspirants should mainly choose Selenium Certification because it has a great demand in the IT industry. FITA Academy's Selenium Certification is open to all the candidates aspiring to be Automation Testing Engineers. Some of the prerequisites necessary to understand the Selenium tool in a better way are Manual Testing, Core Java, basic knowledge of Web languages like HTML, CSS, and JavaScript. Moreover, Ajax is also essential to understand Selenium better. FITA Academy is one of the best Selenium Training Institutes in Velachery that provides students an immersive training to comprehensively understand the Selenium Testing tool and its applications in the IT industry.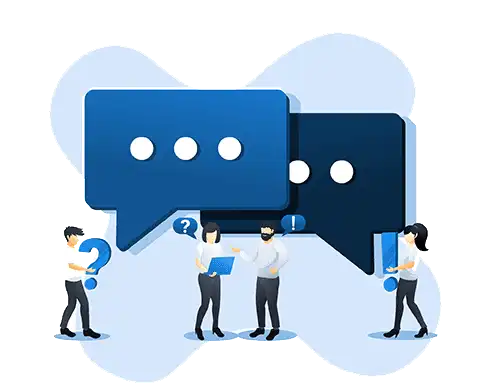 Have Queries? Talk to our Career Counselor
for more Guidance on picking the right Career for you!
Job Opportunities After Completing Selenium Training in Velachery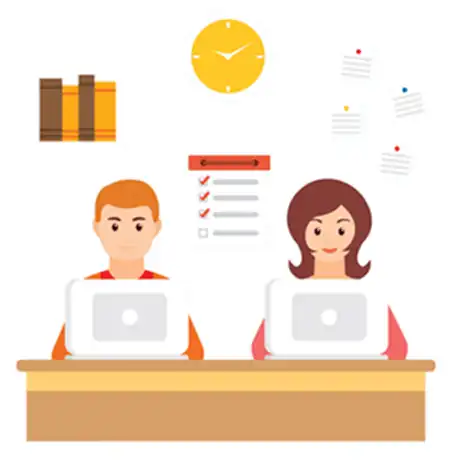 Selenium is a free Software Automation Testing tool predominantly used for automating test scripts for testing Web applications across different platforms and browsers. Various programming languages like Python, Java, Ruby, PHP, Perl, etc are used to create Selenium Test Scripts. Selenium is not a single tool but a suite of Software like Selenium Web Driver, Selenium Grid, Selenium Integrated Development Environment (IDE), and Selenium Remote Control (RC). Selenium has become one of the preferred choices of Testing Engineers and Developers in the IT industry. According to a survey by a popular job portal, Selenium has given rise to a 300% growth in job postings over the past three years. Technology giant Gartner has also reported that Selenium is one of the highest adopted automation testing tools by IT companies. But there are some reasons for Selenium being more popular are it is a non-proprietary software, multi-browser compatibility support, multi-platform support, cross-browser testing, multi-programming language support, supports test mobile web applications, and also supports comprehensive documentation.
Testing using the Selenium tool is the most desired skill by the Automation testing as well as IT companies in countries like the US, UK, Australia, India, etc. The Payscale given by these counties is also very high. Some of the big companies like Google, Facebook, Microsoft, LinkedIn highly prefer the Selenium testing tool for their automation testing needs.
Some of the key responsibilities of the Selenium Testing Engineers are,
Develop the strategy required for automation testing using Selenium as per business needs.
Develop test plans and test scripts.
Retain the existing regression suites/test scripts.
Be present for Agile meetings for your assigned projects( this may include Sprint Planning/ Backlog Refinement/ Daily Scrum Meeting).
Carry out Regression Suites.
Deliver solutions to developers, manual testers, project managers and stakeholders.
Assess new tools/APIs.
Moving on to the job opportunities, some of the job profiles that can be acquired after completing the Selenium Certification are Selenium Tester, Selenium Automation Engineer, Java Selenium Automation Engineer, Mobile Testing Lead, Selenium Test Analyst, Software Development Test Engineer. Let us discuss the salaries of Selenium Testing Engineers in India. Entry-level professionals earn around Rs. 3.9 to 5.5 Lakhs. Mid-level professionals earn around Rs. 6.8 to 7.5 lakhs. Experienced professionals earn around Rs. 8 to 10 lakhs. Join FITA Academy's Selenium Training in Velachery to learn the advanced developments in the Selenium Testing field and to gain a sound knowledge of the Selenium Testing tool.
Student Testimonials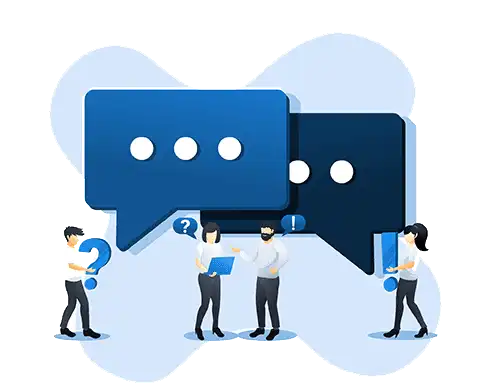 Have Queries? Talk to our Career Counselor
for more Guidance on picking the right Career for you!
Additional Information
What is Selenium Testing?
Selenium is an automation testing framework developed for validating or testing web applications across different platforms and browsers. The main advantage of using the Selenium automation testing tool is it accepts the use of different programming languages like Java, Python, PHP, Perl, Ruby, C# to create Selenium test scripts. Since the testing is done using the Selenium Testing tool it is called Selenium Testing.
Future Scope of Selenium Testing tool
Websites have become the backbone of many businesses in today's world in bringing revenue as well as in setting up an online presence for them. Only if these websites function properly, for example, have a faster loading time, internal linking working properly, faster image loading time, chatbox working properly, etc it can provide a good experience for the users. But if a website is not tested, one cannot find out if its features function properly or not. So it is necessary to test the websites before it goes live. Testing can be done in two ways. One is Manual Testing and the other is Automation Testing. Since Selenium is an automation testing tool, it is easy to perform testing of web applications. Thus the Selenium Testing tool has an excellent scope in the future and the testing aspirants can confidently rely on it to have a bright and solid career.
Let us discuss the skill sets needed for the Selenium Testing Engineers in different level positions, to proficiently work with the Selenium Automation Testing tool.
Beginner Level (0-2 years)
Learn Selenium IDE to record scripts and develop test suites.
Run Selenium tests from the Jenkins dashboard.
Basic knowledge of Web technologies like HTML5, JavaScript and CSS.
Awareness of Source Code Management tools.
Good knowledge of DOM and proficiency in Xpath, ID, CSS and By-ID selectors.
Acquire knowledge about test scenarios to validate applications before deployment.
Mid-Level (2-5 years)
Acquire knowledge of Selenium Webdriver for Web Testing.
Proficient experience in handling JUnit/TestNG testing frameworks.
Java, Python and .Net Programming skills are compulsory.
Manage Ajax Calls using Selenium Webdriver's Mechanism.
Ability to add new features to the existing test frameworks.
Supervise CI (Jenkins) jobs regularly and develop broken builds.
Advanced Level ( 5 to 10 years)
Work experience in design patterns and high-level web driver skills to manage projects.
Automate localization and data-driven test requirements.
Understanding of SQL will be an added advantage to test DB validation.
High-level experience in behavior-driven testing tools like JDave, Concordion, EasyB, JBehave, Cucumber, etc.
Should be able to give training to junior team members if necessary.
Expert Level (10+ years)
Acquire practical knowledge of parallel test execution in a virtualized environment.
Arrange continuous delivery for live projects.
Should be skilled in integrating automation results using bug tracking tools like TestRail or JIRA.
Handle Automation agents on Amazon Cloud Infra.
Troubleshoot the Selenium WebDriver Source code and give suggestions or solutions to the core Selenium team.
Ability to develop reusable frameworks and libraries using Selenium WebDriver to enhance performance and reduce execution time.
Join FITA Acadmey's Selenium Training in Velachery to gain a high-level knowledge of the Selenium Testing tool.