Course Highlights and Why AWS Training in Tambaram at FITA Academy?

Introduction to Cloud Computing, Client-Server Computing, Roles in Cloud - SysOps, DevOps and Cloud Architect, leading Cloud Players - Amazon's AWS, Microsoft Azure, OpenStack and VMware and the future of Cloud.

Learning Cloud Computing Service Models such as Software as a Service, (SaaS), Platform as a Service (PaaS and Infrastructure as a Service (IaaS).

Understanding Cloud Deployment Models such as Public Clouds, Community Clouds, Private Clouds, and Hybrid Clouds.

Comprehending AWS World like Overview of AWS, Accessing AWS, Creating an AWS Account, AWS Management Console, AWS Major Products and Services, and Architecture of AWS.

Getting familiarised with Basic Linux Commands like is, cd, mv, man, mkdir, rmdir, rm, locate, clear.

Hands-on practices of using Linux Administration commands like uptime, w command, users, who, whoami, crontab, less, more, etc.

Getting acquainted with AWS Solution Architect concepts such as Planning and Designing Cloud Services, developing highly available, scalable, and cost-efficient systems, Cost Planning, and Optimization techniques, etc.

Learning to adopt Best practices for AWS Security and Costing, Monitoring, and Logging in AWS.

Mastering AWS Elastic Compute Cloud concepts such as its features, creating Identity and Access Management (IAM) account, instances, etc.

Exploring EC2 instances and types such as General Purpose, Compute Optimized, Memory Optimized, Storage Optimized, and Accelerated Computing.
Upcoming Batches
09-12-2023
Weekend
Saturday (Saturday - Sunday)
11-12-2023
Weekdays
Monday (Monday - Friday)
14-12-2023
Weekdays
Thursday (Monday - Friday)
16-12-2023
Weekend
Saturday (Saturday - Sunday)

Classroom Training
Get trained by Industry Experts via Classroom Training at any of the FITA Academy branches near you
Why Wait? Jump Start your Career by taking the AWS Training in Tambaram!
Instructor-Led Live Online Training
Take-up Instructor-led Live Online Training. Get the Recorded Videos of each session.
Travelling is a Constraint? Jump Start your Career by taking the AWS Online Training!
Trainer Profile
The AWS training experts of FITA Academy are working professionals possessing high knowledge of the AWS Cloud Computing domain and its services.
They have both extensive theoretical and practical knowledge of the AWS Cloud Computing concepts, services, and applications.
They are hand-picked after a tough evaluation hiring process so that students can experience a unique and high-quality training program.
The AWS training professionals of FITA Academy have maximum working experience of more than 10 years and can meet the expectations of students in delivering beneficial training.
They help students in their resume preparation, development of soft skills, also and guide them precisely in choosing their desired career path.
Learn at FITA Academy & Get Your
Dream IT Job in 60 Days
like these Successful Students!

Features of AWS Training in Tambaram at FITA Academy
Real-Time Experts as Trainers
At FITA Academy, You will Learn from the Experts from industry who are Passionate in sharing their Knowledge with Learners. Get Personally Mentored by the Experts.
LIVE Project
Get an Opportunity to work in Real-time Projects that will give you a Deep Experience. Showcase your Project Experience & Increase your chance of getting Hired!
Certification
Get Certified by FITA Academy. Also, get Equipped to Clear Global Certifications. 72% FITA Academy Students appear for Global Certifications and 100% of them Clear it.
Affordable Fees
At FITA Academy, Course Fee is not only Affordable, but you have the option to pay it in Installments. Quality Training at an Affordable Price is our Motto.
Flexibility
At FITA Academy, you get Ultimate Flexibility. Classroom or Online Training? Early morning or Late evenings? Weekdays or Weekends? Regular Pace or Fast Track? - Pick whatever suits you the Best.
Placement Support
Tie-up & MOU with more than 1500+ Small & Medium Companies to Support you with Opportunities to Kick-Start & Step-up your Career.
Why Learn AWS Training in Tambaram at FITA Academy?
Live Capstone Projects
Real time Industry Experts as Trainers
Placement Support till you get your Dream Job offer!
Free Interview Clearing Workshops
Free Resume Preparation & Aptitude Workshops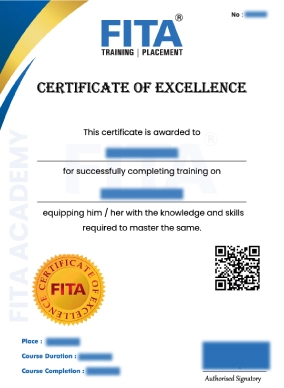 AWS Certification Course in Tambaram
FITA Academy's AWS Certification is a professional certification course that is open to all the candidates who want to learn the AWS Cloud Computing technology deeply i.e. learn and understand about the entire AWS Cloud Computing platform with real-time examples and projects. The certification course can be particularly attended by candidates who want to master the AWS cloud platform, IT professionals who want to use AWS Services to launch their software applications, websites, etc, DevOps professionals, Personnel having to experience in the Virtualization platform, professionals who need to work with AWS applications and need exposure to real-time AWS platform. There are no prerequisites to enroll in or learn the AWS Certification course, so having passion and dedication to patiently understand the AWS technology is almost enough to enroll in the certification course. Besides that, candidates should also be able to comprehend the Networking and Visualization basics to further understand the advanced concepts, and having a fundamental knowledge of any one programming language is also recommended. Joining the AWS Certification course will serve the Cloud Computing aspirants or any candidate who is a fresher or professional in a big way as Cloud Computing has become the future of the IT industry providing students with excessive job opportunities. Moreover, learning the AWS Course in Tambaram at FITA Academy will be a boost for students as we train them through professional AWS Cloud experts so that they can gain exceptional knowledge of the AWS concepts and be industry-ready.
Have Queries? Talk to our Career Counselor for more Guidance on picking the
right Career for you!
Placement Session & Job Opportunities after completing AWS Training in Tambaram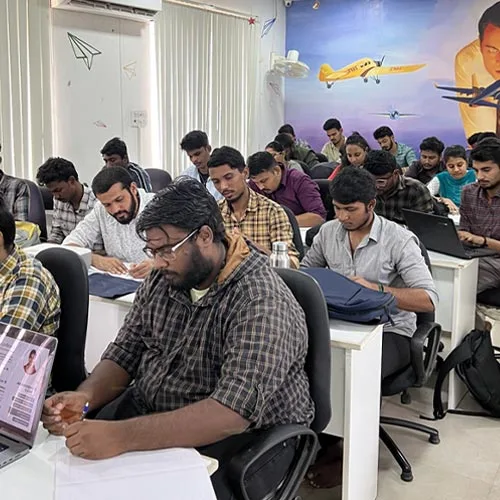 AWS or Amazon Web Services is one of the leading Cloud Computing platforms developed by Amazon, the biggest E-commerce giant in the world. Amazon Web Services, the subsidiary or the child company of Amazon has become the significant revenue driver for Amazon. Amazon and Amazon Web Services have both become giants in each of their respective fields creating job opportunities for thousands of people around the world. AWS has generated about 13% revenue for Amazon just in 2021 only. It possesses more than a third of the cloud market bringing in more than $14.8 billion in revenue. It offers server, storage, networking, remote computing, email, mobile development, and security services to thousands of businesses around the world. So learning the AWS certification has many advantages for candidates like enhancing your AWS skills and knowledge, possibilities of getting promotion and hike in salary, adds much importance and value to your resume, making you a qualified professional, and provides you with high-end knowledge. Globally, an AWS Developer position is seen as high importance and prestigious profession whose professionals are paid a huge amount of $125k.
According to a popular website giving information about Information Technology and Services, Amazon Web Services are being used by 8,51,358 companies. So we can confidently conclude that AWS is the most in-demand Cloud platform providing distinguishable Cloud services. So freshers and aspirants can assuredly choose AWS as their specialization to kick start their career as AWS Developers. Coming to the job roles that can be acquired after getting certified in the AWS certification course are Operational Support Engineer, Cloud Software Engineer, Cloud System Integrator, Cloud Developer, DevOps Engineer, AWS Solutions Architect, AWS SysOps Administrator, AWS Cloud Architect, Cloud Sales, and Purchase Manager and Key Account Cloud Manager. The salary of these professionals varies depending on their job profile, roles, and responsibilities, experience, etc. The salary of an entry-level AWS professional is Rs. 4,80,000 per annum. The salary of a mid-level professional is around Rs. 7,50,000 per annum while experienced professionals earn around Rs. 9,00,000 per annum. Join FITA Academy's AWS Course in Tambaram to get yourself a rewarding career in the AWS Cloud domain.
Success Story of AWS Training in Tambaram
I have completed my Computer Science Engineering and wanted to do an AWS Certification course to join as a Cloud Developer. Learning AWS seemed appropriate for me as it is the leading Cloud platform at present and getting certified in the AWS course has many chances of landing in distinct job roles that have good scope for a career. Doing my AWS certification at FITA Academy has helped me vastly in gaining valuable knowledge of the AWS Cloud. It was a detailed training program as my trainer covered all the concepts from basic to advanced concepts with clear and proper explanations.
I am a fresher who just finished my Bachelor of Computer Applications. Getting into the Cloud domain was my ambition as I want to have a profession related to developing Cloud Products and Services. Cloud Computing has become the thing of importance nowadays as all the businesses have started using Cloud Services for their day-to-day tasks and projects. So I decided to do the AWS Certification course and get certified to gain professional Cloud development skills. Thanks to FITA Academy as the training program was so beneficial in learning about the Cloud theories broadly. More examples and projects were explained first-hand which was immensely helpful to understand the AWS Cloud platform.
FITA Academy's AWS Certification in Tambaram is the dream training program that should be attended by freshers as they conduct the training program in a more precise and understandable way. I am so glad that I attended the training program as my trainer taught the concepts elaborately and often conducted tests and assignments to evaluate our knowledge. We were also given projects to handle and complete that assisted us to gain more practical knowledge about the AWS Cloud platform. The training sessions were almost focused on delivering more practical sessions that helped me to understand in-depth AWS Cloud technology.
I enrolled in FITA Academy's AWS Certification in Tambaram and it was the best training program that I attended. The AWS Cloud Services I learned about were helpful in attending interviews confidently and passing my interview with a good score. I also got selected as an AWS Developer with a good salary package. Thanks to FITA Academy and my trainer for this wonderful learning experience and also for helping me in getting my dream job. This would have not happened without my trainer's assistance and guidance and her immense training. I recommend FITA Academy for all the students who want to learn the AWS Cloud concepts comprehensively with the best training and support.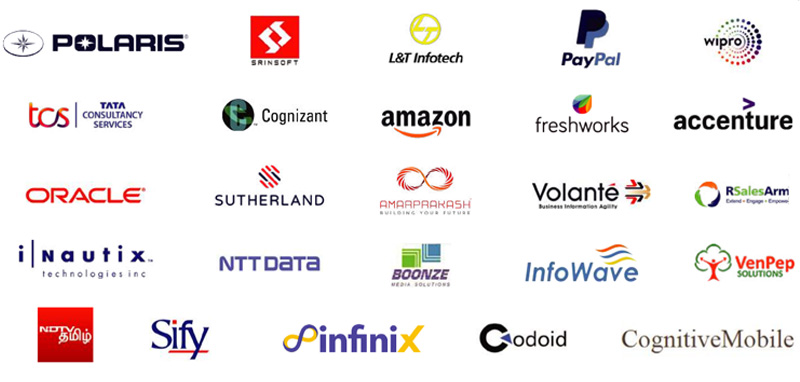 Frequently Asked Question (FAQ) about AWS Training in Tambaram
Additional Information of AWS Training in Tambaram
What are Amazon Web Services? 
Amazon Web Services (AWS) is Amazon's comprehensive cloud computing platform, which includes Infrastructure as a Service (IaaS), Platform as a Service (PaaS), and packaged Software as a Service (SaaS) offerings. AWS services can give resources like compute power, database storage, and content delivery to a business.
Amazon Web Services (AWS) was established in 2006 as a complement to Amazon.com's own infrastructure for managing its online retail activities. AWS was one of the first companies to offer a pay-as-you-go cloud computing model, which scales up to match users' compute, storage, and throughput demands.
For enterprises and software developers, AWS offers a number of tools and solutions that can be used in data centers all over the world. Government agencies, educational institutions, nonprofits, and private enterprises can use AWS services.
Working Function of AWS
AWS is divided into numerous services, each of which can be configured in a variety of ways depending on the needs of the user. For an AWS service, users should be able to access configuration choices and specific server mappings.
Over 100 services, including compute, databases, infrastructure management, application development, and security, are available through Amazon Web Services. Some of the services available are listed below, organized by category:
Services
Amazon Web Services offers services from dozens of data centers across the world, each with its own set of Availability Zones (AZs). A data center AZ is a physical facility that houses multiple data centers. A region is a collection of AZs that are connected by a low-latency network.
For a variety of reasons, including compliance and proximity to end consumers, a company will choose one or more availability zones. An AWS customer, for example, can install virtual machines (VMs) and replicate data across many AZs to create a highly resilient architecture that is unaffected by individual server or data center outages.
Amazon Elastic Compute Cloud (EC2) is a service that provides compute power via virtual machines called EC2 instances. The Amazon Elastic Compute Cloud (EC2) service provides a range of instance types with different capacities and sizes, each geared to different workload types and applications, such as memory-intensive and accelerated-computing tasks.
Storage
S3 is a scalable object storage service from Amazon that may be used for data backup, gathering, and analytics. To keep data and files structure, an IT expert stores them as S3 objects, which can be up to 5 gigabytes (GB) in size. S3's Infrequent Access storage tier or Amazon Glacier for long-term cold storage can help a business save money.
When using EC2 instances, Amazon Elastic Block Store provides block-level storage volumes for permanent data storage. Amazon Elastic File System is a cloud-based file storage service that is managed.
A firm can also employ storage transport devices like AWS Snowball and Snowmobile to transfer data to the cloud, or use AWS Storage Gateway to allow on-premises programs to access cloud data.
Database Management
The Amazon Relational Database Service provides AWS users with a relational database management system that includes Oracle, SQL Server, PostgreSQL, MySQL, MariaDB, and Amazon Aurora, a proprietary high-performance database. AWS offers Amazon DynamoDB, a managed NoSQL database service.
AWS users can use Amazon ElastiCache and DynamoDB Accelerator as in-memory and real-time data caches for their applications. Amazon Redshift offers a data warehouse, making it easier for data analysts to conduct business intelligence (BI) activities.
Migration and Hybrid Cloud
AWS offers a number of tools and services to assist users with migrating applications, databases, servers, and data to its public cloud. The AWS Migration Hub is a central hub for monitoring and managing on-premises to cloud migrations. EC2 Systems Manager, once in the cloud, assists an IT team in configuring on-premises servers and AWS instances.
Amazon has partnered with a number of technology companies to make hybrid cloud installations easier. VMware Cloud on AWS provides VMware's software-defined data center technology to AWS. Another agreement has resulted in Red Hat Enterprise Linux for Amazon EC2, which extends Red Hat's operating system to the AWS cloud.
Networking
An Amazon Virtual Private Cloud (Amazon VPC) is a virtual network that allows an administrator to access an isolated area of the AWS cloud. For further security, AWS automatically creates new resources within a VPC.
The Elastic Load Balancing (ELB) service, which contains the Application Load Balancer and Network Load Balancer, allows administrators to balance network traffic. AWS also offers Amazon Route 53, a domain name system that directs customers to applications.
AWS Direct Connect allows an IT expert to create a dedicated link from an on-premises data centre to the AWS cloud.
Development Tools
To build and manage apps and services, a developer can use AWS command-line tools and software development kits (SDKs). This includes the following:
Amazon's own programming interface, the AWS Command Line Interface.
A developer can handle cloud services from Windows environments using AWS Tools for Powershell.
To test Lambda functions, developers can utilize the AWS Serverless Application Model to emulate an AWS environment.
AWS SDKs are available for Java, PHP, Python, Node.js, Ruby, C++, Android, and iOS, among other platforms and programming languages.
A development team can use Amazon API Gateway to construct, manage, and monitor custom application program interfaces (APIs) that allow apps to access data and functionality from back-end services. API Gateway is capable of handling thousands of concurrent API calls.
AWS also offers Amazon Elastic Transcoder, a packaged media transcoding service, and AWS Step Functions, a tool that visualizes workflows for microservices-based applications.
Management and Monitoring
AWS Config and AWS Config Rules allow administrators to control and track cloud resource configuration. These technologies, coupled with AWS Trusted Advisor, can help an IT team avoid deploying cloud resources that are poorly configured and cost too much.
AWS has a number of automation tools in its arsenal. AWS CloudFormation templates may be used to automate infrastructure provisioning, while AWS OpsWorks and Chef can be used to automate infrastructure and system configurations.
AWS customers can utilize Amazon CloudWatch and the AWS Personal Health Dashboard to monitor resource and application health, as well as AWS CloudTrail to record user activity and API requests for auditing.
Attending FITA Academy's AWS Training in Tambaram will be your life-changing training program that helps you to see greater heights in your professional field.