Course Highlights and Why Data Science Course in Anna Nagar at FITA Academy?

Introduction to Data Science, Data Science Life Cycle, Understanding Artificial Intelligence, Machine Learning, Deep Learning, Artificial Neural Networks, Natural Language Processing, etc.

Introduction to Python, Python 2 and Python 3 differences, Python Keywords, Identifiers, Indentation, Python Basic Data Types, and Variables.

Learning Different Types of Data, Data Extraction, Wrangling Data using Python, Understanding Conditional Probability, Exploratory Data Analysis, Working with Numpy, SciPy, and Pandas.

Understanding Machine Learning Model, Evaluating the Model, and Improving the performance of the model.

Comprehending Predictive Model, Linear Regression, Polynomial Regression, Algorithm Boosting, and Adaptive Boosting.

Apprehending Machine Learning Algorithms, Different types of Machine Learning Algorithms such as Supervised Learning, Unsupervised Learning and Reinforcement Learning, etc.

Exploring Supervised Learning Algorithms such as Logistic Regression, Naive Bayes Classifier, Nearest Neighbour, Support Vector Machines, Decision Trees, Boosted Trees, and Random Forest.

Exploring Un-supervised Learning Algorithms such as Hierarchical Clustering, Dimensionality Reduction, etc.

Exploring Hypothesis Testing, Parameters of Hypothesis Testing, the P-value, etc.

Understanding Reinforcement Learning Algorithm, its advantages, and components.
Upcoming Batches
09-12-2023
Weekend
Saturday (Saturday - Sunday)
11-12-2023
Weekdays
Monday (Monday - Friday)
14-12-2023
Weekdays
Thursday (Monday - Friday)
16-12-2023
Weekend
Saturday (Saturday - Sunday)

Classroom Training
Get trained by Industry Experts via Classroom Training at any of the FITA Academy branches near you
Why Wait? Jump Start your Career by taking Data Science Training in Anna Nagar!
Instructor-Led Live Online Training
Take-up Instructor-led Live Online Training. Get the Recorded Videos of each session.
Travelling is a Constraint? Jump Start your Career by taking the Data Science Online Course!
Trainer Profile
FITA Academy's Data Science trainers are industry professionals having a maximum work experience of 10+ years.
They have extensive teaching skills by training more than n number of students for their career establishment.
They train students comprehensively in both academics and also in technical concepts to enhance their knowledge of the same.
They conduct projects and assignments for students to help them gain more extensive knowledge of the technology.
They assist students in career establishment as well as provide placement guidance.
Learn at FITA Academy & Get Your
Dream IT Job in 60 Days
like these Successful Students!

Features of Data Science Course in Anna Nagar at FITA Academy
Real-Time Experts as Trainers
At FITA Academy, You will Learn from the Experts from industry who are Passionate in sharing their Knowledge with Learners. Get Personally Mentored by the Experts.
LIVE Project
Get an Opportunity to work in Real-time Projects that will give you a Deep Experience. Showcase your Project Experience & Increase your chance of getting Hired!
Certification
Get Certified by FITA Academy. Also, get Equipped to Clear Global Certifications. 72% FITA Academy Students appear for Global Certifications and 100% of them Clear it.
Affordable Fees
At FITA Academy, Course Fee is not only Affordable, but you have the option to pay it in Installments. Quality Training at an Affordable Price is our Motto.
Flexibility
At FITA Academy, you get Ultimate Flexibility. Classroom or Online Training? Early morning or Late evenings? Weekdays or Weekends? Regular Pace or Fast Track? - Pick whatever suits you the Best.
Placement Support
Tie-up & MOU with more than 1500+ Small & Medium Companies to Support you with Opportunities to Kick-Start & Step-up your Career.
Why Learn Data Science Course in Anna Nagar at FITA Academy?
Live Capstone Projects
Real time Industry Experts as Trainers
Placement Support till you get your Dream Job offer!
Free Interview Clearing Workshops
Free Resume Preparation & Aptitude Workshops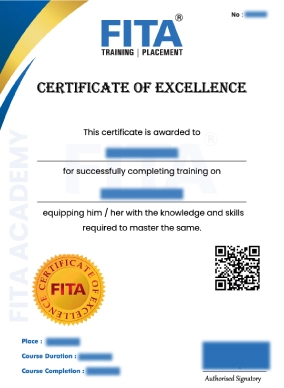 Data Science Certification Training in Anna Nagar
Data Science has now become one of the essential fields that promote businesses' growth to a new height. The field has the immense capability of analyzing the data that has been produced by online websites and social media platforms and also transforming them into meaningful information for them to understand their customers' purchasing behavior in a more precise way. This method provides businesses with a competitive edge in terms of providing better services to their customers and also increasing their Return on Investment (ROI). Indian companies have invested more in the Data Science field to acquire more actionable insights so that they can direct their businesses in a more productive way. Therefore, with Data Scientists much in demand, FITA Academy has created the syllabus of the technology precisely that caters to the requirements of the Data Science aspirants. The syllabus covers all the important topics and latest developments in the Data Science field and with the help of the best and experienced trainers, we deliver quality training to make students proficient in Data science technology. Thus acquiring a Data Science Certification will put you in a better place in your career and give you solid and stable growth. FITA Academy is the best institute to learn the Data Science Training in Anna Nagar as we provide the best training to students through experienced training professionals.
Have Queries? Talk to our Career Counselor for more Guidance on picking the
right Career for you!
Placement Session & Job Opportunities after completing Data Science Course in Anna Nagar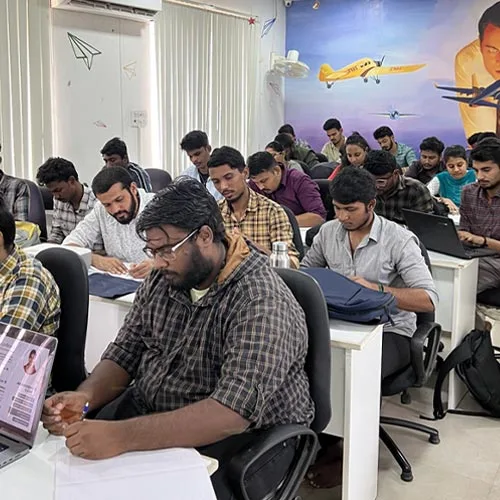 Data Science has become the new promising technology for businesses to rely on. It follows the best practices to provide businesses with meaningful information on what they want. Whether it is analyzing the customer purchasing behavior or analyzing their wants and needs or their future requirements, Data Science has provided them with all the solutions for their concerns. In India, the field has seen enormous growth thus becoming the second most desirable career option for Indian students and professionals. Even in America, it has acquired the position of the third most desirable career option and also a topmost promising job with a 56% increase in job openings. The field has seen a big growth because more companies started to see the importance of Big Data and the Internet of Things (IoT), where Data Science has helped businesses tremendously in utilizing them for their immense growth. The Data Science field has given rise to a 31% rise in job openings. The job statistics say that about 70% of Data Scientists' roles require only less than 5 years of experience.
Some of the Data Science skills that are needed for students or Data Science aspirants to effectively carry out their tasks are,
Python Programming
R Programming
Hadoop Platform
SQL Databases
Machine Learning and AI
Data Visualization
Business Strategy
Roles and Responsibilities of Data Scientists
Acquire Data.
Process and clean the data.
Integrate the Data and Store Data
Initiate Data investigation and exploratory analysis
Choose one or more potential models and algorithms
Apply Data Science techniques such as Machine Learning, Statistical Modelling and Artificial Intelligence
Measure and Improve results
Present final results to stakeholders
Make adjustments on feedback
Repeat the process to solve a new problem.
The positions that are available for Data Science aspirants after completing their certification are Data Analyst, Data Scientist, Machine Learning Engineer, Machine Learning Scientist, Applications Architect, Data Architect, Enterprise Architect, Infrastructure Architect, Statistician, Business Intelligence Analyst.
Some of the companies hiring Data Scientists in India are MuSigma, Fractal Analytics, Bridgei2i Analytics, Tiger Analytics, LatentView, Absolutdata, Innovaccer, TEG Analytics, Amazon, IBM, Apple, Oracle, Facebook, Microsoft, etc.
Let us discuss the salaries of Data Science professionals in India. The entry-level professional earns around Rs. 5,00,000 per annum. Mid-level professionals earn around Rs. 6,10,811 per annum. Experienced professionals earn around Rs. 1,00,000 per annum. Join FITA Academy's Data Science Course in Anna Nagar to gain substantial knowledge of the Data Science concepts and its applications in real-time.
Success Story of Data Science Course in Anna Nagar
I am an Engineering graduate passionate about studying Data Science. The field has a good scope for freshers and that's why I chose to study Data Science. After finding FITA Academy online that had good reviews for the course I chose FITA Academy to learn the Data Science Course in Anna Nagar. The training was wonderful to start with. Each session was engaging and interactive. My trainer taught the topics comprehensively and broadly. The practical sessions were also informative with lots to learn and understand about the technology. It was a quite beneficial training program that taught Data Science technology in a distinct manner.
Thanks to FITA Academy for conducting the Data Science Classes in Anna Nagar. I wanted to learn the Data Science Course as I am very much passionate about it. Learning it at FITA Academy has very well helped me in understanding the Data Science field and its applications in real-time. The trainer taught the concepts in an understandable manner and clearly explained the important topics in an easy and clear manner. The technical topics were also taught with the best hands-on practices and my trainer gave projects and assignments to understand the Data Science field better. Their placement support was indeed supportive in understanding the organizations' requirements better.
Becoming a Data Science professional is my career ambition. When searching for good institutes to learn the Data Science course, I found FITA Academy online. They had good reviews for the course and so I opted for FITA Academy to learn the Data Science Training in Anna Nagar. The trainer was encouraging in all aspects and explained the concepts thoroughly and clearly. It was a neat and engaging training program that made us understand the complex topics even better. At the end of the training program, I was quite well versed with the Data Science concepts and their applications in real-time. Thank you FITA Academy for the one-of-a-kind training program and support.
FITA Academy's Data Science Course in Anna Nagar is a distinct training program. Their way of teaching and imparting knowledge is different and unique. They follow a one-on-one approach for students to assess their weaknesses and strengths. My trainer also gave valuable feedbacks about my assessments and projects which helped me to self-evaluate my knowledge. The course was perfectly designed for freshers who want to learn the Data Science field comprehensively. It is a must-attend program for freshers to gain an extensive knowledge of the Data Science field.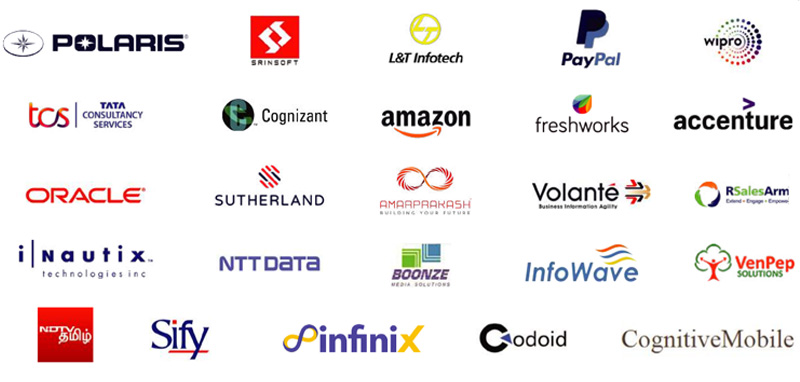 Frequently Asked Question (FAQ) about Data Science Course in Anna Nagar
Additional Information of Data Science Course in Anna Nagar
Data Science is the combined field of study such as Programming, Statistics, Scientific Methods, Artificial Intelligence, Data Analysis, etc to extract meaningful information from the data sets which are nothing but Big Data. Data Science has become the career of the future as it had already delivered promising jobs to thousands of its aspirants. Moreover, it is still creating jobs that have made it the second most desirable profession in India and third in America. The reason Data Science has become more popular and famous is due to the fact that many organizations started to rely on Data which is also called Big Data.
Big Data is classified into three types. One is Structured data, the second is Unstructured data and the third is Semi-Structured data. The first type of data that is structured data can be easily processed but the other two forms of data need data processing methods. There is more to explore about the Data Science field and students can very well choose FITA Academy for it and learn it through our Data Science Training in Anna Nagar.
Benefits of using Data Science
Increases Business Predicability
When Data Science is utilized by a business, it can analyze the future requirements of its customers. So when the future requirements are analyzed, it is easy for businesses to invest properly. This Data Science majorly helps in predicting the businesses' future requirements and saving money for them.
Ensures Real-time Intelligence
The data scientist can collaborate with RPA experts to identify their company's various data sources and construct automated dashboards that search all of this data in real-time and in an integrated manner.
This information is critical for your company's managers to make more accurate and timely decisions.
Favours Marketing and Sales Team
Adopting Data-driven marketing is essential in today's trend. Because as everything has become data, it is important to analyze the current trend and purchasing behavior of the customers. Once we know the purchasing behavior of the customers, it will be easy for the marketing team and sales team to sell the products and see revenue.
Data security work is one of the advantages of Data Science. There are a plethora of options in this regard. To keep your company's consumers safe, data scientists work on fraud protection systems.
There is more to explore about the Data Science field and students can very well choose FITA Academy for it and learn it through our Data Science Course in Anna Nagar.