Course Highlights and Why Spoken English Classes in Porur at FITA Academy?

FITA Academy offers the best Spoken English Institute in Porur, which is designed to help students improve their communication skills in social situations.

The course materials are comprehensive and cover all aspects of the English language, including learning, speaking, reading, and writing.

The classes are conducted by experienced trainers who use audio-video practice assessments to help students develop their speaking and vocabulary skills.

The classes are conducted at flexible timings to suit the convenience of the participants. Students can choose between weekend and weekday sessions.

Students have the option of attending classes either offline or online. The live online classes are also recorded, and students can access them later if they miss any classes.

The Spoken English Classes in Porur at FITA Academy are designed to help students become certified professional English speakers.

FITA Academy has an established network of 1,500+ organisations that provide placement support to students who complete the Spoken English course.

The trainers at FITA Academy are committed to giving students the greatest learning experience possible and helping them achieve their goals.

By joining the Spoken English Classes in Porur at FITA Academy, students can improve their communication skills, increase their confidence, and achieve their professional and personal goals.
Upcoming Batches
09-12-2023
Weekend
Saturday (Saturday - Sunday)
11-12-2023
Weekdays
Monday (Monday - Friday)
14-12-2023
Weekdays
Thursday (Monday - Friday)
16-12-2023
Weekend
Saturday (Saturday - Sunday)

Classroom Training
Get trained by Industry Experts via Classroom Training at any of the FITA Academy branches near you
Why Wait? Jump Start your Career by taking the Spoken English Classes in Porur!
Instructor-Led Live Online Training
Take-up Instructor-led Live Online Training. Get the Recorded Videos of each session.
Travelling is a Constraint? Jump Start your Career by taking the Spoken English Online Training!
Trainer Profile
At FITA Academy, trainers practice the blended learning method and provide a perfect blend of theoretical and practical knowledge.
The aim of the Spoken English Instructors at FITA Academy is to prepare students at all levels to be able to speak fluent English during their training exercises.
The Spoken English Trainers at FITA Academy are highly experienced and certified professionals in the field of language training and communication.
As a Spoken English Trainer, our goal is to enhance students' knowledge of Email Etiquette and Business Communication in order to prepare them for their future careers.
Each student at FITA Academy receives individualised attention from a Spoken English Trainer and gets complete hands-on practice.
The spoken English instructors at FITA Academy will help you improve your grammar accuracy and frame your sentences correctly.
FITA Academy offers advanced training in spoken English to make you a native English speaker and to help you become fluent in the language.
Learn at FITA Academy & Get Your
Dream IT Job in 60 Days
like these Successful Students!

Features of Spoken English Classes in Porur at FITA Academy
Real-Time Experts as Trainers
At FITA Academy, You will Learn from the Experts from industry who are Passionate in sharing their Knowledge with Learners. Get Personally Mentored by the Experts.
LIVE Project
Get an Opportunity to work in Real-time Projects that will give you a Deep Experience. Showcase your Project Experience & Increase your chance of getting Hired!
Certification
Get Certified by FITA Academy. Also, get Equipped to Clear Global Certifications. 72% FITA Academy Students appear for Global Certifications and 100% of them Clear it.
Affordable Fees
At FITA Academy, Course Fee is not only Affordable, but you have the option to pay it in Installments. Quality Training at an Affordable Price is our Motto.
Flexibility
At FITA Academy, you get Ultimate Flexibility. Classroom or Online Training? Early morning or Late evenings? Weekdays or Weekends? Regular Pace or Fast Track? - Pick whatever suits you the Best.
Placement Support
Tie-up & MOU with more than 1500+ Small & Medium Companies to Support you with Opportunities to Kick-Start & Step-up your Career.
Why Learn Spoken English Classes in Porur at FITA Academy?
Live Capstone Projects
Real time Industry Experts as Trainers
Placement Support till you get your Dream Job offer!
Free Interview Clearing Workshops
Free Resume Preparation & Aptitude Workshops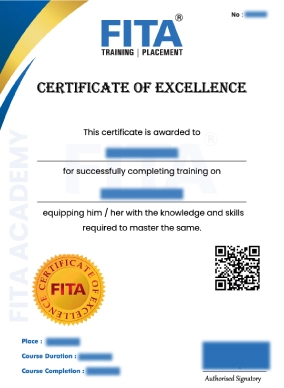 Spoken English Certification Coaching in Porur
In today's globalised society, being able to communicate effectively in English has become crucial. FITA Academy introduces Language proficiency tests and certification programs developed to assess and validate an individual's English language skills. One such program is the Spoken English Certificate, which recognizes individuals who have completed a course that focuses on developing proficiency in reading, writing, speaking, and listening.
It not only demonstrates an understanding of grammar and vocabulary but also the ability to communicate effectively and fluently in English. FITA Academy provides one of the best spoken english classes near Porur
 This certification can enhance an individual's career prospects, open up opportunities for personal growth, and enable seamless communication in academic, professional, and social settings.
International-level examinations, such as IELTS, TOEFL, have also become mandatory for those seeking to migrate to other countries for studies or job opportunities. Spoken English Institute in Porur assess an individual's proficiency in the English language in all areas, including reading, writing, speaking, and listening. Preparing for these exams requires a significant amount of time, effort, and resources, and attending a reputable coaching program such as IELTS Coaching in Porur can be immensely beneficial.
Have Queries? Talk to our Career Counselor for more Guidance on picking the
right Career for you!
Placement Session & Job Opportunities after completing Spoken English Classes in Porur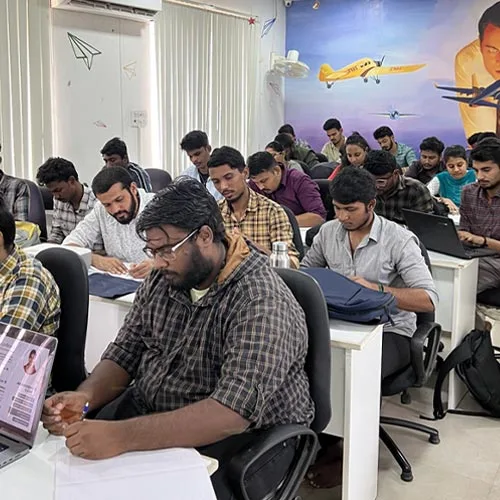 Proficiency in the English language has become a prerequisite for success in almost every field of job or study, whether it's science, commerce, business, tourism, politics, media, internet, computers, or others. Being able to communicate effectively in English has become an essential skill that every professional should possess, regardless of their profession. The ability to speak English fluently opens up a plethora of opportunities and significantly advances one's career prospects.
Numerous studies have shown that employees who are proficient in communicating in English have a wider range of opportunities and are more likely to progress quickly in their careers. English proficiency is particularly crucial for those working in foreign affairs, politics, or diplomatic duties, where the language is the most common medium of communication. Not only does being proficient in English provide career advancement opportunities, but it also opens up new and exciting career possibilities.
Writing and teaching English , read more about Spoken English Books and understand new and interesting opportunities and expanding the possibilities for English as a profession. Many companies are looking for marketing professionals with strong communication and persuasion skills to offer their products to clients.
Advertising also requires the use of proficient English, and many firms seek out applicants with strong communication abilities. Interpreters and translators are in high demand, and one can work as an English literature professor, writer, or reporter if they are proficient in the language.
The demand for English-speaking specialists is on the rise, with over 11,700+ job openings worldwide. Some of the job profiles or positions include Education Counselor, Business Development Executive, Research Coordinator, Human Resources, Operations Manager, Spoken English Instructor, IELTS Trainer, Telecaller, Translator, Technical Voice Support, Customer Care Executive, and many more. Companies such as Accenture, Wipro, Infosys, TCS, and WNS Global Services are actively seeking strong communicators for BPO positions.
The average salary for an English language specialist is around $57,000 globally, with an annual salary of approximately Rs. 4 lakhs in India. However, the income also varies based on experience, job location, and skills. Spoken English Institute in Porur offers Classes that guarantee placement opportunities and help students become eloquent speakers.
Being proficient in English is essential for professional success in today's globalised world. It opens up a wide range of opportunities and allows individuals to progress quickly in their careers. From business to education, marketing to writing, English proficiency is a valuable asset that cannot be overlooked. Taking Spoken English Classes can help individuals improve their communication skills and achieve their career goals.
Success Story of Spoken English Classes in Porur
FITA Academy's spoken english in porur exceeded my expectations. The trainers were professional, and they created a positive and supportive learning environment. I enjoyed the interactive activities and exercises, and I feel more confident speaking English now.
FITA Academy's Spoken English program was an excellent investment of my time and money. The trainers were patient and encouraging, and they provided me with personalized feedback that helped me improve my pronunciation and grammar.
I highly recommend FITA Academy's Spoken English training program to anyone who wants to improve their English language skills. The program was flexible and adaptable to my individual needs, and I learned a lot from the experienced trainers.
FITA Academy's spoken english in porur was a game-changer for me. The trainers were passionate about teaching and committed to helping their students succeed. I am grateful for the skills and knowledge I gained from this program, and I would recommend to everyone who wants to upgrade their English language proficiency.
I had a wonderful experience at FITA Academy's Spoken English training program. The trainers were knowledgeable and supportive, and the curriculum was well-structured and easy to follow. I saw a significant improvement in my English speaking and writing skills. And I was able to speak fluently without any problem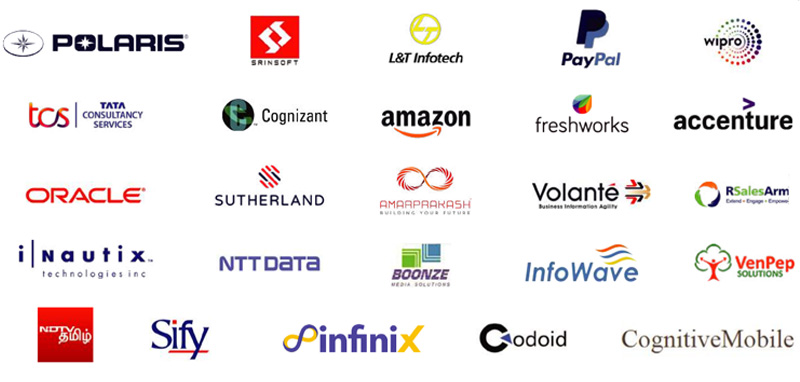 Frequently Asked Question (FAQ) about Spoken English Classes in Porur
Additional Information of Spoken English Classes in Porur
In today's interconnected world, English has become the language of communication. It is widely regarded as the most commonly used language on the internet, and its importance in the global arena cannot be overstated. English language skills are essential in most fields of work, and they play a crucial role in the hiring process of various industries. FITA Academy provides one of the best spoken english classes near Porur Speaking English confidently and fluently can increase one's earning potential and provide access to new opportunities.
To address the growing need for English language proficiency, the  spoken english in Porur classes is designed as a comprehensive English coaching program in Porur. This program covers pre-intermediate and intermediate levels of English and focuses on developing students' speaking, listening, vocabulary, grammar, and pronunciation skills. The course comprises several modules that aim to provide a holistic understanding of the English language.
The first module of the course is an introduction to the English language and its significance in contemporary culture. Students will learn how English can facilitate global communication, expand their employment prospects, and improve their ability to communicate effectively in a business setting. The second module focuses on stress and syllables, teaching students how to use stress in sentences and how to use dictionaries correctly. This module also aims to improve reading, comprehension, and vocabulary through a variety of activities such as formal and informal talks, presentations, dialogue creation, and group debates.
The third module of the program concentrates on accent neutralisation and conversation. Students will receive intensive training to improve their listening, speaking, and comprehension abilities. The accent neutralisation program includes instruction in diction analysis, proper pronunciation, mastery of vowels and consonants, and comprehension of syllable stress. The goal is to improve student's fluency and expressiveness through engaging and instructional classes that serve as a guide.
The program also focuses on improving students' understanding of business communication and email etiquette, essential skills in the modern workplace. English is the language of trade and commerce, and it has become a global language in the field of economics. It is also the language used in higher education, research, and news.
Learning English has become a necessity in today's world, and the FITA Academy's English coaching program in Porur is an excellent opportunity for students to improve their language skills. The course covers all aspects of English language proficiency, and the modules are designed to provide a comprehensive understanding of the language. With improved English language skills, students can enhance their career prospects, build their personalities, and improve their performance at work.
Components of the English Language
Grammar
Grammar is a requirement for students to organise suitable sentences in communication in both written and oral forms. Grammar is defined as a methodical strategy for assessing and gauging a person's linguistic proficiency. This is done by using a set of guidelines or principles that can be used to produce all grammatically correct or well-formed phrases in the language. Learners must understand how to construct suitable sentences in order to take part in a discussion. It depends on the student's capacity to change the structure and distinguish appropriate from improper grammatical forms. Grammar can help you discover the best methods for speaking and writing a language with ease.
Pronunciation
refers to the manner in which words are customarily or formally said. The implication of such a statement is that pronunciation is the technique used by individuals to talk clearly. It is focused on the phonological process, the collection of components and regulations that make up grammar and specify how sounds change and pattern within a language. Students can communicate more clearly if they pronounce their words with the correct intonations. Even with a limited vocabulary and understanding of grammar, a student can communicate effectively if they have accurate pronunciation and intonation.
Vocabulary
The appropriate diction used in communication is known as vocabulary. Without an appropriate vocabulary, one cannot effectively convey their ideas orally or in writing. The limited vocabulary of language learners is another barrier to language acquisition. Grammar allows for limited expression, whereas vocabulary allows for complete communication. A large vocabulary is required for effective second language usage since we cannot apply the structure and function that we have acquired for understanding conversational english and its usage without it. Thus, vocabulary plays a significant role in good communication.
Comprehension
The ability to comprehend and interpret speech patterns as well as produce examples of the learned phrases is known as comprehension. Since knowledge of a non-native language cannot be directly examined, it must be inferred from spoken and nonverbal signs by using tools or by using one's intuition. When people fully understand the purpose of a learning exercise, even when the techniques are technical and advanced, they are said to be demonstrating comprehension. In order to avoid information misconceptions, it is evident that comprehension relates to the speakers' knowledge of what they are expressing to the listeners. The listeners' capacity to quickly comprehend the speaker's material is its secondary goal.
Fluency
The capacity to communicate clearly and naturally without pausing is known as fluency. Speaking fluently is a desire shared by many language students. The trainer permits students to speak freely and without interruption when a teacher wants to evaluate a participant's fluency during the process of learning and teaching. The intention is to help students speak more clearly and with ease. The trainer does not correct kids straight away since it is thought that doing so would disturb the flow of the talk. Fluency is demonstrated by the capacity to communicate with minimal fillers or pauses at a moderate pace. These indicators suggest that the speaker doesn't have to spend a lot of time digging up the linguistic details needed to communicate the message.