Course Highlights and Why Java Course in Porur at FITA Academy?

FITA Academy's Java Course is designed by industry experts who understand the ever-changing demands of the software development industry.

Our curriculum provides a comprehensive overview of JavaScript and carefully curated codes that are relevant to the current industry trends.

Our expert trainers possess over ten years of experience working with various software development platforms, providing students with invaluable industry knowledge.

Students can expect extensive training in various technical strategies that equip them with the skills needed to excel in the industry.

Our Academy provides interactive, instructor-led Java Classes in Porur that cater to diverse learning styles, ensuring that every student can learn at their own pace.

Regular review sessions of previous classes are conducted to ensure students retain knowledge and can apply it effectively in real-world scenarios.

Our flexible batch timing options, including weekend, weekday, and fast track batches, allow students to choose a schedule that suits their lifestyle.

FITA Academy goes beyond training and provides job placement assistance to skilled trainees, opening up a world of career opportunities.

With collaborations with over 1,500 small to large businesses, our Active Placement Cell provides the perfect platform for students to secure their dream careers.

FITA Academy believes in empowering students with the right tools and skills needed to succeed in their careers, making it an ideal option for individuals seeking to establish themselves in the software development field.
Upcoming Batches
09-12-2023
Weekend
Saturday (Saturday - Sunday)
11-12-2023
Weekdays
Monday (Monday - Friday)
14-12-2023
Weekdays
Thursday (Monday - Friday)
16-12-2023
Weekend
Saturday (Saturday - Sunday)

Classroom Training
Get trained by Industry Experts via Classroom Training at any of the FITA Academy branches near you
Why Wait? Jump Start your Career by taking the Java Training in Porur!
Instructor-Led Live Online Training
Take-up Instructor-led Live Online Training. Get the Recorded Videos of each session.
Travelling is a Constraint? Jump Start your Career by taking the Java Online Course!
Trainer Profile
The trainers at FITA Academy are industry professionals who use a blended learning approach to teach Java programming theory and practice.
Our Java course instructors focus solely on teaching industry-relevant skills that are in high demand in the software development industry.
Trainees benefit from hands-on Java programming language training provided by our software development specialists.
Our industry experts provide in-depth training on the latest approaches to Java programming, ensuring students stay up-to-date with industry trends.
Instructors at FITA Academy provide individualized attention and hands-on experience to each student, allowing them to learn at their own pace.
Trainees receive assistance in developing a professional resume and boosting their confidence through mock interviews, preparing them for success in the job market.
FITA Academy's trainers are passionate about teaching and dedicated to providing students with the necessary tools and training to succeed in their careers.
Our trainers have real-world experience in software development and can provide valuable insights into the industry.
The trainers at FITA Academy are committed to providing a supportive learning environment that fosters creativity and innovation.
We believe in hands-on, practical training that allows students to apply what they have learned to real-world projects and scenarios, preparing them for success in the industry.
Learn at FITA Academy & Get Your
Dream IT Job in 60 Days
like these Successful Students!

Features of Java Course in Porur at FITA Academy
Real-Time Experts as Trainers
At FITA Academy, You will Learn from the Experts from industry who are Passionate in sharing their Knowledge with Learners. Get Personally Mentored by the Experts.
LIVE Project
Get an Opportunity to work in Real-time Projects that will give you a Deep Experience. Showcase your Project Experience & Increase your chance of getting Hired!
Certification
Get Certified by FITA Academy. Also, get Equipped to Clear Global Certifications. 72% FITA Academy Students appear for Global Certifications and 100% of them Clear it.
Affordable Fees
At FITA Academy, Course Fee is not only Affordable, but you have the option to pay it in Installments. Quality Training at an Affordable Price is our Motto.
Flexibility
At FITA Academy, you get Ultimate Flexibility. Classroom or Online Training? Early morning or Late evenings? Weekdays or Weekends? Regular Pace or Fast Track? - Pick whatever suits you the Best.
Placement Support
Tie-up & MOU with more than 1500+ Small & Medium Companies to Support you with Opportunities to Kick-Start & Step-up your Career.
Why Learn Java Course in Porur at FITA Academy?
Live Capstone Projects
Real time Industry Experts as Trainers
Placement Support till you get your Dream Job offer!
Free Interview Clearing Workshops
Free Resume Preparation & Aptitude Workshops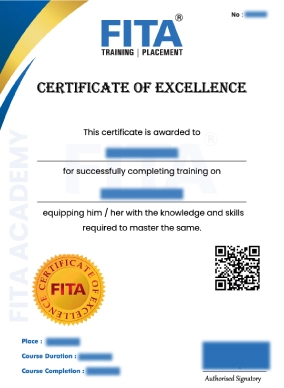 Java Certification Course in Porur
As technology continues to evolve, the Java programming language has become increasingly vital in the software development industry. A Java Course Certification is a well-respected professional credential that validates a person's ability to use Java programming effectively. FITA Academy's Java Certification Course in Porur is an excellent program for individuals looking to advance their Java programming skills and become proficient Java developers. Our course has been designed to provide comprehensive coverage of the Java programming language, starting from the basics and gradually progressing to more advanced topics. Our experienced Java training specialists offer guidance throughout the program, ensuring students receive the knowledge and expertise needed to excel in the software development industry. With over eight years of practical experience in software development, our trainers provide a practical, hands-on approach to learning.
The Java Certification Course in Porur covers key concepts such as data types, operators, loops, conditional statements, and arrays, as well as more advanced topics such as multithreading, exception handling, and network programming. The program also emphasizes real-world applications, providing students with practical training in developing Java programs, designing software systems, and building user interfaces. After completion of the Java Certification Course, trainees receive a FITA Academy Java Course Certification. This certification is a valuable addition to a CV, as it demonstrates a candidate's expertise and proficiency in Java programming, making them more desirable to potential employers. Additionally, our program includes assistance with developing a professional resume and mock interviews, ensuring students are fully prepared to enter the job market. By enrolling in FITA Academy's Java Certification Course in Porur, students will acquire the knowledge and skills necessary to become successful Java developers. Our program's rigorous training, combined with our trainers' expertise and practical approach, ensures that students are well-prepared for a flourishing career in software development.
Have Queries? Talk to our Career Counselor for more Guidance on picking the
right Career for you!
Placement Session & Job Opportunities after completing Java Course in Porur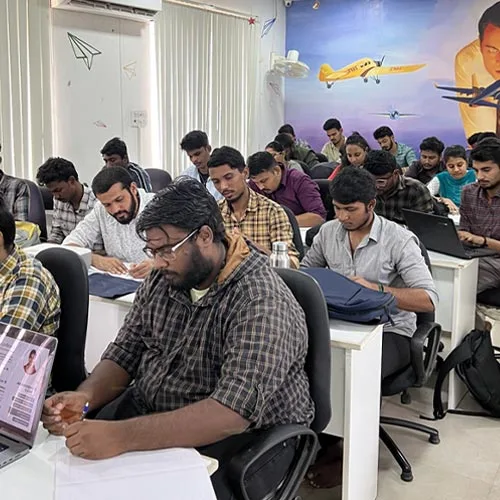 Java is a valuable programming language that can elevate a career in software development. It is the most popular programming language among developers, according to the TIOBE Popularity Index, and is used for various applications. Java is also adaptable to any platform, making it versatile and widely used. For software developers, a profound comprehension of Java is essential to remain competitive in the industry. Java's extensive usage and versatility make it a fundamental aspect of any software developer's skill set.
With the increasing demand for Java developers, the number of employed Java developers in the industry is anticipated to increase by 19% in the upcoming years. Renowned corporations such as Amazon, IBM, HCL, Wipro, Cognizant, Infosys, Accenture, TCS, and Capgemini recognize the value of Java developers and hire them in their organizations. These companies are known for their innovative software development approaches and advanced technology, making them an excellent workplace for individuals looking to advance their careers in the field.
In the software development industry, numerous job titles are associated with the hiring of Java developers. The most commonly used job titles include Java Developer, Java Programmer, Software Developer, Web Developer, Java Architect, Database Administrator, and Application Developer. These job titles illustrate the broad range of duties and knowledge that are necessary for individuals working with Java in the software development domain.
For individuals who are new to the IT field, the typical salary range for a Java Developer Salary for Freshers is between 3 to 4 LPA. With three to five years of experience, Java professionals can anticipate earning between 4.5 and 6 LPA. Senior-level Java developers can earn between 6 to 8 LPA. FITA Academy's Java Training in Porur provides students with the specialized skills required to become successful Java developers. The training prepares students with the proficiency they need to excel in the industry and accomplish their career objectives.
Furthermore, Java developers have a vast range of career opportunities. These include working in web development, software development, mobile application development, database management, and game development. Java is also used in the development of financial applications, scientific applications, and e-commerce applications. This wide range of opportunities offers developers the freedom to choose their preferred career path and work in various industries.
Java is an indispensable skill for software developers, and it opens up a world of career opportunities. Employers are actively seeking Java developers, making it an excellent time to pursue a career in this field. FITA Academy's Java Training in Porur equips individuals with the necessary skills to become successful Java developers and provides students with the opportunity to excel in their careers.
Also Read: Java Interview Questions and Answers
Success Story of Java Course in Porur
I was hesitant to enroll in a Java course, but after completing FITA Academy's training in Porur, I am glad I did. The trainers were not only knowledgeable but also patient and understanding. They tailored the course to meet my learning needs and made sure I understood every concept before moving on. The academy's placement services also helped me secure a job in a reputed IT company, and I am now able to apply my skills in a real-world setting. Thank you, FITA Academy, for helping me kickstart my career in software development.
I like technology but I couldn't move forward because I didn't know how to program. FITA Academy's Java Course in Porur provided me with a solid foundation in programming, and the trainers made the learning experience enjoyable and engaging. I appreciated the hands-on approach and was able to work on real-world projects, which boosted my confidence. The academy's career services also helped me create a strong resume and prepare for interviews, and I am now working as a junior software developer at a startup. I highly recommend FITA Academy for anyone looking to enter the tech industry.
Being a working professional, I had limited time to devote to learning Java. But FITA Academy's flexible course timings in Porur made it possible for me to pursue my passion for programming while balancing my job. My trainer was knowledgeable and provided personalized attention, making the learning experience fruitful. I was able to work on practical projects and develop my programming skills, which helped me land a new role in my company's IT department. I am grateful to FITA Academy for enabling me to transition to a more fulfilling career path.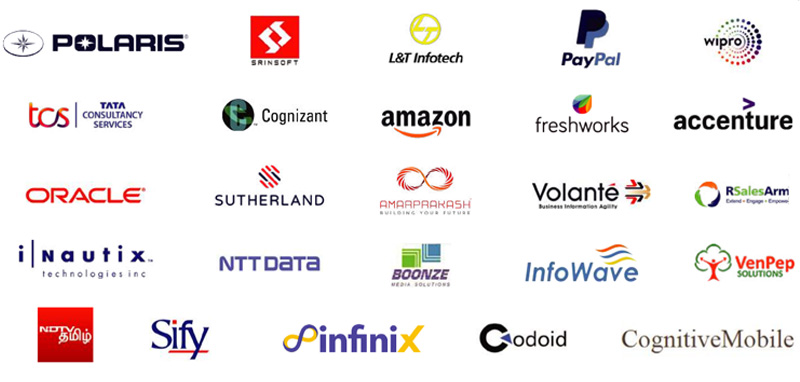 Frequently Asked Question (FAQ) about Java Course in Porur
Additional Information of Java Course in Porur
Java has been a dominant player in the programming industry for several years and continues to be a popular choice for developers due to its security and power. If you're interested in learning Java, consider enrolling in a JAVA training course in Porur to gain the skills needed to manage complex software systems. FITA Academy is a reputable Java Training Institute in Porur that offers a comprehensive Java education designed to meet the needs of businesses. The Java Course Syllabus covers J2EE, J2SE, and J2ME for developing applications and includes hands-on practice with real-world scenarios to enhance practical experience. After completing the course, students will be well-equipped with the necessary skills and knowledge to tackle any task related to Java with confidence and competence. Additionally, the high demand for Java and J2EE developers ensures plenty of opportunities for growth and career advancement.
Eligibility and Prerequisites for Java Training in Porur
Eligibility Criteria: To be eligible for FITA Academy's Java Course in Porur, individuals must have a strong interest in software development as a career path. The course is also suitable for professionals from diverse programming backgrounds, such as web designers, project managers, and software developers, who wish to enhance their skillset. Although the course has no mandatory prerequisites, we suggest that students possess some familiarity with object-oriented programming to enhance their learning and ensure a smoother understanding of the course material.
Prerequisites: At FITA Academy's Java Institute in Porur, we welcome individuals from all backgrounds who are eager to learn and enhance their skills in programming. We have developed our comprehensive training program with the aim of accommodating individuals of all levels, from novices with no previous experience in Java to seasoned experts seeking to broaden their skillset. Our experienced and certified instructors provide personalized guidance and support to ensure that every student gains the necessary knowledge and expertise in Java programming. Therefore, regardless of your previous experience or educational background, you can join our Java Course in Porur and embark on a journey to become a skilled Java developer.
FITA Academy's Java Tutorials cater to a wide range of learners, from beginners to experienced programmers. The tutorials cover a broad range of topics, from basic syntax to advanced concepts, providing a comprehensive understanding of the programming language. The tutorials are designed to be accessible and engaging, allowing individuals to learn at their own pace and level of expertise.
Learning Outcomes of Java Classes in Porur at FITA Academy
Understanding the basics of Java programming language and its object-oriented programming concepts.
Knowledge of data types, keywords, expressions, and reference data types.
Familiarity with various operators including arithmetic, logical, assignment, relational, and bitwise operators.
Ability to declare and define variables, including primitive and object types.
Understanding the syntax and types of methods in Java.
Knowledge of objects, object creation, and reference variables.
Understanding of constructors, access specifiers, and access levels.
Proficiency in working with strings, string builder, and string buffer.
Ability to declare and define arrays, both primitive and object types.
Understanding of inheritance, including the "is-a" and "has-a" relationships, using the extends and implements keywords.
Knowledge of abstraction, including interfaces and abstract classes.
Understanding of encapsulation, classes vs. interfaces, and nested interfaces.
Proficiency in working with polymorphism, including overloading, overriding, constructor overloading, and overloading between classes.
Ability to handle exceptions, including throw and throws keywords, try-catch-finally blocks, and exception hierarchy.
Understanding of the collection framework, including iterators, core interfaces, core classes, and comparable & comparator interfaces.
Proficiency in working with generics, auto-boxing, and unboxing.
Ability to perform casting, including primitive casting, reference casting, upcasting, and downcasting.
Familiarity with file handling in Java, including files, streams, and types of streams.
Knowledge of serialization, threads, and synchronization, including the life cycle of threads, creation of threads, and thread groups.
Understanding of Java enterprise edition (JEE), including servlets, Java server pages (JSP), and the model-view-controller (MVC) architecture, as well as Spring and Spring Boot frameworks, Hibernate framework, and Hibernate ORM mappings.
In addition to the topics listed above, we provide you the Best Java Training Institute in Porur at FITA Academy also covers several other important concepts.