Course Highlights and Why Salesforce Training in Porur at FITA Academy?

The Salesforce course at FITA Academy is designed by industry experts who have extensive knowledge and experience working with Salesforce CRM software.

The course content is aligned with the global standards set by Salesforce, ensuring that learners gain the skills and knowledge to obtain industry-wide recognition.

The course covers all aspects of Salesforce CRM software, providing a deep understanding of its features and functionalities.

Learners will gain proficiency in configuring Salesforce CRM, managing customer data, and analysing key details to improve business processes.

The course includes hands-on training in developing reports using the Report Builder, enabling learners to create insightful and actionable reports.

Learners will gain a holistic understanding of Salesforce validation, object management, field types, and rules, allowing them to develop effective solutions for business needs.

The course includes training in Lightning components, enabling learners to develop solutions efficiently and effectively.

Learners will gain the skills and knowledge necessary to implement security features and automation tools to improve business processes.

The course prepares learners for global certification exams, including Salesforce Admin, Salesforce Lightning Development, Apex Development Platform, and Salesforce App Builder.

Learners will possess the technical competence and professional skill set required to excel in Salesforce CRM software development and administration.
Upcoming Batches
09-12-2023
Weekend
Saturday (Saturday - Sunday)
11-12-2023
Weekdays
Monday (Monday - Friday)
14-12-2023
Weekdays
Thursday (Monday - Friday)
16-12-2023
Weekend
Saturday (Saturday - Sunday)

Classroom Training
Get trained by Industry Experts via Classroom Training at any of the FITA Academy branches near you
Why Wait? Jump Start your Career by taking Salesforce Training in Porur!
Instructor-Led Live Online Training
Take-up Instructor-led Live Online Training. Get the Recorded Videos of each session.
Travelling is a Constraint? Jump Start your Career by taking the Salesforce Training Online!
Trainer Profile
The Salesforce Developer trainers at FITA Academy in Porur offer a balanced approach to learning the conceptual and practical aspects of the Salesforce tool.
At FITA Academy in Porur, the Salesforce tutors are highly experienced certified professionals with over 10 years of expertise in the Salesforce platform.
The Salesforce instructors at FITA Academy provide efficient and thorough training on Salesforce software and its environment to equip students with the necessary skills and knowledge.
FITA Academy's Salesforce mentors prepare aspirants effectively to take up global certification exams conducted by Salesforce, thereby enhancing their career prospects.
The expert Salesforce professionals who train students at FITA Academy in Porur have extensive experience working on over 25 Salesforce projects, providing practical insights and real-world experience.
The Salesforce tutors at FITA Academy in Porur support students in the profile-building process and offer necessary interview tips and training to increase their chances of success.
The Salesforce instructors at FITA Academy in Porur provide individualised attention to every learner, ensuring that they receive equal focus and training on essential technical skills.
FITA Academy's Salesforce course provides a comprehensive understanding of Salesforce development, including administration, customisation, and integration.
Learners in FITA Academy's Salesforce course gain hands-on experience in developing and deploying Salesforce applications through practical exercises and case studies.
FITA Academy's Salesforce course covers vital areas such as data management, security, and automation, offering learners the necessary skills to excel in Salesforce development and administration.
Learn at FITA Academy & Get Your
Dream IT Job in 60 Days
like these Successful Students!

Features of Salesforce Training in Porur at FITA Academy
Real-Time Experts as Trainers
At FITA Academy, You will Learn from the Experts from industry who are Passionate in sharing their Knowledge with Learners. Get Personally Mentored by the Experts.
LIVE Project
Get an Opportunity to work in Real-time Projects that will give you a Deep Experience. Showcase your Project Experience & Increase your chance of getting Hired!
Certification
Get Certified by FITA Academy. Also, get Equipped to Clear Global Certifications. 72% FITA Academy Students appear for Global Certifications and 100% of them Clear it.
Affordable Fees
At FITA Academy, Course Fee is not only Affordable, but you have the option to pay it in Installments. Quality Training at an Affordable Price is our Motto.
Flexibility
At FITA Academy, you get Ultimate Flexibility. Classroom or Online Training? Early morning or Late evenings? Weekdays or Weekends? Regular Pace or Fast Track? - Pick whatever suits you the Best.
Placement Support
Tie-up & MOU with more than 1500+ Small & Medium Companies to Support you with Opportunities to Kick-Start & Step-up your Career.
Why Learn Salesforce Training in Porur at FITA Academy?
Live Capstone Projects
Real time Industry Experts as Trainers
Placement Support till you get your Dream Job offer!
Free Interview Clearing Workshops
Free Resume Preparation & Aptitude Workshops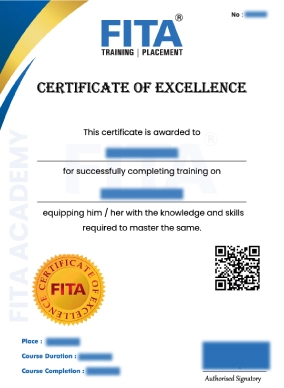 Salesforce Certification Course in Porur
Salesforce is a strong and functional tool that is widely used by organisations of all sizes to manage customer relationships, sales processes, and marketing campaigns. With its many features and capabilities, Salesforce can be a valuable asset for individuals seeking to advance their careers in a range of industries. To assist people in acquiring the abilities and information required for success in the Salesforce world, FITA Academy offers a comprehensive Salesforce course in Porur.
When the course is successfully completed, FITA Academy awards a course completion certificate to the candidate. This certificate is highly valued by organisations across industries as validation of the candidate's proficiency in Salesforce. It serves as a testament to the effort and dedication invested by the candidate during the course. It verifies their ability to pass all assessments, assignments, and projects required to become a successful Salesforce expert.
The Salesforce course offered by FITA Academy is an excellent starting point for individuals seeking to gain proficiency in the Salesforce platform. The course completion certificate is highly valued by employers and provides a solid foundation for acquiring the appropriate Salesforce certifications for specific job roles. By obtaining Salesforce certification, individuals can demonstrate their expertise and increase their career prospects in sales, marketing, eCommerce, and related technologies.
Benefits of getting certified from Salesforce Training in Porur at FITA Academy
 Learn how to customise Salesforce applications to meet your business needs.
Gain expertise in creating custom objects, fields, reports, and dashboards to improve your business processes.
Familiarise yourself with various components of Salesforce, such as Lightning.
Components, Visualforce Pages, Apex Classes, and more.
Discover how to integrate Salesforce with other systems like Google Sheets, Excel, MS Word, MS PowerPoint, etc., to increase efficiency and streamline your workflows.
Enhance your communication skills and learn how to interact more confidently with customers and stakeholders.
To prepare for upcoming changes, keep up with the most recent Salesforce platform trends and developments.
Gain expertise in Salesforce development, which can significantly boost your career prospects.
Become proficient in using Salesforce to track customer data and improve your sales and marketing strategies.
Develop valuable skills that can be applied to a wide range of industries and job roles.
Have Queries? Talk to our Career Counselor for more Guidance on picking the
right Career for you!
Placement Session & Job Opportunities after completing Salesforce Training in Porur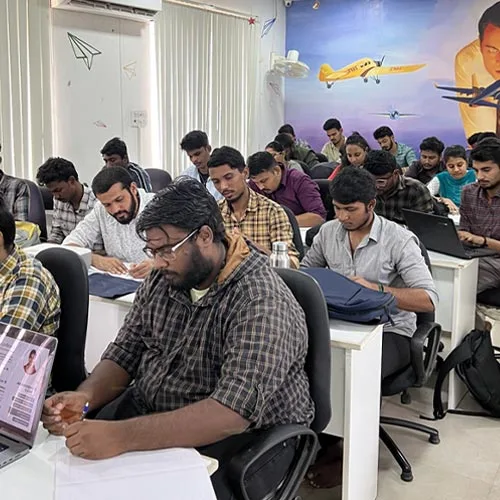 The field of Salesforce is one of the most rapidly growing sectors in the market of marketing ventures. Some of the biggest and most renowned organisations in the world, such as Infosys, Amazon, Facebook, Microsoft, HCL TCS, Wipro Infotech, and Google Capgemini Cognizant Tech Mahindra, are on the lookout for talented individuals who possess proficiency in Salesforce. Moreover, various other organizations are in constant search of hiring capable individuals who can handle Salesforce with ease.
Information is the most crucial and valuable resource for any association or industry, which is why the role of a Salesforce administrator has become extremely demanding. Professionals working in fields such as Engineering, Programming, Software Development, Application Development, Analytics, Administration, IT Operations, Technical Management, Sales, and Business Intelligence can all find a career in the field of Salesforce. This subject is perfect for technical professionals who are motivated to explore the platform and pursue a career in Salesforce.
Companies that hire Salesforce developers include IBM, Deloitte, TCS, Accenture, Wipro, and Cognizant. According to naukri.com, there are over 9100 job openings for Salesforce and related careers.
If you are trying to make a career in Salesforce, there are various job roles you can opt for. These include Senior Software Engineer, Principal Salesforce Admin, Salesforce Certified Developer, Senior Platform Developer, Salesforce Administrator, SFDC Certified Developer, Salesforce Architect, Application Support Analyst, Senior Salesforce Consultant, Business Analyst, and Salesforce Cloud Management. The Salesforce Salary For Freshers is 3 lakhs per annum. The annual salary for the same is 110k per annum globally. As you gain more experience, the pay scale also spikes up.
There are various training institutes that offer Salesforce courses, and you can find them in your city. For instance, if you are based in Porur, you can consider joining the Salesforce Developer Training in Porur. This course will give you the necessary skills and knowledge required to work as a Salesforce developer, administrator, or consultant.
Salesforce is a promising field with a high demand for skilled professionals. As the world becomes more advanced with technology, the need for individuals who can handle Salesforce and manage data efficiently will only increase. So, if you are considering making a career in Salesforce, you can be assured of excellent job prospects and a promising future ahead.
Also Read: Salesforce Interview Questions and Answers
Success Story of Salesforce Training in Porur
The course content was well-structured and comprehensive. The trainers covered all the aspects of Salesforce, including the features, functionalities, and implementation. The course was challenging yet manageable, and I felt like I was learning at my own pace.
The trainers at FITA Academy were very patient and supportive. They always encouraged me to ask questions and cleared my doubts in a friendly and approachable manner. The trainers' guidance helped me develop a deeper understanding of the subject. Thank you, FITA
The course materials were excellent, and I found them to be very helpful. The resources provided by FITA Academy were well-organised and informative. The practical exercises were particularly useful as they helped me apply the concepts I learned in real-life scenarios.
I had a fantastic experience at FITA Academy. The course helped me build a solid foundation in Salesforce, and I feel confident in my knowledge of the subject. The trainers, course content, and materials exceeded my expectations, and I would highly recommend FITA Academy to anyone interested in learning Salesforce.
The trainers at FITA Academy are fantastic. They have a vast knowledge of Salesforce, and their teaching style is engaging and interactive. The trainers made sure to cover all the important topics and provided practical examples that helped me understand the concepts better.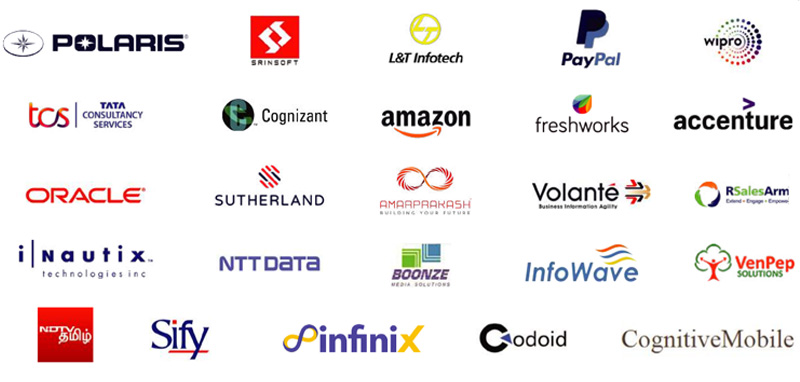 Frequently Asked Question (FAQ) about Salesforce Training in Porur
Additional Information of Salesforce Training in Porur
Customer relationship management (CRM) is an unavoidable part of any successful business strategy. The ability to manage and maintain effective customer relationships is critical to the growth and sustainability of a company. Salesforce.com is one of the most popular and widely-used cloud-based CRM tools available on the market today. With its comprehensive suite of services covering sales, marketing, and customer service, Salesforce is an ideal solution for businesses of all sizes.
Salesforce has become the go-to choice for many Fortune 500 companies around the world. Its effectiveness, efficiency, and cloud-based architecture make it a highly sought-after tool for boosting sales, improving customer service, and streamlining marketing processes. As such, there is a significant demand for Salesforce developers and administrators, both in Porur and the rest of the world.
At FITA Academy, we offer Salesforce training courses designed to equip professionals and students with the craving to succeed in the ever-growing field of CRM. Our experienced trainers provide practical, hands-on instruction, giving students real-time experience in using the Salesforce platform. Our courses are designed to help students not only learn Salesforce but also obtain Salesforce certification, further increasing their job prospects and earning potential.
With the growing demand for Salesforce professionals, learning Salesforce is an excellent choice for anyone looking to fast-track their career or find a job abroad. Our Salesforce training courses in Porur are tailored to meet the needs of both professionals and students, regardless of their level of experience. Our trainers are certified professionals with over eight years of experience, ensuring that students receive top-notch instruction.
At FITA Academy, we recognise that practical, hands-on learning is essential to mastering Salesforce. As such, we provide a complete, real-world approach to teaching this advanced CRM tool. Our course module covers everything from the basics of Salesforce to more advanced topics such as customising and configuring the platform, creating workflows, and integrating with third-party applications.
Our Salesforce training courses in Porur are comprehensive, providing students with a well-rounded understanding of Salesforce's capabilities and features. Our courses are taught in a structured, step-by-step manner, ensuring that students can apply what they learn immediately. We also provide ongoing support and guidance, ensuring that students have the resources they need to succeed.
Salesforce is a powerful and versatile CRM tool that is essential for any business looking to improve its customer relationships. At FITA Academy, we provide Salesforce training courses designed to help professionals and students learn this advanced tool quickly and effectively. With our practical, hands-on approach and experienced trainers, students can master Salesforce, obtain certification, and jumpstart their careers in the field of CRM.