Course Highlights and Why Software Testing Training in Anna Nagar at FITA Academy?

Introduction to Software Testing, Quality Testing, Importance of Testing, Tools used for Testing, Manual and Automation Testing, Principles of Software Testing.

Introduction to Software Development Life Cycle and SDLC phases.

Learning about Requirement and Analysis, Design and Development, Testing and Deployment, and Operation and Maintenance.

Understanding the SDLC Models such as Waterfall Model, V Model, Spiral Model, Iterative Model, and Agile Model

Comprehending Development Architectures such as One Tier Architectures, Two-Tier Architectures, Three Tier Architectures, and N-Tier Architectures.

Knowledge of Software Testing Life Cycle, Entry and Exit Criteria, STLC Phases, Requirement Analysis, Test Planning, Test Design, and Test Execution.

Apprehending Testing techniques such as the White Box Testing Technique, Black Box Testing Technique, Unit Testing, Integration Testing, System Testing, Functional Testing, etc.

Insights on effective Software Metrics such as Test Case Productive Preparation, Test Execution Summary, Test Case Coverage, Defect Acceptance, Defect Rejection, etc.

Exploring Requirements Traceability Matrix, Agile Methodologies, Bugzilla, ALM.

Understanding Backlog, QTest, Agile Scrum, JIRA, etc.
Upcoming Batches
09-12-2023
Weekend
Saturday (Saturday - Sunday)
11-12-2023
Weekdays
Monday (Monday - Friday)
14-12-2023
Weekdays
Thursday (Monday - Friday)
16-12-2023
Weekend
Saturday (Saturday - Sunday)

Classroom Training
Get trained by Industry Experts via Classroom Training at any of the FITA Academy branches near you
Why Wait? Jump Start your Career by taking Software Testing Training in Anna Nagar!
Instructor-Led Live Online Training
Take-up Instructor-led Live Online Training. Get the Recorded Videos of each session.
Travelling is a Constraint? Jump Start your Career by taking the Software Testing Online Training!
Trainer Profile
FITA Academy's Software Testing trainers are industry professionals having a maximum experience of 10+ years in the software field.
They have excellent teaching credentials as they have trained more than n number of students for their career establishment and also for corporate training purposes.
They provide extensive guidance and assistance for students in completing their assignments and projects.
They provide one-on-one support and also conduct interactive and engaging sessions.
They assist in a career as well as placement training to support students in their having a clear career path.
Learn at FITA Academy & Get Your
Dream IT Job in 60 Days
like these Successful Students!

Features of Software Testing Training in Anna Nagar at FITA Academy
Real-Time Experts as Trainers
At FITA Academy, You will Learn from the Experts from industry who are Passionate in sharing their Knowledge with Learners. Get Personally Mentored by the Experts.
LIVE Project
Get an Opportunity to work in Real-time Projects that will give you a Deep Experience. Showcase your Project Experience & Increase your chance of getting Hired!
Certification
Get Certified by FITA Academy. Also, get Equipped to Clear Global Certifications. 72% FITA Academy Students appear for Global Certifications and 100% of them Clear it.
Affordable Fees
At FITA Academy, Course Fee is not only Affordable, but you have the option to pay it in Installments. Quality Training at an Affordable Price is our Motto.
Flexibility
At FITA Academy, you get Ultimate Flexibility. Classroom or Online Training? Early morning or Late evenings? Weekdays or Weekends? Regular Pace or Fast Track? - Pick whatever suits you the Best.
Placement Support
Tie-up & MOU with more than 1500+ Small & Medium Companies to Support you with Opportunities to Kick-Start & Step-up your Career.
Why Learn Software Testing Training in Anna Nagar at FITA Academy?
Live Capstone Projects
Real time Industry Experts as Trainers
Placement Support till you get your Dream Job offer!
Free Interview Clearing Workshops
Free Resume Preparation & Aptitude Workshops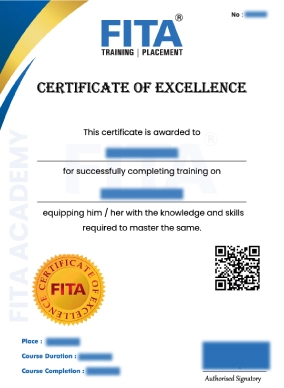 Software Testing Certification Course in Anna Nagar
Software Testing is one of the well-paid professions in India. As much as Software Development is given importance, Testing those products is equally paramount and hence the profession holds an important place in the IT industry. We at FITA Academy provide extensive training for Software Testing enthusiasts to gain competitive professional skills. These skills will help you perform remarkably in your organizations and also put you in a better place among your competitors. Some of the testing skills that we teach here are Agile Testing, Software Development Life Cycle, Web and Mobile Testing Technologies, Databases and SQL Management, Project Management, Basic Programming, and Operating Systems knowledge, etc. FITA Academy encompasses many benefits for students enrolling in its Software Testing Course in Anna Nagar. Starting from recruiting only the best and experienced professional trainers, providing extensive technical training to prompt placement support, FITA Academy completely provides support to students to successfully complete their certification training program.
Have Queries? Talk to our Career Counselor for more Guidance on picking the
right Career for you!
Placement Session & Job Opportunities after completing Software Testing Training in Anna Nagar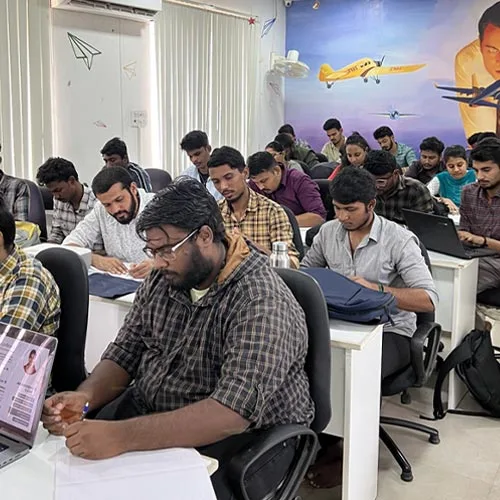 Software Testing is an IT discipline that majorly works towards making software products impeccable which is nothing but error-free and flawless. This IT disciple is majorly formed to support the Software Development process in delivering high-quality software applications to users so that they can use the applications without experiencing any glitches and trouble. Also, delivering quality software applications allows users to put trust in the digital products and services that will help them in their day-to-day lives. Therefore the demand for Software Testing Engineers is considerably high globally. Job statistics say that the employment rate of Software Testing Engineers is projected to grow by 22% from 2021 to 2030 and around 1,89,200 jobs have been created for the same professionals. Software Testing is of two types. One is Manual Testing and the other is Automation Testing. Manual Testing is testing the software applications manually through a testing engineer. Automation Testing is using automation testing tools like Selenium, QTP, Cucumber, Ranorex, TestComplete, Appium, etc to perform testing of the software applications.
Some of the skills that are required or demanded from the Software Testing Engineers are,
Non-Technical Skills
Analytical Skill
Communication Skill
Time Management and Organization Skill
Passion
Technical Skills
Foundational knowledge of Database/SQL
Basic Knowledge of Linux Commands
Practical experience in utilizing any Test Management tool
Practical experience in utilizing any defect tracking tool
Practical experience in utilizing any automation tool
Software Testing positions that are available for certified candidates are Junior Software Testing Engineer, QA Analyst, Software Testing Engineer, QA Team Coordinator, Test Manager, etc.
Let us discuss the salaries of Software Testing Engineers in India. Entry-level engineers earn around Rs. 3,37,200 per annum. Mid-level professionals earn around Rs. 6,58,336 per annum. While experienced professionals earn around Rs. 9,76,020 per annum. Join FITA Academy's Software Training Training in Anna Nagar to experience the distinct teaching by our industry professionals for the Software Testing concepts which will impart you a profound knowledge and help in easy understanding of the same.
Success Story of Software Testing Training in Anna Nagar
Having enrolled in FITA Academy's Software Testing Course in Anna Nagar, I have gained substantial knowledge of the Software Testing methods that are carried out in the IT companies. The training was useful in understanding the importance of the Software Testing processes and also in understanding the career benefits of choosing Software Testing technology as a career path. My trainer had a profound knowledge of the technology and also expertly taught the concepts to have a better understanding of them. She patiently explained all the concepts even if we tend to lag in understanding any of them. She gave frequent assignments and tasks to explore ourselves more about the field which helped us to understand deeply about the Software Testing technology.
I attended FITA Academy's Software Testing Course in Anna Nagar. I want to do the Software Testing course because I am passionate about testing and want to have a career based in Software Testing. Through attending FITA Academy's software testing course, I gained a sound knowledge of Software Testing methods and techniques. My trainer was supportive in explaining the concepts clearly and also didn't hesitate to teach again if we had trouble understanding them. She clearly assisted in our projects and assignments and helped us to understand the technology much better. I appreciate FITA Academy and my trainer's support in delivering quality training to students.
First of all, I would like to thank FITA Academy for conducting the best Software Testing Classes in Anna Nagar. The training program has largely helped me in understanding the practices and methods involved in the Software Testing field. It was a good exposure program both in terms of understanding the technology as well as exploring the career opportunities in the field. Technical classes were also conducted in a broad and comprehensive manner that helped me more in gaining solid testing skills. My trainer gave clear teaching of the important testing concepts and assisted us well in completing our projects and assignments. I had a good learning experience at FITA Academy and thanks to the management and my trainer for providing it.
To start my career as a Software Testing professional is my career goal. When looking for a good institute to learn the Software Testing course, I stumbled upon FITA Academy online and they had good reviews for the course. During the training program, I was given extensive training for all the testing concepts. Moreover, to assess my skills, regular assignments were given that helped me in self-evaluating my knowledge. My trainer gave valuable feedbacks about my assessments' results and supported me to perform better in each assessment. Their one-on-one attention for students was a distinct approach and particularly helped me in overcoming my shortcomings and strengthened my knowledge of the technology.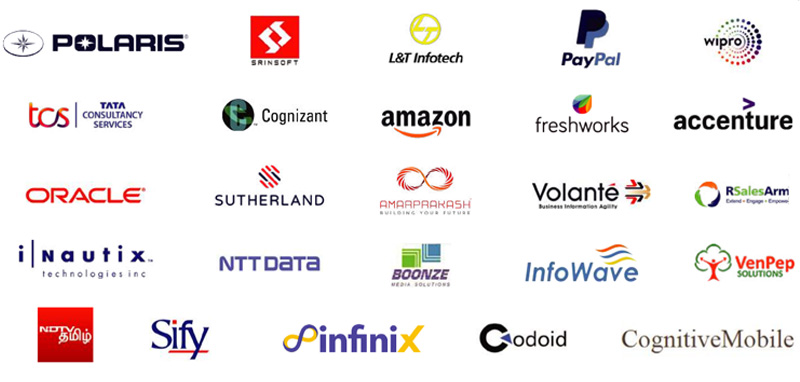 Frequently Asked Question (FAQ) about Software Testing Training in Anna Nagar
Additional Information of Software Testing Training in Anna Nagar
Software Testing
Software Testing is a process of putting a software program or a software application under test to find if there are any bugs or gaps or errors in the software product. The need of finding these bugs and errors is to know whether the developed software product possesses any potential risks that will hinder its performance in the future. This software testing can be done in two ways. One is Manual Testing and the other is Automation Testing. Manual Testing and Automation Testing involve different types of processes and strategies but both work for the same goal of making software products error-free and reliable.
Types of Manual Testing
Acceptance Testing
Black Box Testing
Integration Testing
System Testing
Unit Testing
White Box Testing
Processes involved in Manual Testing
Understanding user requirements
Preparing Test Cases
Reviewing Test Cases
Executing Test Cases
Reporting Bugs
Test again
Automation Testing Tools
Selenium
Appium
TestComplete
Ranorex
Kobiton
Lambda Test
Eggplant
QTP
TestStigma
Subject7
Katalon
Reasons Why Software Testing is Important?
Cuts the excess cost of development in the early stages
Software Testing majorly helps in cutting down the excess cost of development of the software products and services even in the early stages. Because testing done at the end of each stage identifies the errors and faults that developed during the process. But testing is done at the end of the software development results in the possibility of finding so many errors and again investing more money to rectify them.
Security is the biggest concern when it comes to deploying software applications. Because when a software application has been accessed by the users, it stores the personal data of the users. So when it has bugs or errors, there is a possibility of users' personal information being leaked or mishandled. Therefore to avoid all these mishaps, software applications has to be tested before getting launched in the app market. So, when a software application is tested before it is deployed in the app market, it has high chances of being secure and safe to use.
Improves the Quality of the Product
Software Testing greatly improves the quality of the product as it can eliminate all the potential risks and bugs. This paves way for a quality product to get introduced so that users can experience a fresh and positive way of using the application.
Developing and deploying quality software products very well satisfies the users in a big way. So when users are satisfied and content with the working of the software application, they provide higher preferences to those applications and put their trust and confidence in it. Thereby the company acquires a customer for a lifetime and achieves and maintains its Customer Lifetime Value (CLV).
Maintains a Healthy Development Process
Software Testing is an integral part of the development process which should not be avoided and neglected. Including the Testing process in the Software Development Life Cycle (SDLC) will help businesses to maintain a healthy Software Development Process resulting in the above benefits like cost-cutting, enhancing security, maintaining the quality, achieving Customer Lifetime Value (CLV), etc. There are much more benefits in including the Software Testing process as a part of the Software Development Cycle and learn this and much more about the Software Testing domain at FITA Academy through enrolling in its Software Testing Training in Anna Nagar program.