Course Highlights and Why CCNA Course in Anna Nagar at FITA Academy?

Introduction to the OSI Model, IPv4 (Internet Protocol), IPv4 Packet header, Address Resolution Protocol, TCP and UDP and TCP Header, etc.

Introduction to VLAN, VLAN Trunking Protocol, Dynamic Trunking Protocol, VoiceLAN, EtherChannels, L3 EtherChannel.

Learning about Spanning Tree, Per VLAN Spanning Tree, Spanning Tree Port States, Spanning Tree Cost Calculation, Spanning Tree Portfast, etc.

Understanding about Wireless Networks, Wireless LANs, Wireless Security, Wireless Authentication methods, Wireless Encryption and Integrity, Wi-FI Protected Access (WPA).

Comprehending Routers and Routing, Cisco IOS Router Basic Configuration, Wide Area Networks (WAN).

Apprehending Subnetting, Binary Numbers, Subnetting in Binary, Subnetting in Decimal, Classless Inter-Domain Routing, and Route Summarization.

Insights on IPv6, IPv6 Address Types, IPv6 Address Assignment Example, IPv6 Summarization, etc.

Exploring Default Gateway, Static Routing, IPv6 Static Route, IP Routing, Router on a Stick, INterVLAN Routing, and Floating Static Route.

Knowledge of Open Shortest Path First(OSPF), OSPF Configuration, OSPF Packets, and Neighbour Discovery, OSPF Reference Bandwidth, OSPF Router ID, etc.

Exploring Dynamic Host Configuration Protocol (DHCP), DHCP Server Configuration, DHCP Relay Agent, DHCP Client, DHCP Server IPv6 Configuration.
Upcoming Batches
09-12-2023
Weekend
Saturday (Saturday - Sunday)
11-12-2023
Weekdays
Monday (Monday - Friday)
14-12-2023
Weekdays
Thursday (Monday - Friday)
16-12-2023
Weekend
Saturday (Saturday - Sunday)

Classroom Training
Get trained by Industry Experts via Classroom Training at any of the FITA Academy branches near you
Why Wait? Jump Start your Career by taking the CCNA Course in Anna Nagar!
Instructor-Led Live Online Training
Take-up Instructor-led Live Online Training. Get the Recorded Videos of each session.
Travelling is a Constraint? Jump Start your Career by taking the CCNA Course Online!
Trainer Profile
FITA Academy's CCNA trainers are industry professionals having a maximum work experience of 10+ years.
They have extensive teaching experience by training more than n number of students for their career establishment and also for corporate training purposes.
They provide career-oriented training for students to make them gain industry knowledge and expertise.
They assist students in projects and assignments to help them gain profound technical knowledge of the technology.
They guide students to have a precise career path and also conduct placement guidance programs for students to assist them in their placement.
Learn at FITA Academy & Get Your
Dream IT Job in 60 Days
like these Successful Students!

Features of CCNA Course in Anna Nagar at FITA Academy
Real-Time Experts as Trainers
At FITA Academy, You will Learn from the Experts from industry who are Passionate in sharing their Knowledge with Learners. Get Personally Mentored by the Experts.
LIVE Project
Get an Opportunity to work in Real-time Projects that will give you a Deep Experience. Showcase your Project Experience & Increase your chance of getting Hired!
Certification
Get Certified by FITA Academy. Also, get Equipped to Clear Global Certifications. 72% FITA Academy Students appear for Global Certifications and 100% of them Clear it.
Affordable Fees
At FITA Academy, Course Fee is not only Affordable, but you have the option to pay it in Installments. Quality Training at an Affordable Price is our Motto.
Flexibility
At FITA Academy, you get Ultimate Flexibility. Classroom or Online Training? Early morning or Late evenings? Weekdays or Weekends? Regular Pace or Fast Track? - Pick whatever suits you the Best.
Placement Support
Tie-up & MOU with more than 1500+ Small & Medium Companies to Support you with Opportunities to Kick-Start & Step-up your Career.
Why Learn CCNA Course in Anna Nagar at FITA Academy?
Live Capstone Projects
Real time Industry Experts as Trainers
Placement Support till you get your Dream Job offer!
Free Interview Clearing Workshops
Free Resume Preparation & Aptitude Workshops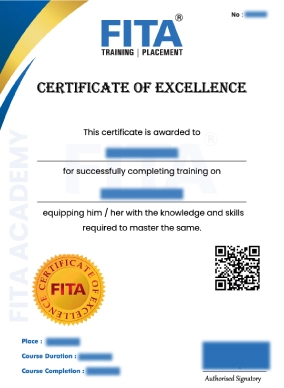 CCNA Certification Training in Anna Nagar
FITA Academy's CCNA Certification is open to all candidates aspiring to become Network Engineers, Network Administrators, Network Support Engineers and Network Specialists. FITA Academy's CCNA Certification covers a broad range of Networking concepts and CCNA basics. Moreover, it helps the candidates to learn the CCNA fundamentals and help them prepare for the latest technologies. Learning the CCNA Certification course is a validation of one's ability to understand, configure, operate and troubleshoot medium-level switched and routed networks. Some of the basic CCNA topics covered in our certification are OSI Models, IP Addressing, WLAN and VLAN, Network Security and Management, Routers/ Routing Protocols, IP Routing, Network Device Security and Troubleshooting. FITA Academy provides the best CCNA Training in Anna Nagar to students to help them gain first-hand knowledge of the Networking field.
Have Queries? Talk to our Career Counselor for more Guidance on picking the
right Career for you!
Placement Session & Job Opportunities after completing CCNA Course in Anna Nagar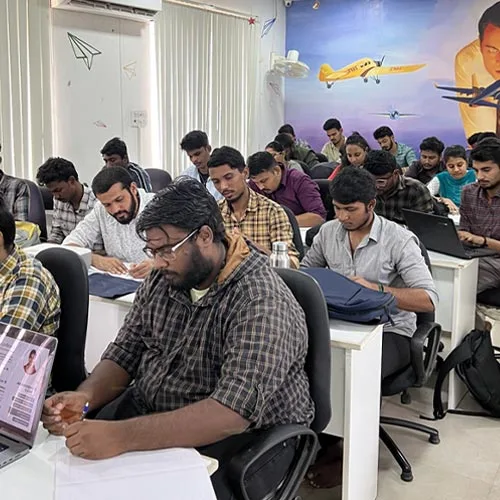 CCNA stands for Cisco Certified Network Associate which is a certification from a famous company called Cisco systems. The Certification helps the students to become familiar with the wide range of networking concepts such as LAN/WAN, TCP/IP Model, Switches and Routers, Network Utilities, IP Addressing and Subnetting, VLANs and Trunking, Routing Protocols such as OSPF, WLAN, NAT and ACLS, Automation and Programmability. To become CCNA Certified, students can pass the single exam the CCNA 200-301. The CCNA is an entry-level information technology (IT) certification developed to validate students' knowledge of basic networking concepts often demanded in networking roles in IT positions. To take the CCNA exam, it costs $300 plus tax. While there are no prerequisites to learn the course, having a fundamental knowledge of computer networks is an added advantage. The CCNA 200 -301 exam is of 120 minutes to complete and is offered in both English and Japanese. The CCNA exam consists of the following sections: Network Fundamentals (20%), Network Access (20%), IP Connectivity (25%), IP Services (10%), Security Fundamentals (15%), Automation and Programmability (10%).
Cisco reports that though there are no pre-requisites to take the exam, but the CCNA candidates generally have the following experience prior to taking the exam. 1) At least one year of using and implementing Cisco products and solutions 2) Fundamental knowledge of IP Addressing 3) Knowledge of Network Fundamentals. CCNA is nothing but a commonly demanded IT certification with over 6,000 job listings on Glassdoor and 12,000 on Indeed as of June 2021. Join FITA Academy's CCNA Course in Anna Nagar to understand about the Networking field profoundly and gain a lot more industry knowledge from the best-experienced professionals.
Success Story of CCNA Course in Anna Nagar
I am a Networking Graduate. Studying CCNA is one of my career goals because I want to be a proficient Networking Professional. Choosing FITA Academy to learn CCNA is one of my best career decisions. FITA Academy has the best trainers and I can say this confidently as I have learned from the best trainer. My trainer taught the topics in a well, precise, and clear manner. She gave much hands-on practice for technical topics as well. She was well knowledgeable and professional in handling the classes. She often conducted assignments and tasks to assess our intelligence on the topics. She guided us well in our academics and also gave us points to systematically learn.
Learning CCNA Course in Anna Nagar at FITA Academy was very beneficial for me in terms of understanding the Networking domain. Becoming a Networking professional is my career ambition and it became true through FITA Academy. My trainer was excellent in teaching the CCNA concepts and we were given first-hand training for the same. I had a good learning experience by studying at FITA Academy and thanks to my trainer for providing the same. I recommend FITA Academy for all the freshers who want to learn the CCNA course comprehensively. Surely freshers will get benefitted from the course and can learn about the networking domain broadly.
I enrolled in the CCNA Training in Anna Nagar at FITA Academy. The training program was excellent to start with. My trainer had ample knowledge of the CCNA technology and I find it easy to learn from him. He effortlessly took the classes and was very professional in teaching the concepts. He also trained us in the technical concepts and conducted regular QA sessions and kept the sessions quite interactive. He further conducted projects and assignments that helped us to understand the field better. The training program was quite useful in learning and understanding about CCNA and becoming a certified Networking professional to better understand the Networking field.
I am glad that I enrolled in FITA Academy's CCNA Course in Anna Nagar. They have all the facilities for students to successfully complete the training program. They have the best trainers, best lab facilities, best placement support, and everything. The trainers' commitment towards providing quality training is matchless. They guide students every step of the way and provide support whenever needed. They also provide a one-on-one approach to students to assess their strengths and weaknesses thus improving their overall knowledge of the technology. This approach helped me in self-evaluating my proficiency in CCNA and thus helped me to improvise my knowledge in CCNA.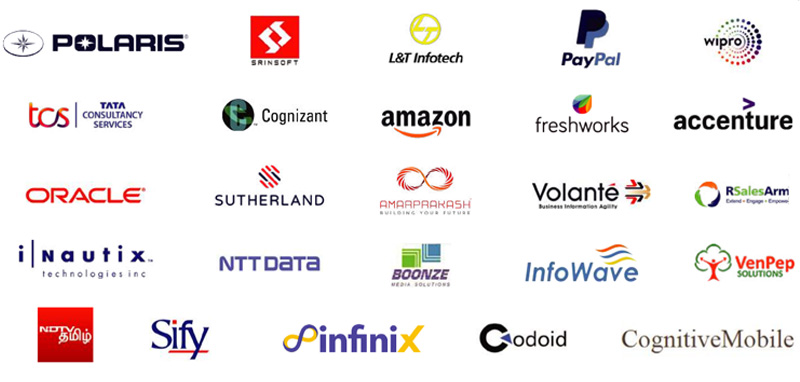 Frequently Asked Question (FAQ) about CCNA Course in Anna Nagar
Additional Information of CCNA Course in Anna Nagar
What is CCNA?
CCNA stands for Cisco Certified Network Associate is an IT-level Network Certification provided by the company called Cisco. It is also said to be an entry-level certification that can be taken by candidates who want to enter into the Networking field. It is a three-year valid certification program and after three years, a candidate has to again take the exam to validate their networking skills.
There are ten different types of CCNA Certifications and they are,
CCNA Routing and Switching
Completing this certification helps candidates to gain and adapt skills that are required to face the next-gen technologies. Also completing this certification, candidates can actively deploy, configure, operate and troubleshoot Cisco routers and switches of a small enterprise network.
Completing this Certification makes one an associate-level network engineer who can secure a small enterprise network from external threats and vulnerabilities. They can also implement a security infrastructure, recognize the work threats and vulnerabilities and evade them.
Completing this certification makes one an associate-level network engineer, which validates the skillset and proficiency of an individual to configure, implement and support a Cisco Wireless LAN.
Cisco CCNA Cloud Certification validates the skillset of the Networking Engineers in Cloud technology to develop, advance and support the cloud of the Organization. This certification helps Cloud Engineers, Cloud Administrators and Network Engineers to acquire the skillset to support Cisco Cloud Solutions and meet the IT requirements of the changing technology landscape of the companies.
CCNA Service Provider Certification validates the skillset of Network Engineers, Technicians and Designers to Configure, implement and troubleshoot the baseline Cisco Service Provider Next-Generation Networks. Gaining this certification, also validates their ability to implement, troubleshoot and support carrier-grade network infrastructures and Next-Generation Service Provider Network.
CCNA Data Center Certification helps students gain the grounds on data center infrastructure, concepts and technology and also validates you to install, configure, and maintain data center technology.
This certification assists video engineers, collaboration engineers, voice engineers, IP telephony and IP Network Engineers in improvising and developing collaboration and video skills aligned to voice, video and mobile applications.
The CCNA Industrial Certification validates one's skills to effectively execute and troubleshoot the most-well known industry standard conventions. This certification training program also assists the professionals to gain ground on the real-world skills aligning for adaptability to help future business results.
CCNA CyberOps is focused on guiding the Security teams who work at Security Operation Centers (SOC) by giving them a better understanding of cyber threats. These professionals watch out for Security frameworks, Securing the organization's network, by responding to Cyber Security threats.
CCDA stands for Cisco Certified Design Associate. This is an associate-level Cisco Certification that validates professionals who can design an enterprise network with the performance, availability, scalability and flexibility. Join FITA Academy's CCNA Training in Anna Nagar to explore more about CCNA Certifications and also through which you can learn the Networking field in-depth and gain profound knowledge about it from the best-experienced professionals.