Course Highlights & Why CCNA Course in Velachery at FITA Academy?
Introduction to Network Fundamentals such as OSI Model, IPv4 ( Internet Protocol), IPv4 Packet Header, Address Resolution Protocol, TCP and UDP, TCP Header, Cisco Command Line Interface.
Learning about Network Access such as VLAN, VLAN Trunking Protocol, Dynamic Trunking Protocol, Ether Channels, and L3 Ether Channel.
Comprehending Spanning Tree, Spanning Tree Port States, Spanning Tree Cost Calculation, Spanning Tree Portfast, Rapid PVST, and Rapid PVST Configuration.
Getting familiarised with Wireless networks, Wireless LANs, Wireless Security, Wireless Authentication Methods, Wireless Encryption and Integrity, WiFi Protected Access (WPA), etc.
Exploring IP Connectivity, Routers and Routing and Wide Area Networks (WAN).
Knowledge of IPv4 Subnetting, Basics of Binary Numbers, Subnetting in Binary, Subnetting in Decimal, Route Summarization, etc.
Insights on Open Shortest Path First ( OSPF), OSPF Configuration, OSPF Packets, and Neighbour Discovery, OSPF Reference Bandwidth, OSPF Router ID, OSPF Passive Interface, etc.
Insights on Gateway Redundancy, Dynamic Host Configuration Protocol, DHCP Server Configuration, DHCP Relay Agent, DHCP Client, and the like.
Introduction to SNMP ( Simple Network Management Protocol), Network Address Translation (NAT), NAT Static, NAT Dynamic, Port Address Translation (PAT).
Exploring Quality of Service (QoS), IP Precedence and DSCP Values, Marking, Shaping and Policing.
Upcoming Batches
| | | | |
| --- | --- | --- | --- |
| 05-10-2023 | Weekdays | Thursday (Monday - Friday) | |
| 07-10-2023 | Weekend | Saturday (Saturday - Sunday) | |
| 09-10-2023 | Weekdays | Monday (Monday - Friday) | |
| 14-10-2023 | Weekend | Saturday (Saturday - Sunday) | |

Classroom Training
Get trained by Industry Experts via Classroom Training at any of the FITA Academy branches near you
Why Wait? Jump Start your Career by taking the CCNA Course in Velachery!
Instructor-Led Live Online Training
Take-up Instructor-led Live Online Training. Get the Recorded Videos of each session.
Travelling is a Constraint? Jump Start your Career by taking the CCNA Online Course!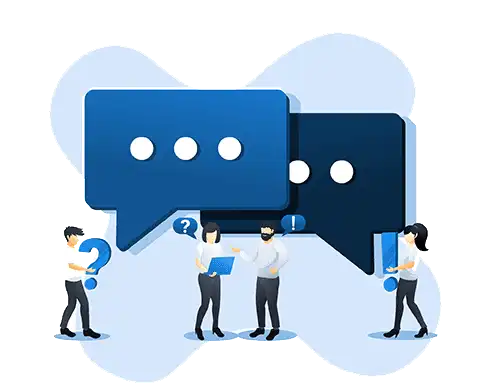 Have Queries? Talk to our Career Counselor
for more Guidance on picking the right Career for you!
Trainer Profile
The CCNA trainers of FITA Academy are industry professionals having a maximum work experience of 10 years.
They have vast teaching experience by training more students for their career establishment.
They deliver career-oriented training for students to make them gain industry knowledge and expertise.
They provide projects and assignments to enhance the technical knowledge of the students.
They assist students in their career and placement guidance support.
Features
Real-Time Experts as Trainers
At FITA Academy, You will Learn from the Experts from industry who are Passionate in sharing their Knowledge with Learners. Get Personally Mentored by the Experts.
LIVE Project
Get an Opportunity to work in Real-time Projects that will give you a Deep Experience. Showcase your Project Experience & Increase your chance of getting Hired!
Certification
Get Certified by FITA Academy. Also, get Equipped to Clear Global Certifications. 72% FITA Academy Students appear for Global Certifications and 100% of them Clear it.
Affordable Fees
At FITA Academy, Course Fee is not only Affordable, but you have the option to pay it in Installments. Quality Training at an Affordable Price is our Motto.
Flexibility
At FITA Academy, you get Ultimate Flexibility. Classroom or Online Training? Early morning or Late evenings? Weekdays or Weekends? Regular Pace or Fast Track? - Pick whatever suits you the Best.
Placement Support
Tie-up & MOU with more than 1500+ Small & Medium Companies to Support you with Opportunities to Kick-Start & Step-up your Career.
CCNA Certification Training in Velachery
About CCNA Certification Training in Velachery at FITA Academy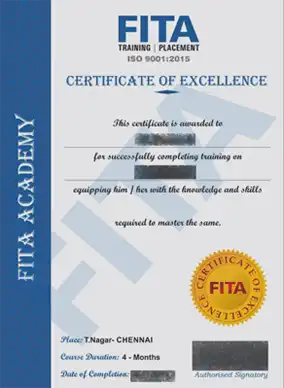 CCNA Certification Training in Velachery
FITA Academy's CCNA Certification course is open to all candidates who want to be proficient in the Networking concept. The Certification course can also be attended by other professionals such as Network Engineers, Network Administrators, System Engineers, Network Specialists, Entry-level Engineers, and IT technicians to learn about Networking in-depth so that they can advance in their careers. While there are no prerequisites to learn the technology, students with sufficient computer network knowledge can easily understand the Networking concept better. The main advantage of enrolling in the CCNA Certification is, students can easily move forward in their careers and get higher positions in their field. Also, big MNCs like CISCO, IBM, VMWare, and Accenture recruit Networking professionals in large numbers, which is a good opportunity for networking aspirants to start their careers. Also, the average salary of a Network Professional globally is $101,000 per annum, which is another advantage factor to enrolling in the CCNA Certification and getting certified. Some of the concepts that students will be learning in the CCNA Certification course are middle-level routers and switches, TCP/IP, Internetwork Operating Systems, LANs, ISL, LAN Trunking Protocols, Packet Forwarding, and Router Lookup Process. FITA Academy is the best CCNA Training Institute in Velachery as we provide the best quality training for students through experienced industry experts.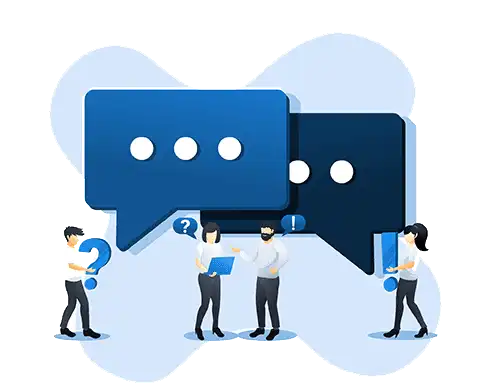 Have Queries? Talk to our Career Counselor
for more Guidance on picking the right Career for you!
Job Opportunities After Completing CCNA Course in Velachery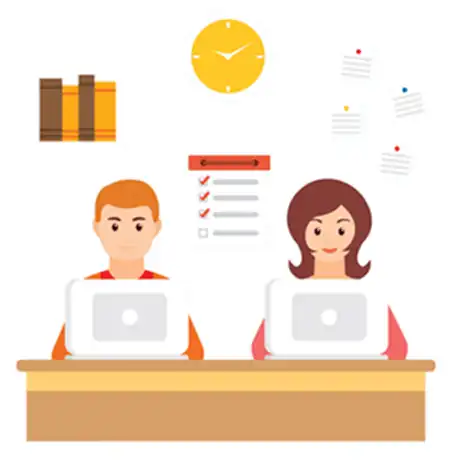 CCNA stands for Cisco Certified Network Associate which is an entry-level IT certification provided by the Networking company CISCO. The Certification was mainly designed to impart networking knowledge to students so that they can perform well in their professional roles. Some of the important topics taught in the CCNA certification are LAN/WAN, TCP/IP Model, Switches and Routers, Network Utilities, IP Addressing and Subnetting, VLANs, and Trunking, Routing protocols as OSPF, WLAN, NAT and ACLs, Automation and Programmability. Students who wish to be CCNA certified can take the single exam, the CCNA 200-301. The total number of questions that are asked in the exam is 120 and the minimum score to pass the exam is 800 to 850 for 1000. The exam is available both in English and Japanese and the time allotted for the exam is 120 minutes. There are several ways to prepare for the exam. One is to attend a professional CCNA course like the one offered by FITA Academy. Students can enroll in our CCNA Course in Velachery or do self-study through books or can join concentrated boot camps.
There will be seven types of questions asked in the exam. They are the multiple-choice single answer, multiple-choice multiple answers, fill in the blank, testlet, drag and drop, simulated lab, and simlet. The CCNA exam consists of important topics like Network fundamentals, Network access, IP connectivity, IP services, Security fundamentals, Automation, and Programmability. Some of the job profiles that can be obtained after completing the CCNA certification course are Technical Support Engineers, System Engineer, Network Administrator, Information Technology Manager, Senior Network Engineer, and Network Security Specialist. Join FITA Academy's CCNA Training in Velachery to experience first-hand training as well as to establish your career.
Student Testimonials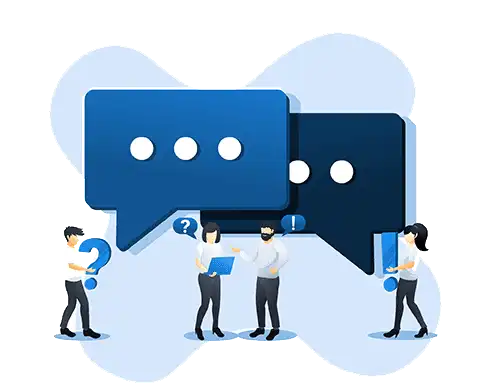 Have Queries? Talk to our Career Counselor
for more Guidance on picking the right Career for you!
Additional Information
What is CCNA?
CCNA, Cisco Certified Network Associate is an entry-level networking exam taken by networking aspirants around the world. Passing the exam is a validation of obtaining high-level networking knowledge so that they can perform well in their professional roles. The CCNA certification is also useful for higher-level networking professionals like Network Administrators, Network Support Engineers and Network Specialists. Till now more than 1 million CCNA certificates have been awarded since the certification course was launched in 1988. The CCNA certification covers a wide range of networking concepts and fundamentals. Some of the CCNA basics covered under the certification are, OSI Models, IP Addressing, WLAN and VLAN, Network Security and Management, ACL, Routers or Routing Protocols ( EIGRP, OSPF, RIP), IP Routing, Network Device Security and Troubleshooting.
Benefits of CCNA Certification
Improved Learning Curve
Doing the CCNA Certification is one of the best ways to gain knowledge about Networking. During the certification course, one can acquire a profound knowledge of Networking and possess vast technical skills regarding Networking. Even though Networking professionals have a self-growth by gaining work experience but at the same time, doing a certification also helps immensely in getting exposed to the latest developments in the Networking as well as the IT industry.
Acknowledgment
CCNA Certified candidates are always recognized and acknowledged wherever they go. Because the Certification holds an eminent name to it and has a proven record of transforming students into eligible candidates for networking roles. Moreover, CCNA candidates also have the advantage of getting preferred or given priority or importance during the interview selection process. The Certification and the certified candidates have much importance and value in the IT industry.
Growth In Career
CCNA Certified candidates are said to have an advantage of quick growth in their profession compared to the candidates who have not done the certification course. These CCNA certified candidates are said to proficiently perform their roles and responsibilities. Therefore they have a quick and steady growth and their work is also acknowledged among others.
Salary Boost
The Certification also paves way for an increment in salary or a hike in salary. This is due to the value the certification holds and the promise of providing only quality training and knowledge to students.
An entry to the CISCO training program
Once the candidates clear the CCNA exam, they are eligible for completing the entire CISCO program. So the CCNA exam paves way for candidates to gain proficient knowledge of the Networking field.
Trust and Respect among the Staff
Since the CCNA certification holds high value in the IT industry, CCNA Certified candidates are respected and trusted among the staff members. They are also given important responsibilities and projects with the trust of timely delivery and efficient performance.
Global Acceptance
CCNA Certification is accepted globally and hence the CCNA Certified candidates have the advantage of getting accepted in the international companies in their own country as well as abroad. So it is well advantageous for aspirants if they enroll in a CCNA certification and get certified with a good score.
Therefore there are many advantages in getting CCNA Certified which will immensely help you in catapulting your career to a greater height. To enjoy the benefits of the CCNA Certification, enroll in FITA Academy's CCNA Training in Velachery and get trained under the best and experienced industry experts.