Course Highlights and Why CCNA Training in Tambaram at FITA Academy?

Introduction to Functions of Routers, Switches, Bridges, Hubs, OSI, TCP/IP Models, Data flow between two hosts across a network.

Learning LAN Switching Technologies, Basic Switching Concepts, Switching Technologies, Root Bridge Election, STP Modes.

Understanding IP Routing Technologies, Basic Routing Concepts, Boot Process of Cisco IOS Routers, Basic Router Configuration, Static and Default Routing, Routing and Routing Protocols.

Comprehending IP Services, DHCP (IOS Router), ACL, NAT, NTP, Syslog, etc.

Getting Familiarised with WAN Technology, Metro Ethernet, VSAT, Cellular 3G and 4G, Frame Relay of Cisco Routers.

Getting Acquainted with IP Addressing (IPv4 and IPv6), VLSM, Summarization, Global Unicast, Multi Cast, Link-Local, Unique Local, and Auto Configuration.

Knowledge of Network Device Security, Enable Secret vs Enable, Telnet, Switch Port Security, and Sticky Mac/Mac Address Limitation.

Insights on TroubleShooting, Resolving VLAN problems, Common Network Problems, Trunking Problems, STP, Routing Issues, OSPF Problems, etc.

Configuring and Verifying VLANs/Trunking, PVSTP Operation, SVI Interfaces, OSPF, EIGRP (Single AS).
Upcoming Batches
09-12-2023
Weekend
Saturday (Saturday - Sunday)
11-12-2023
Weekdays
Monday (Monday - Friday)
14-12-2023
Weekdays
Thursday (Monday - Friday)
16-12-2023
Weekend
Saturday (Saturday - Sunday)

Classroom Training
Get trained by Industry Experts via Classroom Training at any of the FITA Academy branches near you
Why Wait? Jump Start your Career by taking the CCNA Training in Tambaram!
Instructor-Led Live Online Training
Take-up Instructor-led Live Online Training. Get the Recorded Videos of each session.
Travelling is a Constraint? Jump Start your Career by taking the CCNA Course Online!
Trainer Profile
The CCNA Trainers of FITA Academy are real-time Networking professionals who possess supreme knowledge of the Networking field.
They have exceptional teaching skills and have trained more than a handful of students to help them establish their careers in the Networking field.
The CCNA experts of FITA Academy are hired after a tough hiring process, so they deliver beneficial and valuable training programs for students.
They work in eminent IT and Networking organization, who possesses a maximum working experience of more than 10+ years.
They assist and guide students to have a precise career path and also soft skill development programs for students.
Learn at FITA Academy & Get Your
Dream IT Job in 60 Days
like these Successful Students!

Features of CCNA Training in Tambaram at FITA Academy
Real-Time Experts as Trainers
At FITA Academy, You will Learn from the Experts from industry who are Passionate in sharing their Knowledge with Learners. Get Personally Mentored by the Experts.
LIVE Project
Get an Opportunity to work in Real-time Projects that will give you a Deep Experience. Showcase your Project Experience & Increase your chance of getting Hired!
Certification
Get Certified by FITA Academy. Also, get Equipped to Clear Global Certifications. 72% FITA Academy Students appear for Global Certifications and 100% of them Clear it.
Affordable Fees
At FITA Academy, Course Fee is not only Affordable, but you have the option to pay it in Installments. Quality Training at an Affordable Price is our Motto.
Flexibility
At FITA Academy, you get Ultimate Flexibility. Classroom or Online Training? Early morning or Late evenings? Weekdays or Weekends? Regular Pace or Fast Track? - Pick whatever suits you the Best.
Placement Support
Tie-up & MOU with more than 1500+ Small & Medium Companies to Support you with Opportunities to Kick-Start & Step-up your Career.
Why Learn CCNA Training in Tambaram at FITA Academy?
Live Capstone Projects
Real time Industry Experts as Trainers
Placement Support till you get your Dream Job offer!
Free Interview Clearing Workshops
Free Resume Preparation & Aptitude Workshops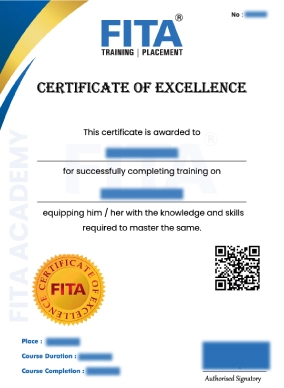 CCNA Certification Course in Tambaram
FITA Academy's CCNA Certification is an engaging and high-level certification course conducted for aspirants to excel in the Networking field. This certification course can be attended by anyone having a passion to work in the Networking field as well as professionals working as Network Engineers, Network Administrators, System Engineers, and Network Specialists. The training also helps Netry-level Engineers and IT Technicians to get ahead in their careers. By getting certified in the CCNA course candidates get immense respect in their organizations and are also valued for their knowledge. Another biggest advantage of getting certified in the course is getting hired by the top players in the Networking industry like Cisco, IBM, VMware, Accenture, etc, and also globally the certified candidates receive around a salary of $101,000 per annum which is also considered as a higher advantage. There are no prerequisites necessary to attend this course so a basic knowledge of Computer Systems and Networking will be sufficient. Join the CCNA Course in Tambaram to get an in-depth knowledge of the Advanced and Core Networking concepts that will transform you into a proficient Networking professional.
Have Queries? Talk to our Career Counselor for more Guidance on picking the
right Career for you!
Placement Session & Job Opportunities after completing CCNA Training in Tambaram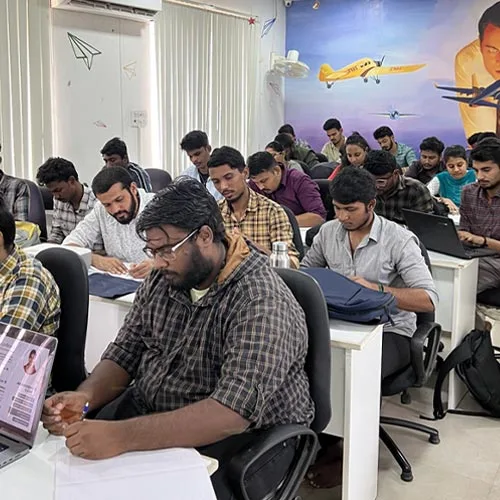 CCNA Certification Course is a world-renowned certification, which is the study of Networking concepts, that is provided by the world leader in offering IT and Networking services, Cisco. The company offers 10 different certifications for Networking aspirants to acquire immense skills in all aspects of the Networking domain. The ten different certifications are CCNA Routing and Switching, CCDA, CCNA Cloud, CCNA Collaboration, CCNA Cyber Ops, CCNA Data Center, CCNA Industrial, CCNA Security, CCNA Service Provider, and Wireless. The aspirants can choose any one of the certifications to master the skills that will help them to land in the job role they prefer. By enrolling in the certification, candidates can build and develop the capacity that is demanded by the companies to perform efficiently well their job roles. The certification teaches them to proficiently configure protocols, creating point to point networks, develop network addresses, manage LAN and WAN systems so that they can skillfully cater to the customers' requirements.
The principal skills candidates can acquire by enrolling in the certification are Switching and Routing of the Networking frameworks, setting up WLAN activity, TCP/IP models, NAT and ACLs, learning Network different commands, IP Addressing and Subnetting, Automation of the frameworks, and Programmability, VLANs and Trunking. Besides these principal skills some of the other abilities that the certification teaches the candidates are communication skills, time management skills, organizational skills, customer service, and analytical skills. It also equips them with the skills to use Cisco products and industry-related tools to complete their work as Network Engineers. Some of the job roles that can be acquired by getting certified in the CCNA course are, Network Administrator, Systems Administrator, Network Analyst, Network Design Engineer, Infrastructure Engineer, Unified Communication Engineer, Solutions Design Engineer, Cloud Engineer, VoIP Engineer, Collaboration Engineer, and Telecom Engineer. The salary of the CCNA professionals in India varies depending on their skills, job roles, and responsibilities. An entry-level professional earns around Rs. 4,25,000 per annum while experienced professionals earn around more than Rs. 2 crores per annum. Join FITA Academy's CCNA Training in Tambaram to learn extensively about the Networking concepts that will help you to accomplish your career goals.
Success Story of CCNA Training in Tambaram
After completing my Networking Engineering, I wanted to do my certification in the CCNA course so that I can get a higher position in the Networking field. When I was searching for a good institute to join, my friend referred FITA Academy. I am really glad that I did the CCNA course at FITA Academy because their training was exceptional. My trainer did a wonderful job in teaching the Networking concepts in an understandable manner. Her approach was distinct as she taught the concepts in a simple way and it was easy to grasp them. Many thanks to my trainer and the management for conducting valuable training.
To work as a Networking Engineer is my career goal as I am very passionate about Networking. During my semester holidays, I wanted to study for Networking certification so my parents suggested FITA Academy. I had a great learning experience at FITA Academy as their training was more career-oriented and learning the latest networking concepts. The training is more suitable for freshers as they teach the concepts from the basics and slowly progress to the advanced ones. The technical sessions were quite elaborate and it was easy to understand the real-time functioning of the networking field.
I am an undergraduate student, wanted to do a certification course in CCNA. I thought doing the certification course in CCNA will help me to understand the Networking field better because I am planning to start my career in Networking. Joining FITA Academy has helped me to understand the basic and major concepts of Networking and I feel confident of gaining a profound knowledge of the Networking field. The lab sessions were equally helpful in understanding deeply about the Networking practices. Moreover, projects were given that helped in enhancing our networking skills.
I am thankful to FITA Academy for conducting a valuable training program for the CCNA course. I really enjoyed learning the course as the classes were really interactive and engaging. It was more insightful in broadly learning and understanding about the Networking field. Last week I got placed as the junior Network Support Engineer in an IT company with a good salary package. FITA Academy has a good ambiance for students to peacefully learn the course. The trainers were also friendly and supportive. Thanks to FITA Academy and also especially my trainer for the good guidance and support.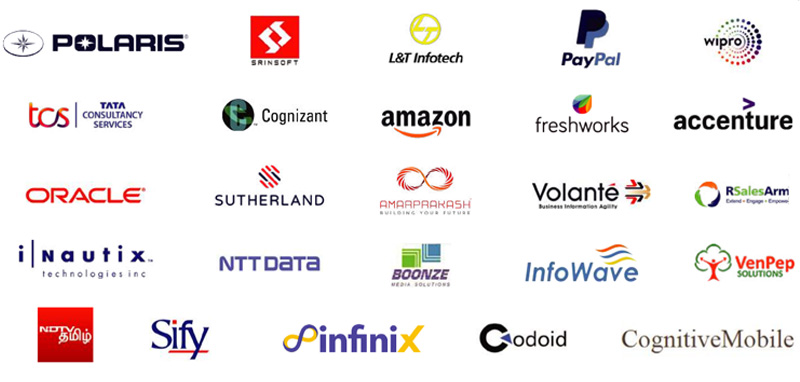 Frequently Asked Question (FAQ) about CCNA Training in Tambaram
Additional Information of CCNA Training in Tambaram
What is CCNA Certification?
Cisco's CCNA (Cisco Certified Network Associate) certification is the world's most well-known qualification for networking equipment production and distribution. This certification will help you learn about a variety of topics, including:
LAN/WAN
Model TCP/IP
Routers and switches
Utilities for the network (ping, tracert, arp)
Subnetting and IP addressing
Trunking and VLANs
OSPF and other routing protocols
WLAN
ACLs and NAT
Programmability and Automation
Advantages of Learning CCNA Course
Job roles for CCNA Candidates
You will gain knowledge in a variety of areas in addition to your CCNA certification. With the CCNA certification, you can apply for jobs like Information Technology Manager, Information Technology Director, Systems Engineer, Network Administrator, System Administrator, Senior System Engineer, Network Security Engineer, Cyber Security Analyst, Senior Systems Engineer, Information Technology Specialist, and so on.
The Importance of learning CCNA Certification
The CCNA certification is one of the most sought-after and highly respected qualifications for advancing one's career. The CCNA certification focuses on network foundation monitoring, management, and maintenance. It also covers the fundamentals of networking and how devices like routers, switches, and repeaters work. Another advantage of the certification is that it covers cutting-edge network technologies like automation and programmability. CCNA certified professionals get the ability to install and maintain an organization's entire network.
Cisco's reputation in the business is one of the most significant benefits of earning the CCNA certification. Cisco is always working to improve its services and products. Its popularity and market share are steadily growing. Employers prefer applicants with Cisco credentials when hiring for networking positions. This accreditation will make a positive impression on the recruitment panel if you include it on your resume.
Aside from that, the Cisco CCNA certification will enable you to:
Demonstrate a thorough understanding of network basics, IP services, and network security.
This section highlights your hands-on learning experiences.
Increase your chances of getting a better job and a better compensation.
Take a step forward in your career with confidence.
Earn digital badges and link them to your social network accounts.
What Is the Best Way to Study for the CCNA Exam?
The CCNA certification exam can be prepared in a number of ways:
Self-study materials include books, videos, study guides, and practice questions to help you prepare for the CCNA certification.
Instructor-led Training: To prepare for the CCNA certification exam, you can enroll in instructor-led CCNA training and learn from networking specialists first-hand. The instructor-led training will help you grasp every idea in greater depth. With years of industry experience, qualified teachers provide interactive training sessions. To prepare for the certification exam, you can look into our CCNA certification course and enroll.
By joining FITA Academy's CCNA Course in Tambaram students can achieve their career endeavors by gaining first-hand knowledge of the Networking concepts.