Course Highlights and Why Devops Training in Porur at FITA Academy?

FITA Academy offers comprehensive DevOps training with a focus on automation, continuous integration, and delivery.

The course module covers key DevOps concepts such as Git, AWS cloud, Docker, and Nagios.

The instructors at FITA Academy have real-time experience and in-depth knowledge of DevOps.

The training program provides interactive sessions and experienced trainers to assist students with their modules.

FITA Academy offers affordable Devops Training in Porur with certification for both beginners and IT professionals.

The placement cell at FITA Academy assists students in finding placement in their specialized fields.

The tutors have immense experience with different applications of DevOps development.

The training program provides deep knowledge of DevOps and advanced concepts and offers exposure to industry-leading practices.

FITA Academy's Devops classes in Porur is designed in a way where students get the necessary skills and knowledge to excel in the DevOps industry.

After completion of the program, students can expect to be proficient in DevOps tools, principles, and practices, making them highly sought after by employers.
Upcoming Batches
09-12-2023
Weekend
Saturday (Saturday - Sunday)
11-12-2023
Weekdays
Monday (Monday - Friday)
14-12-2023
Weekdays
Thursday (Monday - Friday)
16-12-2023
Weekend
Saturday (Saturday - Sunday)

Classroom Training
Get trained by Industry Experts via Classroom Training at any of the FITA Academy branches near you
Why Wait? Jump Start your Career by taking DevOps Training in Porur!
Instructor-Led Live Online Training
Take-up Instructor-led Live Online Training. Get the Recorded Videos of each session.
Travelling is a Constraint? Jump Start your Career by taking the DevOps Online training!
Trainer Profile
FITA Academy's DevOps training is taught by experienced instructors with hands-on experience.
Trainers can explain difficult concepts in a clear and simple manner.
Instructors can effectively communicate with students from diverse backgrounds.
Trainers provide individual attention and personalized training to students.
Real-time examples and case studies are used to illustrate how concepts are applied in Industry.
Students receive insightful information and mock interview questions to prepare for job interviews.
FITA Academy offers a supportive learning environment that encourages collaboration and active participation.
Students have immense access to a wide range of resources to support their learning.
Learn at FITA Academy & Get Your
Dream IT Job in 60 Days
like these Successful Students!

Features of Devops Training in Porur at FITA Academy
Real-Time Experts as Trainers
At FITA Academy, You will Learn from the Experts from industry who are Passionate in sharing their Knowledge with Learners. Get Personally Mentored by the Experts.
LIVE Project
Get an Opportunity to work in Real-time Projects that will give you a Deep Experience. Showcase your Project Experience & Increase your chance of getting Hired!
Certification
Get Certified by FITA Academy. Also, get Equipped to Clear Global Certifications. 72% FITA Academy Students appear for Global Certifications and 100% of them Clear it.
Affordable Fees
At FITA Academy, Course Fee is not only Affordable, but you have the option to pay it in Installments. Quality Training at an Affordable Price is our Motto.
Flexibility
At FITA Academy, you get Ultimate Flexibility. Classroom or Online Training? Early morning or Late evenings? Weekdays or Weekends? Regular Pace or Fast Track? - Pick whatever suits you the Best.
Placement Support
Tie-up & MOU with more than 1500+ Small & Medium Companies to Support you with Opportunities to Kick-Start & Step-up your Career.
Why Learn Devops Training in Porur at FITA Academy?
Live Capstone Projects
Real time Industry Experts as Trainers
Placement Support till you get your Dream Job offer!
Free Interview Clearing Workshops
Free Resume Preparation & Aptitude Workshops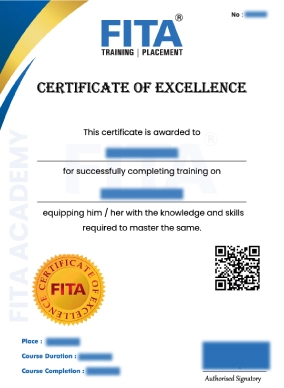 DevOps Certification Training in Porur
FITA Academy is one of the best institutes for Devops Training in Porur, providing comprehensive courses that cater to both beginners and experienced professionals in the field. Our DevOps certification program is designed to make learners with practical experience in DevOps tools and practices, enabling them to meet the demands of the ever-evolving IT industry. The course curriculum covers a wide range of topics, including continuous integration and delivery, containerization, configuration management, monitoring, and logging. Our instructors are industry experts with years of experience in DevOps, and they provide practical insights and best practices that help learners stay up-to-date with the latest trends in the field.
At FITA Academy, we believe that every learner is unique, and we offer flexible training options to accommodate their needs. Our classroom sessions are conducted in modern, fully-equipped classrooms that provide an immersive learning experience. And we offer affordable prices for students. By the end of our DevOps course, learners will be proficient in the most trending practices in the IT industry, using the tools and practices learned during the program. Our certification adds value to learners' resumes and increases their employability in the job market.
DevOps is an essential part of the software development life cycle, and it has become a crucial skill for IT professionals. Our program prepares learners for real-world challenges and provide them with the skills to succeed in their careers.
FITA Academy's DevOps training program in Porur provides learners with practical experience in DevOps tools and practices. Our industry-expert instructors, flexible training options, and immersive learning environment make us the ideal choice for those looking to enhance their skills in the DevOps domain.
Have Queries? Talk to our Career Counselor for more Guidance on picking the
right Career for you!
Placement Session & Job Opportunities after completing Devops Training in Porur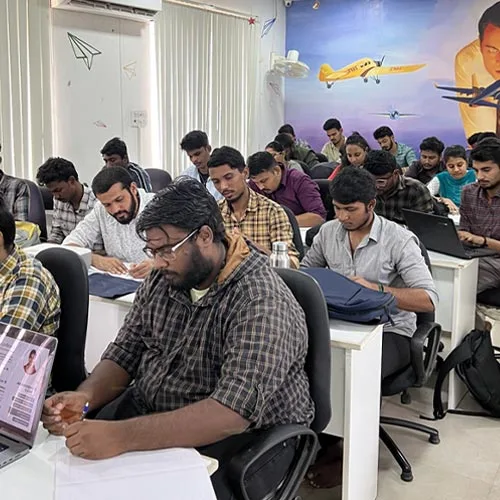 Devops Training in Porur is a great way to upgrade yourself with the necessary skills and knowledge to become a DevOps professional. The training will provide individuals with the necessary tools and techniques required to manage complex systems, automate software delivery, and monitor application performance. DevOps places a strong emphasis on teamwork and cooperation between the development and operations teams. A successful DevOps strategy can greatly improve software delivery, boost organizational effectiveness, and raise client satisfaction levels.
And when you successfully complete the Devops Certification in Porur, you will be able to compete with Professionals and have a higher chance of getting placed in companies with related positions. There are currently more than 50,000 open positions in DevOps and related fields, and this number will significantly expand over time. This Industry includes positions such as DevOps Engineer, Site Reliability Engineer (SRE), Cloud Engineer, Automation Engineer, Release manager, Security Engineer, DevOps consultant.
A typical annual salary after completing DevOps Training is approximately Rs 4-7 lakhs. Globally, the average yearly salary for a similar position is $75,000. The salary may be affected by location, organization, experience, and proficiency. With our Devops Training Institute in Porur, you can confidently meet the Industry's requirements.
Also Read: DevOps Interview Questions and Answers
According to the most recent survey, the annual DevOps Engineer Salary For Freshers ranges from Rs 4,000,00 to Rs 5,00,000, depending on their degree of experience. The typical pay and benefits package will differ based on a person's education and experience levels. The DevOps Training Institute in Porur, run by FITA Academy, focuses on teaching the skills required to work as a DevOps expert under the direction of our qualified trainers. We offer the expert guidance and specialized knowledge necessary to run a successful career. Below are descriptions of a few work duties.
Popular job opportunities after completing Devops Training are the following:
 DevOps Engineer
Site Reliability Engineer (SRE)
 Cloud Engineer
 Automation Engineer
Release manager
Security Engineer
DevOps consultant
DevOps Engineer
DevOps Engineers are responsible for designing, implementing, and maintaining a continuous integration and delivery pipeline. They work closely with developers to automate the software development process and ensure that code is released in a timely and efficient manner.
Site Reliability Engineer (SRE)
Site Reliability Engineers are responsible for the availability, latency, performance, efficiency, change management, monitoring, emergency response, and capacity planning of software applications and services. They make sure that the applications and services are reliable and expandable, and they also work closely with developers to improve the quality of the code.
Cloud Engineer
Cloud Engineers are responsible for designing, deploying, and managing cloud infrastructure. They work with developers to make sure that applications are optimized for the cloud, and they also ensure that the infrastructure is secured efficiently.
Automation Engineer
Automation Engineers are responsible for designing, implementing, and maintaining automated testing and deployment frameworks. They work with developers and make sure that code is tested point by point before it is released, and they also automate the deployment of software applications.
Release Manager
Release Managers are responsible for coordinating the release of software applications. They cooperate with developers, testers, and other stakeholders to ensure that the release process is efficient and reliable. They also manage the release schedule and ensure that releases are delivered on time.
Security Engineer
Security Engineers are responsible for ensuring the security of software applications and infrastructure. They work closely with developers to ensure that applications are designed with security, and they also implement security controls to protect against cyber threats.
DevOps Consultant
DevOps Consultants provide advice and guidance to organizations on how to implement DevOps practices. They work closely with management and IT teams to identify areas where DevOps can be implemented, and they provide guidance on best practices and tools.
Success Story of Devops Training in Porur
As a student who completed the DevOps training, I highly recommend the course. The trainers are highly experienced professionals with in-depth knowledge and hands-on experience in various DevOps tools and technologies. The course curriculum is well-structured, covering all aspects of DevOps, including continuous integration, delivery, deployment, and monitoring. The practical sessions and real-world projects help to apply the concepts learned in the classroom. The institute also offers placement assistance, which is an added advantage.
Hey Im, Anjana and I recently completed the training. It was an excellent learning experience. The trainers were highly knowledgeable and skilled in their subject matter and provided personalized attention to each student. The course syllabus was practical-oriented, which helped me gain hands-on experience in various DevOps tools and techniques. The training methodology was well-structured, ensuring that I could learn at my own speed. Overall, I would definitely give 10/10 for the experience.
Hey! Devops in Porur, I must say this for sure, and I can confidently say that it was an amazing experience. The course curriculum was on point and covered all the essential topics in-depth. The trainers were highly experienced with real-world experience, making the learning process enjoyable. The institute also provided additional support, including interview preparation and placement assistance, which was highly beneficial. Overall, the training at FITA Academy Porur was worth the money and helped me gain the necessary skills to pursue a career in DevOps.
Hi, my name is Sathya, and I've completed DevOps training. I would really recommend this course to anyone interested in the field. The trainers were knowledgeable and experienced, and the course material was up to date. The practical sessions were particularly helpful in solidifying my understanding of the concepts and tools involved in DevOps. Overall, I feel confident in my ability to apply what I've learned to real-world scenarios. I'm happy that I joined the Devops Course in Porur.
Im, Praveen. After my graduation, I joined FITA Academy Porur for DevOps training, and it was a fantastic experience. The trainers were highly knowledgeable and experienced in the field of DevOps. They made the classes interactive and engaging, making it easy to learn and understand the concepts. The course content was on point and covered all the essential topics of DevOps. The hands-on exercises and projects helped me gain practical knowledge and skills that I can apply in real-world scenarios. Overall, I would highly recommend FITA Academy Porur to anyone whos interested in pursuing a career in DevOps.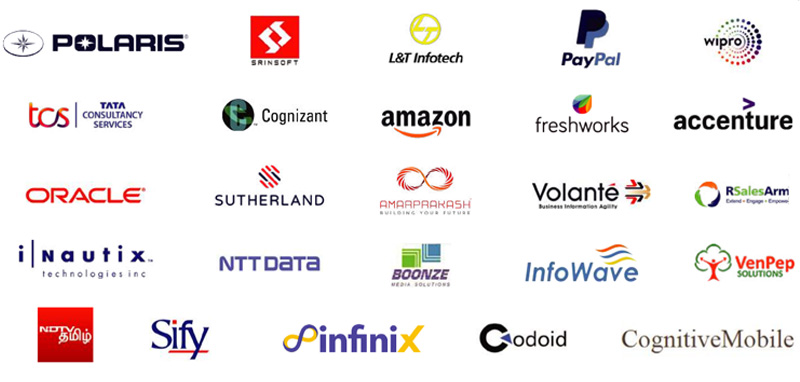 Frequently Asked Question (FAQ) about Devops Training in Porur
Additional Information of Devops Training in Porur
DevOps is a relatively new role, unlike Developer or Tester. It's challenging to demonstrate your experience in DevOps, so you will be getting one of the best Devops Training in Porur at FITA Academy, with certification that helps you to gain hands-on Experience with DevOps tools and Methodologies.
DevOps Training at FITA Academy provides you with in-depth training on the DevOps process along with the required tools under the Mentorship of Real-time professionals. For demo tutorials, visit our website. They upskill your knowledge with industry-relevant skills and thus guide you with the right career route in the DevOps field. To have a better understanding of the DevOps tool, check our DevOps Tutorial, which will help you to gain more precise knowledge about DevOps and its Operational practices.
Devops Certification in Porur can be opted by any graduate with at least 6 months of experience in software development or systems management and who wants to pursue a career as DevOps Architects or Engineer. Furthermore, this course is more suitable for professionals such as System Admins, Solution Architects, Software testers and Software Developers, Security Engineers, and Application Developers. Also, this course is ideal for candidates seeking a career switch towards the IT industry.
The major learning objective of FITA Academy's DevOps Training
Recognize every DevOps component, such as infrastructure, procedure, application development, testing, monitoring, release management, and others.
Discover the various DevOps technologies, such as Chef, Terraform, Ansible, Kubernetes, Jenkins, Git, and Docker.
You will be able to understand how these tools are combined to guarantee continuous software distribution and deployment.
Learn more about DevOps' various facets, including CI/CD, microservices, containers, cloud computing, agile software development, DevSecOps, DevOps mindset, etc.
Being able to effortlessly integrate multiple services into one environment