Course Highlights and Why Manual Testing Course in Bangalore at FITA Academy?

Learning the definition of Software Testing, its importance, working, and functionality, basic terminologies, and processes

Understanding Manual Testing Process, Difference between Manual and Automated Testing process and also Software Testing's Roles and Responsibilities.

Comprehending Software Development Life Cycle and its Models such as Waterfall Model, V Model, Agile Model, Prototype Model, and Spiral Model.

Knowledge of Software Development Life Cycle Phases such as Requirements Phase, Analysis Phase, Design Phase, Coding Phase, Testing Phase, Release, and Maintenance Phase.

Getting familiarised with Test Case Design Techniques which are Static and Dynamic techniques.

Insights on Static techniques such as Informal Reviews, Walkthroughs, Technical reviews, Inspection.

Getting acquainted with Dynamic techniques such as Black Box techniques, White Box techniques, and Experience-based techniques.

Getting to know about types of software testing such as Unit Testing, Integration Testing, System Testing, and Acceptance Testing.

Analyzing the Software Test Life Cycle, Test Case Design, Test Environment Setup, Test Execution.

Comprehending the difference between Test case, Use case, and Scenario.
Upcoming Batches
09-12-2023
Weekend
Saturday (Saturday - Sunday)
11-12-2023
Weekdays
Monday (Monday - Friday)
14-12-2023
Weekdays
Thursday (Monday - Friday)
16-12-2023
Weekend
Saturday (Saturday - Sunday)

Classroom Training
Get trained by Industry Experts via Classroom Training at any of the FITA Academy branches near you
Why Wait? Jump Start your Career by taking the Manual Testing Training in Bangalore!
Instructor-Led Live Online Training
Take-up Instructor-led Live Online Training. Get the Recorded Videos of each session.
Travelling is a Constraint? Jump Start your Career by taking the Manual Testing Online Course!
Trainer Profile
FITA Academy's Manual Testing trainers are industry professionals having a decade of experience in their field.
They are dedicated to training students according to industry practices.
Extensive hands-on training to enrich students' technical knowledge.
The Manual Testing mentors conduct mock interviews, mock discussions, other skill development programs to enhance the competency of the students.
They also provide career guidance and placement guidance support.
Learn at FITA Academy & Get Your
Dream IT Job in 60 Days
like these Successful Students!

Features of Manual Testing Course in Bangalore at FITA Academy
Real-Time Experts as Trainers
At FITA Academy, You will Learn from the Experts from industry who are Passionate in sharing their Knowledge with Learners. Get Personally Mentored by the Experts.
LIVE Project
Get an Opportunity to work in Real-time Projects that will give you a Deep Experience. Showcase your Project Experience & Increase your chance of getting Hired!
Certification
Get Certified by FITA Academy. Also, get Equipped to Clear Global Certifications. 72% FITA Academy Students appear for Global Certifications and 100% of them Clear it.
Affordable Fees
At FITA Academy, Course Fee is not only Affordable, but you have the option to pay it in Installments. Quality Training at an Affordable Price is our Motto.
Flexibility
At FITA Academy, you get Ultimate Flexibility. Classroom or Online Training? Early morning or Late evenings? Weekdays or Weekends? Regular Pace or Fast Track? - Pick whatever suits you the Best.
Placement Support
Tie-up & MOU with more than 1500+ Small & Medium Companies to Support you with Opportunities to Kick-Start & Step-up your Career.
Why Learn Manual Testing Course in Bangalore at FITA Academy?
Live Capstone Projects
Real time Industry Experts as Trainers
Placement Support till you get your Dream Job offer!
Free Interview Clearing Workshops
Free Resume Preparation & Aptitude Workshops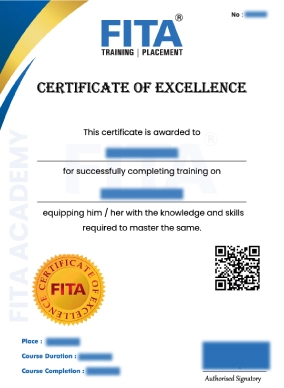 Manual Testing Certification Training in Bangalore
Enrolling in the Manual Testing Certification course at FITA Academy, students will be learning the Manual Testing technology comprehensively. They will be learning all the fundamental concepts in a detailed manner. The Manual Testing Course in Bangalore includes the curriculum of Software Testing, Software Development Life Cycle (SDLC), Software Testing Life Cycle (STLC), Bug/Defect Life Cycle, Waterfall Methodology, Spiral Model, V Model, Agile Methodology, Types of Testing, Levels of Testing, Black Box Testing & Techniques, User Acceptance Testing, Web Application Testing, Regression Testing, Database Testing to Web Testing Plugins. After the completion of the course, students will be proficient in designing, managing, and reviewing different test cases on applications, understanding manual software testing fundamentals, tools, and methodologies, understanding and following Quality Assurance standards, and being able to differentiate various types of testing processes. Learning FITA Academy's Testing Courses in Bangalore will be beneficial for students in the long run as they are learning the course first-hand from industry professionals.
Have Queries? Talk to our Career Counselor for more Guidance on picking the
right Career for you!
Placement Session & Job Opportunities after completing Manual Testing Course in Bangalore

Manual Testing is a type of Software Testing method in which the Test Scripts are executed manually by the Testing Engineers. The main purpose of Manual Testing is to test the software applications from the Users' perspective. By testing from the users' perspective, testing engineers will find out whether the applications are working well in accordance with their customers' needs and requirements. The Manual Testing process is the most basic and important type of testing process. As it is one of the most important testing processes, the Manual Testing process would never go out of fashion. There are many reasons why the manual testing process is in-demand and has been the most essential adopted method in testing processes. The foremost reason is Manual Testing is cheaper than Automation Testing for smaller projects. Second, humans are better at understanding other humans' necessities than machines. Third, Automation tools can't assess the aesthetic components of the application. The other reason being, automation tools' results are not reliable at all times.
Minor changes can be easily implemented with Manual Testing. Finally and most importantly, 100% automation is not possible. Moving on to the skills that are needed for the testing professionals, we have listed both the technical and non-technical skills that are needed for the testing professionals.
Technical Skills
Basic knowledge of Database/SQL
Basic knowledge of Linux Commands
Knowledge and Hands-on experience of a Test Management tool
Knowledge of any Defect tracking tool
Knowledge of Automation tool
Non-technical Skills
Analytical Skills
Communication Skill
Time Management and Organization skills
Great Attitude
Passion
The job profiles that are offered for the Testing aspirants are,
Product Manager
DevOps Roles
Customer Experience Leader
Enterprise Architect
IT Management
Quality Engineering
Quality Analyst
The average salary for Manual Testing professionals in India is Rs. 7,00,000 per year. The salary of entry-level professionals is around Rs. 4,50,000 per year and the salary of experienced level professionals is around Rs. 1,500,000 per year. Join FITA Academy's Manual Testing Training in Bangalore and become a certified testing professional with placement benefits.
Success Story of Manual Testing Course in Bangalore
I am an IT professional, working as a Developer. I wanted to learn an additional skill in testing technology. Manual Testing seemed appropriate. Learning Manual Testing at FITA Academy was a great learning experience for me. I learned all the basics of Manual Testing and it is surely helping me to do testing by myself. Thanks to FITA Academy for conducting the Manual Testing Training in Bangalore so well.
Enrolling in FITA Academy for the Manual Testing Course in Bangalore was the best career decision I made. As a fresher, I learned a lot in the training program and learned all the basics well. The practical classes were very beneficial and they enhanced my technical skills. The trainer made us practice more to improve our technical skills. Overall, it was a worthy training to attend and we can gain more knowledge about the Manual Testing process.
Being an Automation Tester, I wanted to learn Manual Testing for a long time. I chose to study at FITA Academy after seeing the good reviews. The trainers were very well skilled and professional. The classes were informative and educational. I had a great learning experience at FITA Academy. I would recommend FITA Academy to all my friends and colleagues.
I am glad to share that I got selected as a Junior Manual Tester in a software company. Thanks to my trainers for teaching the concepts so well and helping to clear the doubts then and there.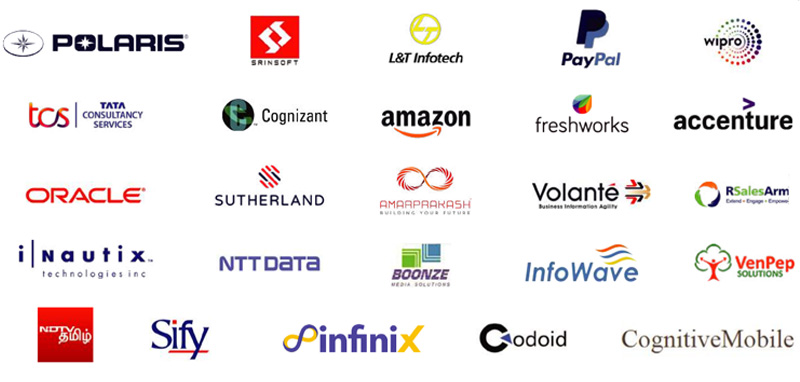 Frequently Asked Question (FAQ) about Manual Testing Course in Bangalore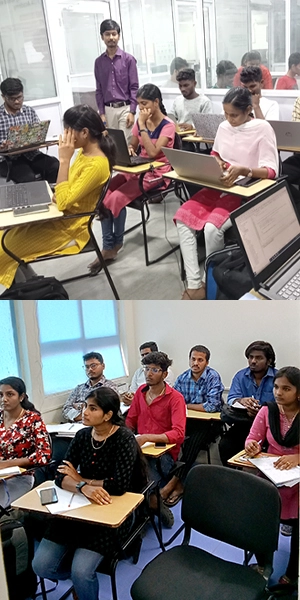 Manual Testing
Manual Testing is one of the fundamental types of testing Software products/applications. The underlying principle of the Software Testing process is "100% Automation is not possible". This makes the Manual Testing process necessary and important. Manual Testing is the process of testing the Software/ Software products manually i.e by a Quality Analyst or Testing Engineer. The testing process is mainly done to check for any defects, bugs, issues, or faults in the Software product or the functionality of the Software/ Software application.
Key Aim of Manual Testing
The Key Aim of Manual Testing is to make the developed Software error-free and check whether it works per its requirements. Here the defects are solved by the developers and re-testing has been done on the solved defects by the Testing Engineer. The final result is the defect-free product delivered to the customer.
Types of Manual Testing
Manual Testing is classified into seven types.
White Box Testing
Black Box Testing
Gray Box Testing
Unit Testing
Integration Testing
System Testing
Acceptance Testing
1. White Box Testing
White Box Testing is done by the developer who tests the internal structure, design, and code of the Software. The White Box Testing is done to verify the input-output flow and enhance the design, usability, and security of the code and the software. During the testing, the code is visible to the developer and hence it is called White Box Testing. The process is also called Clear Box Testing, Open Box Testing, Transparent Box Testing, Code-based Testing, and Glass-box Testing.
What do Developers check while performing the White Box Testing?
Security defects in the Design, Structure, and Code of the Software.
Broken Paths in the coding processes.
The flow of inputs through the code.
Desired Output.
The Performance of conditional loops.
Testing each statement, object, and function on an individual basis.
FITA Academy's Testing Courses in Bangalore is curated by Industry experts to help students achieve excellence in Manual Testing to provide themselves better job opportunities.
2. Black Box Testing
Black Box Testing is another type of Manual Testing method in which the functionalities of the software applications are tested without disturbing the internal structure of the code. That is, a testing engineer gives input and tests its output. It is otherwise called Behavioural Testing.
Types of Black Box Testing
Functional Testing – This type of testing is done by Software Testing Engineers. This is done to test the functionality of the system.
Non-functional Testing – This testing is done to test the non-functional elements like Performance, Stability, and Usability.
Regression Testing – Regression testing is mainly done after the System Upgrade, Code Upgrade, or any System Maintenance. The main purpose of the Regression testing is to check mainly the code up-gradation has not affected the existing code.
How to perform Black Box Testing?
Following are the steps carried out to perform any type of Black Box Testing.
At the initial stage, the requirements and specifications of the system are examined.
The Testing Engineer tests both Valid inputs (Positive Test Scenario) to check whether the system responds correctly and Invalid inputs (Negative Test Scenario) to check whether the system can detect them.
The Testing Engineer determines the desired output for the inputs.
The Testing Engineer also constructs the test scripts with the selected inputs.
The test scripts are executed.
The Testing Engineer compares the actual output with the expected output.
Finally, the defects are fixed and re-tested.
3. Gray Box Testing
Gray Box Testing is the combination of White Box Testing and Black Box Testing. In Gray Box Testing, it is enough if the Testing Engineer knows partial coding. The main objective of the Gray Box Testing is to find the issues that have developed due to the improper structure of the coding or the improper use of the applications.
The Main Goal of the Gray Box Testing
To have the combined benefits of the White Box Testing and Black Box Testing
To combine the efforts of both the Developers as well as the Testers to deliver a quality product.
To reduce the long process of both the functional as well as non-functional testing types.
To give more time to the developers to fix issues/defects.
To test the application from the end-user point of view rather than the designer's point of view.
FITA Academy is one of the top institutes in Bangalore in teaching the Testing Courses in Bangalore and providing quality training to students to help them efficiently learn the industry practices.
4. Unit Testing
Unit Testing is nothing but testing the individual units of a program code. The main aim of Unit Testing is to know whether each unit of the program code works as expected. The Unit Testing is done by Developers during the development of a Software Application. A Unit may be an individual function, method, procedure, model, or object.
5. Integration Testing
Integration Testing is where individual units of the software program are integrated and tested as a group. The main aim of integration testing is to check whether the different units of the software program communicate properly and act as one complete program. Because different units of the program are written by different developers. So it is essential to check the individual units of the program interact properly with each other and act as one common application.
6. System Testing
System Testing is testing the complete and fully integrated software application. This testing is done by the Testing team and it is not necessary for them to have knowledge of coding.
7. Acceptance Testing
Acceptance Testing is the last phase of Software Testing. The Testing is done to check whether the developed Software is per the Business requirements and is acceptable for delivery or not. Acceptance Testing is of two types. One is User Acceptance Testing and the other is Business Acceptance Testing. Join FITA Academy's Manual Testing Training in Bangalore to have sound knowledge about the Manual Testing concept and its types. We believe in providing the best training to students to help them achieve expertise in technology.