Course Highlights and Why Robot Framework Training in Bangalore at FITA Academy?

Learning the definition of Robot Framework Test Automation, its features, testing process, and advantages.

Knowing how to install and set the environment for the testing process.

Getting familiarised with writing and executing test cases and learning the process of importing libraries, writing keywords in tabular format, and using tags to execute test cases.

Comprehending the Keyword-driven, Behaviour-driven, and Data-driven test style cases.

Acquiring knowledge to perform testing on both chrome browser and firefox browser.

Getting acquainted with Textbox testing, Radio button testing, checkbox testing, and Dropdown testing.

Learning to use Keywords, Library Keywords, and User-defined Keywords.

Working with Variables such as Scalar variables, List variables, and Dictionary variables.

Knowing how to install Database Library and Import Database Library.

Knowledge of testing of all the specifications such as Login page, Command lines, codes, test cases, etc.
Upcoming Batches
09-12-2023
Weekend
Saturday (Saturday - Sunday)
11-12-2023
Weekdays
Monday (Monday - Friday)
14-12-2023
Weekdays
Thursday (Monday - Friday)
16-12-2023
Weekend
Saturday (Saturday - Sunday)

Classroom Training
Get trained by Industry Experts via Classroom Training at any of the FITA Academy branches near you
Why Wait? Jump Start your Career by taking the Robot Framework Training in Bangalore!
Instructor-Led Live Online Training
Take-up Instructor-led Live Online Training. Get the Recorded Videos of each session.
Travelling is a Constraint? Jump Start your Career by taking the Robot Framework Online Course!
Trainer Profile
FITA Academy's Robot Framework trainers are industry professionals having a maximum experience of 10+ years in the field.
The Robot Framework experts train students according to industry practices and developments.
The tutors mainly concentrate on providing career-oriented training to help and guide students in their career development.
Extensive hands-on training is provided by the mentors to make students acquainted with the industry-based technical skills.
Soft skill training is also taken by the Robot framework coaches to enhance the competency of the candidates.
Learn at FITA Academy & Get Your
Dream IT Job in 60 Days
like these Successful Students!

Features of Robot Framework Training in Bangalore at FITA Academy
Real-Time Experts as Trainers
At FITA Academy, You will Learn from the Experts from industry who are Passionate in sharing their Knowledge with Learners. Get Personally Mentored by the Experts.
LIVE Project
Get an Opportunity to work in Real-time Projects that will give you a Deep Experience. Showcase your Project Experience & Increase your chance of getting Hired!
Certification
Get Certified by FITA Academy. Also, get Equipped to Clear Global Certifications. 72% FITA Academy Students appear for Global Certifications and 100% of them Clear it.
Affordable Fees
At FITA Academy, Course Fee is not only Affordable, but you have the option to pay it in Installments. Quality Training at an Affordable Price is our Motto.
Flexibility
At FITA Academy, you get Ultimate Flexibility. Classroom or Online Training? Early morning or Late evenings? Weekdays or Weekends? Regular Pace or Fast Track? - Pick whatever suits you the Best.
Placement Support
Tie-up & MOU with more than 1500+ Small & Medium Companies to Support you with Opportunities to Kick-Start & Step-up your Career.
Why Learn Robot Framework Training in Bangalore at FITA Academy?
Live Capstone Projects
Real time Industry Experts as Trainers
Placement Support till you get your Dream Job offer!
Free Interview Clearing Workshops
Free Resume Preparation & Aptitude Workshops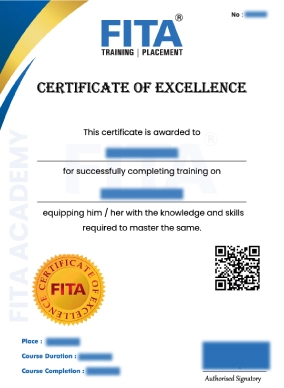 Robot Framework Certification Course in Bangalore
Being part of the Robot Framework Course in Bangalore at FITA Academy will be helpful for students in extensively learning the imperative concepts of this testing tool. We will be covering all the aspects of the Robot Framework testing tool so that students can attain sound knowledge in running this Test and Keyword-based development process. In this course, students will be exposed to the basics of the testing process such as Web, APIs, Databases, XML files, etc. Imparting basic-level technical knowledge like how to install and configure the Robot Framework test automation tool and also the libraries like Selenium, API, Database, and more. More foundational concepts such as Python and Excel will also be taken for students to leverage their performance while utilizing the tool. After completing the course, students will be proficient in the overall aspects of the tool. It includes creating simple automation scripts, knowing how to use command window, batch files, Jenkins and windows task scheduler to execute robot framework automated tasks, creating user-defined keywords for various business domain terms, etc.
Have Queries? Talk to our Career Counselor for more Guidance on picking the
right Career for you!
Placement Session & Job Opportunities after completing Robot Framework Training in Bangalore

Robot Framework is an open-source test automation tool used to test the developed software products and to meet the client's requirements. The framework is written using Python and it works on Keyword-based Test-driven development. The automation tool mainly works for three purposes. One is Acceptance testing, the second is Acceptance Test-Driven Development and the third is Robotic Process Automation (RPA). Acceptance Testing is testing the final software product performed by the user or the client to know whether the final product complies with their requirements. The testing is done at the final stage of the testing phase after the main testings are done such as functional, integration, and system testing. There are different types of acceptance testing such as User acceptance testing, Business acceptance testing, Alpha testing, and Beta testing. The Acceptance testing is also called User-Acceptance Testing (UAT) and also called Black-box Testing.
Acceptance Test-Driven Development (ATDD) is the writing of test cases after the client, development team and the testing team discuss the possible requirements and specifications before implementing the software product/application. Robotic Process Automation (RPA) is the process of building, developing, and managing software robots that imitate human actions. These three processes are mainly tested using the Robot Framework Automation Testing tool. Its rich ecosystem, libraries, and tools support the functionality of the Robot Framework tool. The professionals concerned with the Robot Framework Test Automation field earn up to INR 6 lakhs as average salary per year. The salary may vary according to the country, company, and experience. Join FITA Academy's Robot Framework Training in Bangalore to have first-hand training of this test automation tool and become professional Automation Test Engineers and be industry-ready.
Success Story of Robot Framework Training in Bangalore
Enrolling in the Robot Framework Test Automation Training in Bangalore at FITA Academy has been a life-changing opportunity for me. I learned many things from the training - Effective learning, learning methodology, knowledge on the technical aspects have all changed my way of learning for the good. And also I am happy to share that I have got selected as the Junior Test Engineer in an IT company. Thanks to FITA Academy for such good training and placement support.
Learning at FITA Academy for the Robot Framework Test Automation Course in Bangalore was really helpful. Because of the effective training by the coaches, I performed well in my interview and got selected as a Test Analyst in a top MNC. Thanks to my trainers and FITA Academy for helping students accomplish their goals and ambitions.
Joining my Robot Framework Training in Bangalore at FITA Academy has helped me to acquire a job as an Automation Tester with a fair package. It was a great learning experience at FITA Academy. I will definitely recommend FITA Academy to my friends and anyone who wants to get professionally trained and achieve their goals.
My ambition is to work in the technical side of the industry. So decided to learn the testing and chose Robot Framework to get specialized in the domain. FITA Academy didn't disappoint me as the training was first-class and the trainers were very skilled and professionals while taking the classes. I will surely recommend FITA Academy to all the beginners and freshers who want to get specialized in the Robot Framework domain.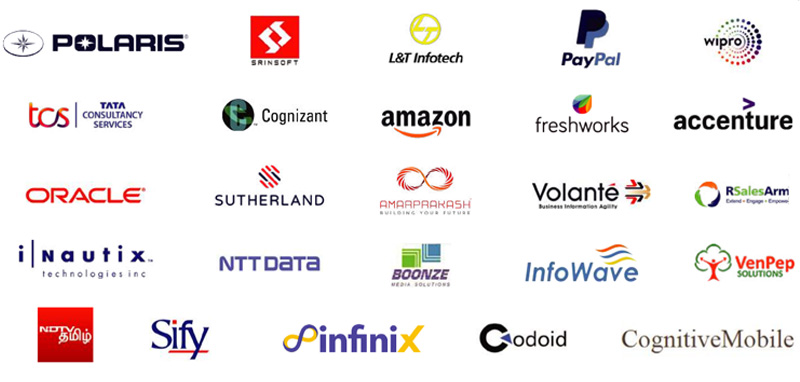 Frequently Asked Question (FAQ) about Robot Framework Training in Bangalore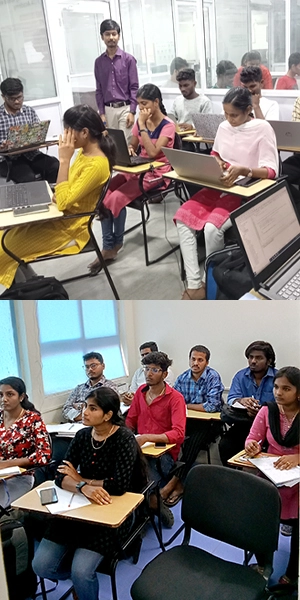 What is Robot Framework?
Robot Framework is a Python-based test automation tool, which is both Operating system and Platform-independent. The Automation tool is used mainly for Acceptance Testing, Acceptance Test-driven Development, and Robotic Process Automation. The tool is also an open-source, keyword-driven, behavior-driven, and data-driven tool for writing test cases that can analyze the finished software product whether the specifications and requirements are met.
Why use the Robot Framework?
The Robot Framework is easy to install and is user-friendly in creating and writing test cases.
Any fresher can easily understand the working and concepts of this testing automation tool and does not require any prior testing knowledge to start learning the Robot Framework Test Automation tool.
It supports majorly all kinds of test case styles like Keyword-driven, Behaviour-driven, and Data-driven test cases.
It provides good support for external libraries like Selenium which is easy to install and use in Robot Framework.
The Framework has different libraries for different testing purposes. Some of the libraries include the Database library, Appium Library, and Requests library.
It provides good documentation support and also precise human-readable HTML reports.
Join FITA Academy's Robot Framework Test Automation Course in Bangalore and be a proficient automation test engineer in your field.
Features of the Robot Framework Test Automation tool
High-level Architecture
Simple Tabular Syntax
Data-driven test cases
Separate Test Data Editor
Clear Reports
Detailed Logs
Generic Test Libraries
Text Editor Support – Emac, Vim, TextMate
Robot Framework is a Keyword-based test-driven process
Testing is an important part of the IT industry where only the development process alone can't cater to the needs of the consumers. If testing is not done, a company cannot assess whether the developed product meets the customer's expectations and requirements. The product has many possibilities of having bugs, errors, and faults lowering its efficiency and quality. As a result, a failed product reaches the hands of the customers and thus degrades their name and trust. Therefore testing is as important as the development of a product that ensures the quality of the brand is maintained and satisfies the customers' needs.
Testing is nothing but the analysis of the product to know if the developed product is free of any bugs and faults and works finely according to the customers' expectations. Testing is precisely divided into two categories. One is Manual testing and the other is Automated testing. The Robot framework comes under the category of automated testing where the tool takes care of all the necessary operations to test the product of its functions, efficiency, and quality. Automated testing is considered more advantageous than manual testing since the former produces less error than the latter and also works faster than the manual process.
Mostly the Robot Framework Automated testing process is based on the Keyword-driven testing process. The Keyword-driven testing process is based on the keywords that are tabulated and precisely means the actions that are to be performed for a particular test. The keywords can be used for both Manual and Automated testing.
The Keywords used are of different types
Higher-level Keywords – These keywords are used for testing particular aspects of a system.
Lower-level Keywords – These keywords are used for testing the functionality of the product which combines a number of low-level keywords.
Technical Keywords – These keywords are used for executing the tests.
Advantages of Robot Framework Test Automation tool
Minimal Threshold

Because the Robot Framework is Keyword-driven, beginners in the testing field don't need any programming knowledge to work with the Robot Framework tool.

Mobile/Web Support

The Robot Framework can be used to test both web applications and mobile applications such as Android and iOS.

TAGS Usage

Clients can allot labels rather than tests. Such labels may contain any information to recognize the test: test ID, a list of components utilized with the test, and so on.This arrangement permits making an association between tests and computer program prerequisites as well as the proper vector to perform an arrange test return.

High-quality Reports
The Robot Framework Test Automation tool automatically generates results without having to input additional commands. The tool can also combine the results of various test runs and based on the results the following types of files are created.
Output.xml – Tests are resulted in XML format
Log.html – Test results are in the HTML format
Report.html – High level results with no detail
FITA Academy's Robot Framework Test Automation Training in Bangalore will make you professional in handling this automation tool and also boosts your career opportunities to advance in your career.