Course Highlights and Why VMware Training In Bangalore at FITA Academy?

Learning of Virtual Machines (VM).

Learning of Pluggable Storage Architecture(PSA).

Learning of SSO(Single Sign-On) Architecture.

Training on SSO installation, SSO Policies, and its Components.

Ability to Create/Clone/Edit VCenter Server Roles.

Importance of Vmware Directory Service.

Gaining the skill to Administer and Manage vSphere 6.x resources.

Apprehending Backup and Recovering of vSphere Deployment.

Cognizance of Troubleshooting a vSphere Deployment.

Knowledge on Deploying and Consolidating Vsphere Data Center.
Upcoming Batches
09-12-2023
Weekend
Saturday (Saturday - Sunday)
11-12-2023
Weekdays
Monday (Monday - Friday)
14-12-2023
Weekdays
Thursday (Monday - Friday)
16-12-2023
Weekend
Saturday (Saturday - Sunday)

Classroom Training
Get trained by Industry Experts via Classroom Training at any of the FITA Academy branches near you
Why Wait? Jump Start your Career by taking the VMware Training in Bangalore!
Instructor-Led Live Online Training
Take-up Instructor-led Live Online Training. Get the Recorded Videos of each session.
Travelling is a Constraint? Jump Start your Career by taking the VMware Online Course!
Trainer Profile
VMware Trainers at FITA Academy are industry professionals with a minimum of 10+ years of experience in the field.
The VMware Trainers at FITA Academy have successfully completed 8+ years in the Virtualization and Cloud Computing field.
FITA Academy's trainers are skilled and competent professionals in their respective fields.
Trainers also assist in career guidance and provide timely mentorship.
Trainers concentrate more on interactive and one-on-one sessions to enhance the competency of an individual.
VMware Trainers also assist students in developing soft skills that are required to face the interview process in a more professional way.
Trainers also share their professional expertise to help students gain a competitive edge in the placement as well as the selection process.
Learn at FITA Academy & Get Your
Dream IT Job in 60 Days
like these Successful Students!

Features of VMware Training In Bangalore at FITA Academy
Real-Time Experts as Trainers
At FITA Academy, You will Learn from the Experts from industry who are Passionate in sharing their Knowledge with Learners. Get Personally Mentored by the Experts.
LIVE Project
Get an Opportunity to work in Real-time Projects that will give you a Deep Experience. Showcase your Project Experience & Increase your chance of getting Hired!
Certification
Get Certified by FITA Academy. Also, get Equipped to Clear Global Certifications. 72% FITA Academy Students appear for Global Certifications and 100% of them Clear it.
Affordable Fees
At FITA Academy, Course Fee is not only Affordable, but you have the option to pay it in Installments. Quality Training at an Affordable Price is our Motto.
Flexibility
At FITA Academy, you get Ultimate Flexibility. Classroom or Online Training? Early morning or Late evenings? Weekdays or Weekends? Regular Pace or Fast Track? - Pick whatever suits you the Best.
Placement Support
Tie-up & MOU with more than 1500+ Small & Medium Companies to Support you with Opportunities to Kick-Start & Step-up your Career.
Why Learn VMware Training In Bangalore at FITA Academy?
Live Capstone Projects
Real time Industry Experts as Trainers
Placement Support till you get your Dream Job offer!
Free Interview Clearing Workshops
Free Resume Preparation & Aptitude Workshops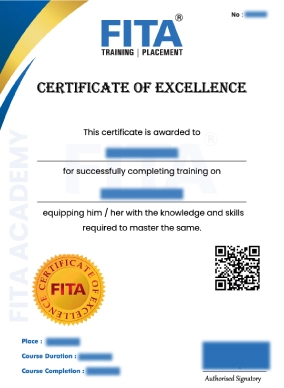 VMware Certification Course in Bangalore
The VMware Certification is one of the high credential certifications in this digital era and completing this certification course at FITA Academy will expand your career opportunities. The VMware Training at FITA Academy covers the major important theories of virtualization such as Cloud Management and Automation, Data Center and Virtualization, Desktop and Mobility, etc to have a virtual understanding of the process. Upon the completion of the course, a candidate acquires the skills of deploying and managing VMware's Products and Solutions cogently. VMware certification also encompasses many benefits for both beginners and working professionals as they can confidently handle critical roles regarding Vmware solutions and technologies. The Vmware Certified candidates gain expansive knowledge on Network Virtualization, Cloud Management, Digital Workspace, Data Center Virtualization, etc, and can work under any technology of their choice. Vmware Virtualization is a vast field and offers many certifications according to candidates' skills and technical competence. So getting certified under the course will open doors to many opportunities: Either a candidate can further study other certifications to get a high-paying job or opt to work in the field he studied.
Have Queries? Talk to our Career Counselor for more Guidance on picking the
right Career for you!
Placement Session & Job Opportunities after completing VMware Training In Bangalore

VMware Inc is a Cloud Computing and Virtualization software providing company that offers many certifications with an aim to enhance the virtualization skills of candidates who are willing to work with VMware solutions and technologies. The certification program is mainly to help businesses to utilize virtualization software and cloud solutions effectively with the help of trained Virtualization professionals.
The job titles vary according to the certifications done by candidates. Let us see the list of job roles or career opportunities a certified candidate has. VMware offers four levels of certifications and each level is dedicated to a specific technology.
The First entry level is VMware Certified Associate(VCA). Completing this certification allows a candidate to work in the roles of administrator, architect, and also in executive roles. There is only one specification that can be studied under the VCA category, that is VCA- Digital Business Transformation 2020 -VCA DBT 2020.
The second is VMware Certified Professional (VCP) and this level has five sub-certifications, which are
Network Visualization 2020 (VCP – NV 2020) (NSX-V Track and NSX-T Track)
Cloud Management and Automation 2020(VCP- CMA 2020)
Desktop and Mobility 2020(VCP – DTM 2020)
Digital Workspace 2020(DW 2020)
Data Center Virtualization 2020(DCV 2020)
The final DCV certification is the most in-demand certification under which candidates study administering and troubleshooting vSphere v6 infrastructures to provide a robust virtualization platform for businesses. This Certification helps candidates to acquire system administrator and system engineer roles.
The third is VMware Certified Advanced Professional (VCAP). Under this certification, a candidate learns to design and build VMware Solutions (VCAP Design) and also learns to manage and optimize VMware Solutions (VCAP Deployment).
Completing the VCAP Certification, a candidate can work as an administrator, architect, and engineer.
Fourth is VMware VCDX Certification which is nothing but VMware Certified Design Expert (VCDX). This certification is mainly for those who desire architect-level roles. The VCDX certification has four sub-divisions which are
VMware Certified Design Expert -Network Visualization 2020 (VCDX – NV 2020)
VMware Certified Design Expert – Data Center Virtualization 2020 (VCDX – DCV 2020)
VMware Certified Design Expert – Cloud Management and Automation 2020(VCDX – CMA 2020)
VMware Certified Design Expert – Desktop and Mobility 2020(VCDX – DTM 20220)
Top employers of VMware certified professionals are TCS, IBM India Private Limited, Accenture, HCL, Wipro, NewWave Computing Pvt Ltd, International Business Machines Corporation, etc.
The average salary of a VMware Certified Professional varies according to the company he works for, the value of his certification, his location, etc.
In India, the average salary of a Vmware Member of Technical Staff is around Rs. 16,23,219.
An IT manager earns around Rs. 1,809, 955 per annum.
A Senior System Engineer earns around Rs 8,75,000 per annum.
A System Administrator earns around Rs. 700,000 per annum.
A Technical Support Engineer earns around Rs. 1,331,707 per annum.
A Systems Engineer earns around Rs. 6,36,000 per annum.
FITA Academy provides the essential foundation for students to further broaden their career growth and we have thoughtfully crafted a syllabus and training program to get you equipped with the industry needs.
Success Story of VMware Training In Bangalore
I choose to study VMware Course at FITA Academy after completing my degree. I heard about FITA through one of my peers as he was placed in a good company after completing a course in the Academy. The overall learning experience was satisfying and worthwhile. The trainers were completely professional in handling the topics of the virtualization software. Each session had a practical implementation of complex subjects. The mentorship of the trainers is laudable as they were more than willing to assist the students in the right way. Thanks to FITA Academy for providing a wonderful experience and the guidance they gave me to have a steady career path.
First of all thanks to FITA Academy for the immense support that I got from the trainers for my placement. Through their guidance and support and exceptional way of teaching, I was able to get placed in an eminent company. The training was worth the cost and highly surpassing. I recommend people to join FITA Academy as they have the best trainers and syllabus.
I had done my VMware training at FITA Academy which is the best VMware Training Institute in Bangalore. I had gained an amazing learning experience as I now have a good understanding and knowledge of the VMware concepts. The training was fully based on the current trends in the field that added more advantages to the placement process. Now I am a VMware professional earning a good package. My gratitude to FITA Academy and its trainers for guiding me on the precise path.
Choosing FITA Academy was one of the best decisions I made to study the VMware course. More than learning, it was the support and guidance from the trainers, that made the training worthwhile. Even after the completion of the course, trainers were accessible and supportive. The VMware Course in Bangalore is a package of complete analytic knowledge and proficiency of domain experts including the major developments in the field. I am now working with an MNC company as a VMware professional and all thanks to FITA Academy for this enthralling learning experience and appropriate mentorship.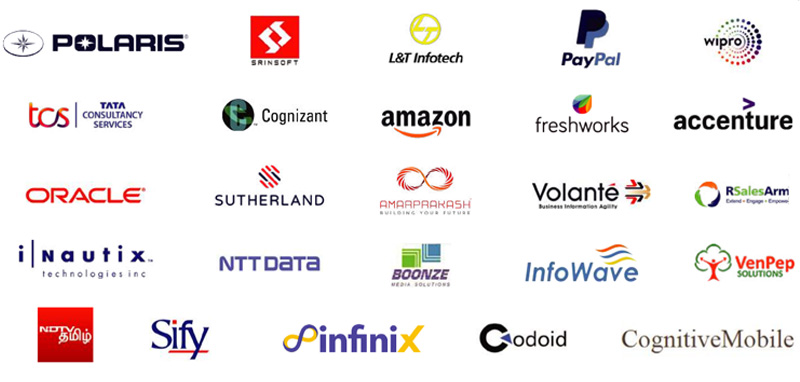 Frequently Asked Question (FAQ) about VMware Training In Bangalore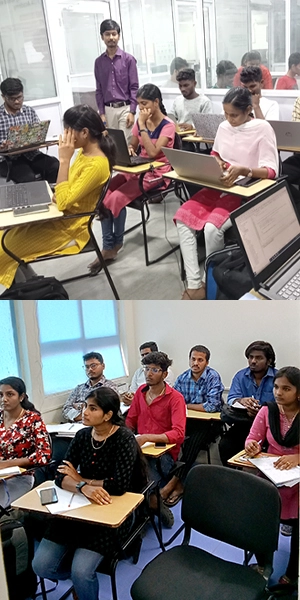 Virtualization is a modern concept that supports the virtualization of any computer component. For example, from operating systems, servers, storage devices to network resources. Also, the virtualization tool utilizes cloud technology to implement the virtualization concept in the above-mentioned components. In the IT industry, Virtualization is the process of enabling companies to utilize cloud-based software to imitate servers to create a virtual server environment. By the creation of a virtual server environment, companies can implement multiple machines to work on one server. This way it cuts all the unnecessary expenses and boosts the company's performance by just working on a single server. To achieve this VMware released the vSphere which is the flagship virtualization product. It was formerly called VMware Infrastructure and consists of ESXi, Type 1 hypervisor, vCenter Server, and other few important features to make sure visual servers are working in a desirable way.
There are seven types of Virtualization available to support a company's functionalities. They are,
OS virtualization or Virtual machines
Application Server Virtualization
Application Virtualization
Administrative Virtualization
Network Virtualization
Hardware Virtualization
Storage Virtualization
VMware Visualization Software works on four Key Properties. They are Partitioning, Isolation, Encapsulation, and Hardware Independence.
Partitioning
Partitioning is dividing the system resources between virtual machines and it enables the running of multiple operating systems on one physical machine.
Isolation
This feature divides the fault and security isolation at the hardware level and also it preserves performance with advanced resource controls.
Encapsulation
Encapsulation allows the working of an entire virtual machine to save as files.
Hardware independence
It allows the provision of a virtual machine to any physical server.
The benefits of using virtualization software are wide and large.
We can run as many operating systems within one operating system.
Even if there is a detection of a virus in the system after the implementation of virtualization software, it will affect only the virtual machine, not the real physical machine.
The software can be used to select the best OS type.
Reduces or cuts the additional expenses of buying more physical machines to increase our productivity.
Increases productivity with just virtual machines.
Enhances the agility of a business
Better ROI and Scalability
Looking to choose a career path with extensive career opportunities? Then go for learning the Virtualization software as it provides ample opportunities to have a stable professional growth.
Enroll in the best VMware Training in Bangalore at FITA Academy and get the dream job with the right assistance from our VMware mentors.