Course Highlights and Why Android Training in Marathahalli at FITA Academy?

Develop real Android apps using a powerful IDE (Integrated Development Environment) to practice your skills.

This Android Course in Marathahalli covers the basics through advanced topics such as
UI design
. Our curriculum will prepare you from start to finish for any career path you choose.

Keeping yourself marketable by learning coding during your career will save you time. Our trainers can connect you to resources to stay relevant in today's job market.

Our classes are small and you can attend them online or in person. A mentor with experience in Android application development can give you individual attention in this way.

Our fees are affordable, so join us and discover what all the fuss is about. When compared to others, some of our other coding courses are reasonably priced for students. That means you'll get great results without breaking the bank.

Instructors and mentors are industry professionals who have extensive experience in corporate environments. Moreover, they can ensure that the training you receive will be applicable to your future endeavors.

Our instructors can answer any questions you may have. If you have any questions during your Android Training in Marathahalli, we are ready to help.

FITA Academy provides free resume assistance to all students. You can use the template provided by the academy to complete your resume.

Employers will find it easier to hire qualified candidates if your resume reflects the knowledge you gained at FITA Academy.

Upon completion of your Android Training in Marathahalli, you'll receive certificates that serve as proof of completion, making them valuable assets. These certificates are needed by many companies to begin the hiring process.

Throughout your studies at FITA Academy, you will not only receive training, but also receive the support of an instructor and fellow students.
Upcoming Batches
09-12-2023
Weekend
Saturday (Saturday - Sunday)
11-12-2023
Weekdays
Monday (Monday - Friday)
14-12-2023
Weekdays
Thursday (Monday - Friday)
16-12-2023
Weekend
Saturday (Saturday - Sunday)

Classroom Training
Get trained by Industry Experts via Classroom Training at any of the FITA Academy branches near you
Why Wait? Jump Start your Career by taking the Android Training in Marathahalli!
Instructor-Led Live Online Training
Take-up Instructor-led Live Online Training. Get the Recorded Videos of each session.
Travelling is a Constraint? Jump Start your Career by taking the Android Course Online!
Trainer Profile
Professional background: We have a team of professional android developers, who possess vast experience in working with android platforms.
Specialization: Whether you want to develop android apps for business or pleasure, we cater to your requirements.
Strong Work Ethic: We believe that your success depends largely on how hard you work.

Our trainers value quality over quantity and understand that there is no substitute for hard work. It is through dedication that they deliver top-notch content every day.

Career Paths are Open: We make sure to teach you how to use the tools that would help you secure a long-term career, rather than a part-time gig.
Hands-On Experience: Not only do our instructors impart their skills in the classroom, but they also give an opportunity to practice those skills on real-life projects.
Technical Support: Our faculty provides guidance and support. If you happen to experience problems, our experts are happy to offer assistance.
Flexible Hours: Our class times are flexible to accommodate your schedule. All you need to do is register on our website and choose the most convenient time according to your current needs.
Online & Offline Modes: Choose the format that suits you best, i.e. online mode, or offline mode. Either way our instructors guide you step by step through every process.
Learn from Experts: Our teaching methodology is very student-oriented. This means that whatever courses you plan to take, you'll learn from a pro at the same time.
Learn at FITA Academy & Get Your
Dream IT Job in 60 Days
like these Successful Students!

Features of Android Training in Marathahalli at FITA Academy
Real-Time Experts as Trainers
At FITA Academy, You will Learn from the Experts from industry who are Passionate in sharing their Knowledge with Learners. Get Personally Mentored by the Experts.
LIVE Project
Get an Opportunity to work in Real-time Projects that will give you a Deep Experience. Showcase your Project Experience & Increase your chance of getting Hired!
Certification
Get Certified by FITA Academy. Also, get Equipped to Clear Global Certifications. 72% FITA Academy Students appear for Global Certifications and 100% of them Clear it.
Affordable Fees
At FITA Academy, Course Fee is not only Affordable, but you have the option to pay it in Installments. Quality Training at an Affordable Price is our Motto.
Flexibility
At FITA Academy, you get Ultimate Flexibility. Classroom or Online Training? Early morning or Late evenings? Weekdays or Weekends? Regular Pace or Fast Track? - Pick whatever suits you the Best.
Placement Support
Tie-up & MOU with more than 1500+ Small & Medium Companies to Support you with Opportunities to Kick-Start & Step-up your Career.
Why Learn Android Training in Marathahalli at FITA Academy?
Live Capstone Projects
Real time Industry Experts as Trainers
Placement Support till you get your Dream Job offer!
Free Interview Clearing Workshops
Free Resume Preparation & Aptitude Workshops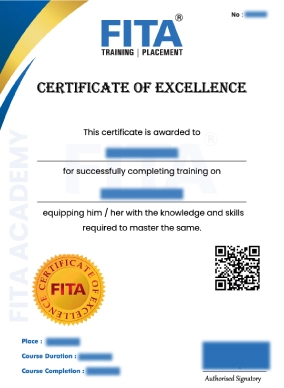 Android Certification Course in Marathahalli
The Android Developer Certification Course in Marathahalli at FITA Academy is the perfect choice for those who want to learn Android development. This Android Course in Marathahalli is designed for beginners and provides ample opportunity to ask questions and get help from the trainers. The course covers all the essential aspects of Android development, starting from developing an app with basic features to building more complex apps. After completing the course, students will be able to develop Android apps using the latest technologies and frameworks. You can earn a certificate after successfully completing our Android Training in Marathahalli to enhance your knowledge for further Android development. Android is the most popular mobile operating system and developers are in high demand. There are many reasons for this; the Android platform is versatile, open-source, and highly customizable. In addition, Android apps can be sold on the Google Play store which has a huge user base. One way to achieve success as an Android developer is to obtain certification.
Have Queries? Talk to our Career Counselor for more Guidance on picking the
right Career for you!
Placement Session & Job Opportunities after completing Android Training in Marathahalli

Our Android Course in Marathahalli offers comprehensive training that will equip you with the skills needed to work with Android devices. Our trainers are experienced professionals who will help you learn everything from setting up your device to developing apps. After completing our course, you'll be ready to tackle any Android-related job. You could become an expert Android developer, an Android app builder, or simply market yourself as someone who's an expert in Android. Regardless of what area you decide to specialize in, you're guaranteed to find lots of opportunities in the field. Here are some Job Opportunities After Completing Android Training in Marathahalli at FITA Academy:
Android Developer: As the name suggests, Android Developers create applications that run on Android phones. There are different types of jobs open to software engineers – they may be responsible for writing code, programming UI elements, testing the application before it goes live, etc. In short, there is a lot to do when working as an Android developer.
Here are some of the Roles and Responsibilities that you may need to know about Android Developer.
Writing Code: Whether it's HTML, CSS, JavaScript codes, XML, or JSON, Android requires Java coding. So you need to have strong knowledge of Java language to create android apps.
Designing App Interfaces: If you have good design sense, then learning UI designing is not difficult for you. When creating an app interface, you must keep the following things in mind – clarity, simplicity, consistency, functionality, readability, and so on.
Planning Apps Strategy: It is easy to build an Android app, but planning how you can use/utilize your idea efficiently is what separates experts from average coders. Once you understand the pros and cons of various approaches, you'll be able to make decisions regarding the best strategy to take.
Testing and Debugging Applications: An Android app should perform flawlessly, but bugs often creep into them during the development process. Thus, while debugging such issues, it becomes essential to know where exactly the glitch lies and whether it affects user data or not. Therefore, you need to be familiar with tools like Firebug (for browsers) and Eclipse ADT Bundle (for IDE).
Building A User Interface: Creating an appealing interface is another aspect of Android development. You need to understand user behavior and their requirements through UX analysis. Moreover, you have to focus on improving the experience by making users comfortable. Learning Android Course in Marathahalli will give you a complete understanding of creating a great user interface.
Developing Security Features: Keeping security in mind is very important while building an Android app; you cannot leave anything to chance. To avoid malware, spyware, unauthorized access to personal information, and more, you must develop robust and well-thought out functional features.
Integrating With Social Networks: The world has changed since we were kids. Almost every individual uses multiple social networking sites today. They are not only used to share pictures, videos and general updates, but also share information with their friends & family about all sorts of events happening around them. Most importantly, such services allow us to stay connected with people whom we care about. Android allows developers to integrate such platforms in their applications. Hence, they can provide great benefits to users.
Using APIs: Since Android is powered by Linux kernel, you must be acquainted with APIs created specifically for this platform. Although most mobile application developers don't get to interact directly with these APIs as they belong to third parties, knowing their existence can still prove useful if you intend to create a hybrid app (one that runs both on iOS and Android devices).
Porting Applications: It's not surprising that many developers choose to port their existing iPhone / iPad apps to Android due to its vast potential market. However, some developers fail when creating such an app. This happens when they forget certain crucial aspects that make a successful Android application. Thus, being aware of these aspects will help developers create better apps.
Responsive Web Design: As smartphones have become ubiquitous in our lives, there is a rise in demand for websites which adapt to different screen sizes. That way, users won't find it difficult to view contents without sacrificing the overall look and feel of the site. In addition to that, having responsive web design also helps promote SEO because Search Engines evaluate websites based on their responsiveness. So, it's important to optimize an original website so that Googlebot crawlers crawl it faster.
If you want to develop for Android, you will need to be aware of the different roles and responsibilities that are required. This Android Course in Marathahalli will help you know about these which will help you become an effective Android developer.
Success Story of Android Training in Marathahalli
I am a college fresher looking for a job. I came across FITA Academy and completed my android course. I got good knowledge of android development and it was really helpful during interviews.
I wanted to develop an app using Android Studio. So, I joined this institute after going through online research. It helped me realize what I should learn in order to make myself more knowledgeable. Now, I wish to work in a well-known organization and keep improving myself. Join this institute!
Now after completing my Android Course, I have good knowledge in UI/UX designing. It is very well organized and taught us everything step by step. Also, it provides practicals to practice what we've learned. Every point is clear and easy to understand.
Frequently Asked Question (FAQ) about Android Training in Marathahalli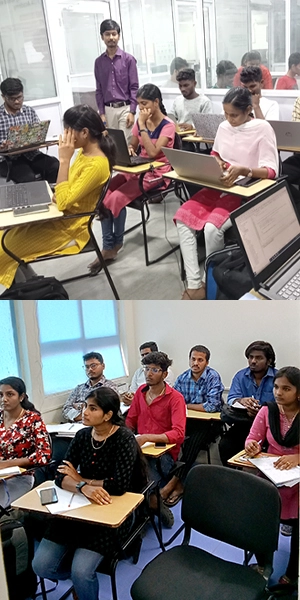 Our Android course curriculum is uniquely focused on giving skills to individuals seeking careers in digital marketing. It is not limited to just learning about Android and developing apps. Rather, it's also geared towards preparing candidates for interviews and hands-on project work. As part of our course, you will be taught how to plan, manage, execute, analyze and optimize your online presence. During the entire course period, you will complete a number of projects using multiple technologies like Android Studio, Git, JIRA, AWS, Jenkins, Selenium, AngularJS, Apache Tomcat, Linux, Eclipse, JavaScript/HTML5, Bootstrap, Angular-CLI, MoPub, AdMob, AdWords and much more!
If you're ready for a career change, we offer both Short Term & Full Time Android Course in Marathahalli. Here's more information:
If you want to break into the world of mobile application development, this course will help you gain proficiency in

Java

, XML, and SQL.

If you already possess some programming knowledge but need to upgrade yourself to advanced software engineering levels, this program provides the necessary tools for you to do just that.

If you are new to coding, this course will teach you the fundamentals needed to build and deploy your own programs.

Whether you're a recent graduate, a professional who needs additional certifications, or an individual who wants to upskill professionally, this program is designed specifically for you.

This Android Training in Marathahalli prepares you to successfully land your dream job. Learn how to code using Java, C++, HTML5, CSS3, Javascript, PHP, MySQL, and MYSQL.

You'll also learn how to utilize various web development platforms like WordPress, Joomla, Drupal, Magento, and many others.

Finally, you'll learn different methods of deployment including deploying through a website URL & FTP.

This course covers complete concepts of programming.

We use sample projects and assignments during most lectures so you'll actually start working on real products from day 1.

Real-life examples of software development processes used in large companies such as Google, Microsoft, Amazon, and other leading tech firms are shown throughout the course.

The instructors have over 5+ years of industry experience. Their expertise is reflected in each session.

The faculty gives frequent feedback, helps identify areas where improvement is required, and encourages active participation.

Our Android Course in Marathahalli materials in each module covers all aspects of the current topic very thoroughly.