Course Highlights and Why CCNA Course in Marathahalli at FITA Academy?

Meticulously designed courseware up to date with the latest exam curriculum.

Regular mock tests are being conducted to replicate the actual certification exam and assess how much the students are ready.

Students are also imparted with valuable knowledge outside the CCNA syllabus, which is relevant and useful for working in the networking industry.

Flexibility is available for students in terms of opting for either weekday or weekend classes.

Fast track option is available for students who cannot afford to spend a lot of time preparing for the CCNA certification exam.

An in depth explanation of various concepts of the CCNA curriculum is provided.

The course is designed to be as budget-friendly as possible to ensure affordability for all students.
Upcoming Batches
09-12-2023
Weekend
Saturday (Saturday - Sunday)
11-12-2023
Weekdays
Monday (Monday - Friday)
14-12-2023
Weekdays
Thursday (Monday - Friday)
16-12-2023
Weekend
Saturday (Saturday - Sunday)

Classroom Training
Get trained by Industry Experts via Classroom Training at any of the FITA Academy branches near you
Why Wait? Jump Start your Career by taking the CCNA Course in Marathahalli!
Instructor-Led Live Online Training
Take-up Instructor-led Live Online Training. Get the Recorded Videos of each session.
Travelling is a Constraint? Jump Start your Career by taking the CCNA Course Online!
Trainer Profile
At the CCNA Course In Marathahalli offered by FITA Academy, our trainers are seasoned experts in various domains of networking.
Every FITA Academy trainer holds significant experience in preparing for and successfully passing the CCNA certification exam.
Our trainers provide comprehensive guidance to students throughout their CCNA certification preparation journey, leaving no detail unaddressed.
The teaching staff at FITA Academy boasts extensive experience in delivering lectures and training sessions on networking concepts and the CCNA exam.
To ensure students' readiness, our trainers consistently organize mock tests, offering an invaluable opportunity for self-assessment.
Concepts learned are routinely reviewed by the trainers, helping students keep their understanding up-to-date and well-refreshed.
In addition to regular classes, our trainers hold doubt-clearing sessions, creating a supportive environment where students can ask questions and clarify any uncertainties.
Learn at FITA Academy & Get Your
Dream IT Job in 60 Days
like these Successful Students!

Features of CCNA Course in Marathahalli at FITA Academy
Real-Time Experts as Trainers
At FITA Academy, You will Learn from the Experts from industry who are Passionate in sharing their Knowledge with Learners. Get Personally Mentored by the Experts.
LIVE Project
Get an Opportunity to work in Real-time Projects that will give you a Deep Experience. Showcase your Project Experience & Increase your chance of getting Hired!
Certification
Get Certified by FITA Academy. Also, get Equipped to Clear Global Certifications. 72% FITA Academy Students appear for Global Certifications and 100% of them Clear it.
Affordable Fees
At FITA Academy, Course Fee is not only Affordable, but you have the option to pay it in Installments. Quality Training at an Affordable Price is our Motto.
Flexibility
At FITA Academy, you get Ultimate Flexibility. Classroom or Online Training? Early morning or Late evenings? Weekdays or Weekends? Regular Pace or Fast Track? - Pick whatever suits you the Best.
Placement Support
Tie-up & MOU with more than 1500+ Small & Medium Companies to Support you with Opportunities to Kick-Start & Step-up your Career.
Why Learn CCNA Course in Marathahalli at FITA Academy?
Live Capstone Projects
Real time Industry Experts as Trainers
Placement Support till you get your Dream Job offer!
Free Interview Clearing Workshops
Free Resume Preparation & Aptitude Workshops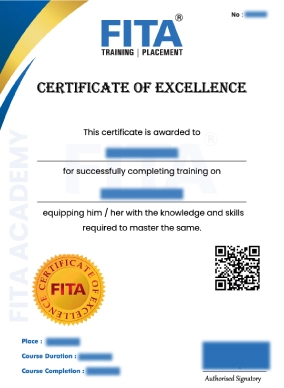 CCNA Certification Course in Marathahalli
Upon the successful completion of the CCNA Training in Marathahalli at FITA Academy, students are not only equipped with profound knowledge and valuable skills but are also awarded a certification as a testament to their accomplishment. This certification, received in addition to the official CCNA certification obtained upon clearing the CCNA exam, holds immense significance.
The FITA Academy CCNA certification is a distinguishing factor that enhances a student's profile and professional journey. This recognition extends beyond borders, with organizations worldwide acknowledging the value and caliber of our certification. As a result, our students step into job interviews with a competitive edge, ready to impress potential employers.
By offering this additional certification, we aim to boost our students' career prospects and provide them with a mark of excellence that distinguishes them in the dynamic field of networking.
At FITA Academy, our commitment to being the Best CCNA Institute in Marathahalli is further underscored by this certification. We take immense pride in the knowledge and skills we impart and consider our certification an integral part of what makes us stand out as a premier institution.
We believe that our students deserve recognition for their hard work and the journey they embark on to become proficient network professionals. The CCNA certification from FITA Academy signifies our commitment to empowering individuals with the expertise and recognition they need to thrive in the competitive job market.
Have Queries? Talk to our Career Counselor for more Guidance on picking the
right Career for you!
Placement Session & Job Opportunities after completing CCNA Course in Marathahalli

CCNA certification equips people with the understanding and talents that are needed to install, manage, and troubleshoot contemporary networks. CCNA certifications provide specialization in domains such as CCDA, cloud computing, routing and switching, provider issuer networks, safety, WiFi technology, collaboration tools, statistics middle infrastructure, Industrial networking, and Cyber Ops.
With that being said, the job scope for professionals with CCNA certificates is huge. A networking professional, on average, earns around 3.5- 4 LPA. Many employers are now considering holding the CCNA certification as a prerequisite for applicants in this field. There are various roles available in the field of networking, such as Technical Support Engineers, Network Support Specialists, System Engineers, IT Managers, Network Administrators, Network Security Specialists etc.
The CCNA Training in Marathahalli, meticulously crafted by FITA Academy, is not just about preparing students to ace the CCNA certification exam; it's a comprehensive journey that paves the way for landing prestigious positions in the realm of networking. Our program is designed to ensure that students not only become CCNA-certified professionals but also embark on lucrative careers in the field.
What sets FITA Academy apart is our unwavering commitment to preparing students for real-world job scenarios. We understand that acing interviews and securing desirable jobs is just as crucial as obtaining certifications. To bridge this gap, our dedicated placement training becomes an integral part of the learning process.
Our placement training is a holistic approach to make students job-ready, instilling the confidence and skills needed to excel in interviews. This includes conducting mock interviews, facilitating group discussions, and delving into interview question-and-answer sessions. This forms a big part of the success of the CCNA Training In Marathahalli.
Success Story of CCNA Course in Marathahalli
The CCNA course I enrolled for at FITA Academy was very helpful for me. The teachers were very understanding and made us learn everything from the basics. FITA Academy also helped me with the placement training. I highly recommend FITA Academy for CCNA courses.
I enrolled myself in FITA Academy after completing my college. I am passionate about networking and FITA Academy was a great platform to nurture my passion. The teachers were great, the labs were superb. Now I have joined a reputed firm as a Network engineer thanks to their placement training and opportunities.
It was a great experience training for the CCNA certification exam at FITA Academy. I failed in my previous two attempts but thanks to the wonderful training and coaching provided at FITA Academy through the CCNA Training In Marathahalli I was able to clear it the third time. I also got placed in a reputed firm as a technical support engineer. Thank you FITA Academy.
FITA Academy was great. I learned a lot thanks to the well planned curriculum and skilled teachers. Not to mention the excellent placement training provided by the placement cell. I highly recommend FITA Academy for whoever wants to learn about networking.
I enrolled in FITA Academy to prepare for CCNA and opted for online training due to traveling difficulties. I was not sure how effective online training would be but FITA Academy cleared all my doubts. The training was fantastic with all the concepts explained clearly by the trainers. Thanks to FITA, I am now a network engineer.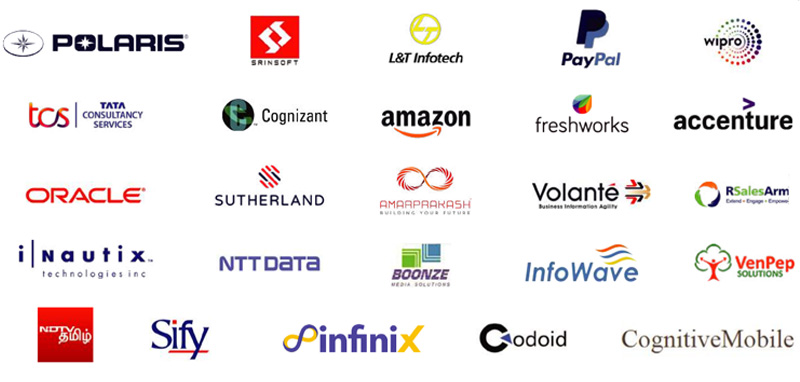 Frequently Asked Question (FAQ) about CCNA Course in Marathahalli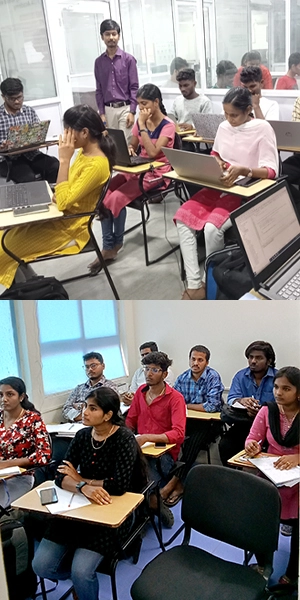 The Cisco Certified Network Associate (CCNA) is an IT certification provided by Cisco Systems, designed at the associate level in the Cisco Career certification framework. CCNA certification is a comprehensive assessment of an individual's information and talents, mainly assessing their skills to install, configure, perform, and troubleshoot medium-sized organization branch networks.
The CCNA certification route encompasses numerous important domains,such as fundamental networking standards, network security, network infrastructure, and network automation. It validates an individual's talent in configuring, comprehending, handling, and resolving troubles within switched and routed networks. Furthermore, CCNA gives steerage on organizing point-to-point connections and crafting network addresses.
One remarkable factor is that accomplishing CCNA certification can open doorways to extraordinarily lucrative job opportunities. In fact, it has emerged as the most popular IT certification internationally because it addresses the evolving demands of a state-of-the-art complicated networking landscape. Holding a CCNA certification now indicates your competence in core networking competencies and showcases your capacity to adapt and thrive in surroundings where technology deployment is rapid and multifaceted.
All things considered, FITA Academy is one of the best places for getting trained in CCNA. The institute offers a comprehensive training for CCNA certification aspirants through the CCNA Course In Marathahalli.
CCNA Certification Exam Syllabus
Network fundamentals – 20%
Network access – 20%
IP Connectivity – 25%
IP Services – 10%
Security Fundamentals – 15%
Automation and Programmability – 10%
Tips to prepare for CCNA exam
Gather the required study material and CCNA books before preparation.
Practice the various concepts hands-on to get a better understanding of them
Write mock tests to get used to the exam pattern and analyze your preparation
The CCNA Course In Marathahalli offered by FITA Academy helps students implement the above mentioned tips with a carefully planned study guide.
Network
A network is a group of two or more interconnected computer systems that share various resources, which consist of data, a printer, an Internet connection, programs, or an aggregate of those assets. The vital idea behind a network includes linking more than one computer to facilitate the sharing of data, exchange of files, and digital communication.
These interconnected computer systems can set up network connections via cables, smartphone traces, radio waves, satellites, or infrared mild beams. This interconnected group of computing devices, also known as nodes, forms what's called a computer network. This network seamlessly exchanges information and assets among those nodes, both through wired and wireless connections.
Join the CCNA Course In Marathahalli offered by FITA Academy to know more about networks.
Types of Networks
Networks are basically of 3 types namely
Personal Area Network (PAN)
Local Area Network (LAN)
Metropolitan Area Network (MAN)
Wide Area Network (WAN)
Personal Area Network
A Personal Area Network, commonly known as PAN, represents the most fundamental type of computer network. It is characterized by its restriction to a single individual, where communication between computer devices is confined to the individual's immediate workspace. Within a PAN, the network coverage typically spans a range of 1 to 100 meters, facilitating communication between a person and their devices.
PANs are notable for their high transmission speeds, straightforward maintenance requirements, and cost-effectiveness. These networks connect electronic devices within close proximity, with the size of a PAN varying from a few centimeters to a few meters. A familiar real-world example of a Personal Area Network is the connection between a Bluetooth earpiece and a smartphone. Additionally, PANs can link devices like laptops, tablets, printers, keyboards, and other computerized peripherals.
Local Area Network
LAN is the most commonly used network type. It connects computers over a shared pathway within a limited local area. It typically encompasses two or more computers linked through a server. Two key technologies, Ethernet and Wi-Fi, drive this network, offering a range of up to 2 kilometers. LAN boasts high transmission speeds, easy maintenance, and cost-efficiency.
A Local Area Network, or LAN, is the go-to choice for connecting devices within a short distance. When connected, users gain access to shared resources. Imagine being at home, connecting your laptop to the internet, and printing documents using a networked printer – that's LAN in action.
Metropolitan Area Network
MAN, or Metropolitan Area Network, expands beyond the confines of a LAN. This network type bridges computers over vast geographical areas, spanning cities, towns, or metropolitan regions. FDDI, CDDI, and ATM technologies are the backbone of MAN, with a range stretching from 5 to 50 kilometers. While it is not as fast as LAN, it serves its purpose.
Maintenance proves challenging, and the costs run high, yet a MAN offers unparalleled connectivity over extensive distances. Picture a city government seamlessly operating across the entire metropolitan area – that's the power of a MAN.
Wide Area Network
WAN, or Wide Area Network, transcends geographical constraints. It's the network of choice for global corporations, enabling expansive connectivity. This computer network stretches over vast distances, interconnecting multiple locations. WAN encompasses a group of local area networks with communication ranges surpassing 50 kilometers.
WAN's purpose? Bridging devices across significant expanses, be it states or entire countries. Often, it relies on wireless connections, employing radio towers for communication.
To know more about types of networks, enroll yourself in FITA Academy and join the CCNA Training In Marathahalli.
Network Topology
A network topology describes how devices are connected in a computer network. This encompasses both physical and logical arrangements. It's important to note that, within a single network, these arrangements can either coincide or differ. There are several different types of network topology. Some of them are as follows.
Point to Point Topology
Mesh Topology
Star Topology
Bus Topology
Ring Topology
Tree Topology
Hybrid Topology
FITA Academy offers a comprehensive CCNA Training In Marathahalli that covers network topology in detail. Join the course to know more.
Point to Point Topology
Point-to-Point Topology, a fundamental network configuration, centers on communication between two key components: a sender and a receiver. This setup ensures a direct, high-bandwidth connection between them. In this type of network, precisely two devices—like computers, switches, routers, or servers—are linked directly using a single cable.
Mesh Topology
In mesh topology, each device forms a direct connection with another device through dedicated channels. This network relies on protocols like AHCP (Ad Hoc Configuration Protocols) and DHCP (Dynamic Host Configuration Protocol). A prime example of mesh topology is the internet backbone, where different internet service providers establish dedicated connections among themselves. This topology finds crucial applications in military communication systems and aircraft navigation.
Within mesh topology, a host can connect to one or multiple hosts, either creating point-to-point links with every other host or establishing such connections with only a few. Mesh networks ensure multiple pathways are available between at least some points in the network, enhancing resilience.
Star Topology
In the Star Topology, all devices link up to a central hub via cables. This hub plays a pivotal role as the central node, with all other devices connected to it. The hub can take on different forms: it can be a passive hub, like broadcasting devices, or an active hub, equipped with repeaters for signal boosting.
Bus Topology
Bus Topology is a network configuration where all computers and network devices connect to a single cable. This setup allows for bidirectional communication, and it's a multi-point connection. However, it's not very robust because if the backbone fails, the entire topology breaks down.
In Bus Topology, LAN Ethernet connections typically follow various MAC (Media Access Control) protocols, including TDMA, Pure Aloha, CDMA, Slotted Aloha, and more. All devices share a single communication line in this setup, which can lead to issues when multiple hosts attempt to send data simultaneously. To address this, Bus topology employs CSMA/CD technology or designates one host as the Bus Master.
Students at FITA Academy will be learning about topologies such as the ones mentioned above through the CCNA Training In Marathahalli.
Ring Topology
Ring Topology is a network arrangement where devices connect in a circular fashion, with each device having precisely two neighbors. To prevent data loss in large Ring topologies, repeaters come into play. For instance, in a Ring with 100 nodes, data must traverse through 99 nodes to reach the 100th, making repeaters crucial.
Data flow is typically unidirectional, but it can be made bidirectional through Dual Ring Topology, where each Network Node has two connections. Token Ring Passing protocol is used for data transmission in Ring topology. Each host in the Ring connects to exactly two other machines, forming a circular network structure. When a host communicates with a non-adjacent host, data travels through all intermediaries.
Tree Topology
The Tree Topology, a variation of the Star topology, introduces a hierarchical data flow. Here, multiple secondary hubs connect to a central hub, often containing a repeater. Data can flow from the central hub to secondary hubs and devices (top to bottom) or from devices to secondary hubs and the central hub (bottom to top).
Hybrid Topology
Hybrid Topology, a versatile technology, combines various topologies mentioned above. It's the go-to choice when nodes can take on different forms, such as Ring or Star, or even a blend of the topologies mentioned earlier. Each individual topology in a hybrid setup uses its respective protocols.
Get to know more on this topic by joining in the CCNA Training In Marathahalli offered by FITA Academy.